MilliporeSigma Kicks Off 2023 Curiosity Cube Mobile Lab Tour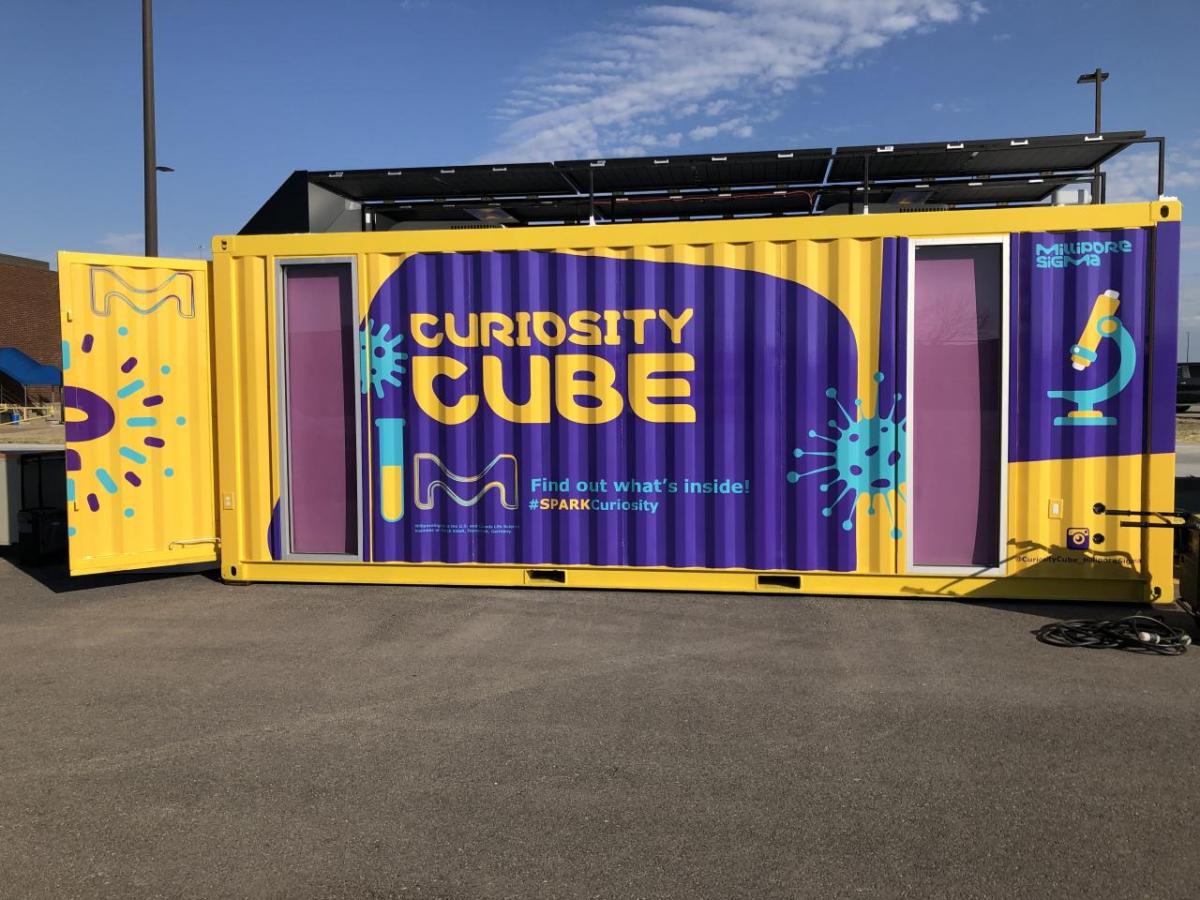 Over 250 events expected to reach more than 45,000 future scientists on two continents
Hands-on experiments to focus on the impact of contamination on the planet and everyday life
MilliporeSigma, the U.S. and Canada Life Science business of Merck KGaA, Darmstadt, Germany, a leading science and technology company, has kicked off its 2023 Curiosity Cube tour in North America and Europe. This year, the Curiosity Cube, a retrofitted shipping container that offers hands-on experiments focused on science, technology, engineering and math (STEM), will engage 45,000 students at schools and public spaces with more than 250 events across North America and Europe. All experiments are led by MilliporeSigma employees, allowing visitors to connect with real-life scientists and learn firsthand about STEM careers.
"In recent years, there has been considerable concern regarding a shortage of STEM professionals. As a science and technology company, we want to help spark curiosity in children and young people for the fascinating world of science," said Meeta Gulyani, Head of Strategy, Business Development and Sustainability for the Life Science business sector of Merck KGaA, Darmstadt, Germany. "That's why our Curiosity Cube will continue its world tour to make science accessible and interactive, while also demonstrating all the possibilities that the life science field has to offer."
This year's Curiosity Cube features a brand-new curriculum, where students can interact with technology such as virtual reality (VR) to make learning fun and engaging. Students will conduct experiments about contaminants and gain a glimpse into the world of a scientist by:
Exploring evidence of environmental contamination in a variety of samples and learning ways conservationists try to mitigate the negative environmental impact of contamination.
Working with VR technology to discover what contaminants are commonly found on classroom surfaces and learn how to stop their spread.
Using scientific instruments to run quality control tests on different beverages and determine if any contaminants are present.
In North America, the Curiosity Cube already embarked on its fifth tour, starting in San Diego. It will include 124 events across the U.S. and Canada, including Austin, Boston, Cleveland, Houston, Kansas City, Milwaukee, Seattle, St. Louis, Toronto, and more. The Curiosity Cube starts its second European tour with stops in Belgium, the Czech Republic, France, Germany, Ireland, Italy, Liechtenstein, the Netherlands, Spain, Switzerland and the U.K.
To learn more about the Curiosity Cube mobile science lab and view the 2023 tour schedule, visit TheCuriosityCube.com and follow the Curiosity Cube on Instagram @curiositycube_milliporesigma.
About the Life Science business of Merck KGaA, Darmstadt, Germany
The Life Science business of Merck KGaA, Darmstadt, Germany, which operates as MilliporeSigma in the U.S. and Canada, has more than 28,000 employees and more than 55 total manufacturing and testing sites worldwide, with a portfolio of more than 300,000 products focused on scientific discovery, biomanufacturing and testing services. Merck KGaA, Darmstadt, Germany, a leading science and technology company, operates across healthcare, life science and electronics.
More than 64,000 employees work to make a positive difference to millions of people's lives every day by creating more joyful and sustainable ways to live. From providing products and services that accelerate drug development and manufacturing as well as discovering unique ways to treat the most challenging diseases to enabling the intelligence of devices – the company is everywhere. In 2022, Merck KGaA, Darmstadt, Germany generated sales of € 22.2 billion in 66 countries.
The company holds the global rights to the name and trademark "Merck" internationally. The only exceptions are the United States and Canada, where the business sectors of Merck KGaA, Darmstadt, Germany, operate as MilliporeSigma in life science, EMD Serono in healthcare and EMD Electronics in electronics. Since its founding 1668, scientific exploration and responsible entrepreneurship have been key to the company's technological and scientific advances. To this day, the founding family remains the majority owner of the publicly listed company. For more information about Merck KGaA, Darmstadt, Germany, visit www.emdgroup.com.
Follow MilliporeSigma on Twitter @MilliporeSigma, on Facebook @MilliporeSigma and on LinkedIn.
All Merck KGaA, Darmstadt, Germany news releases are distributed by email at the same time they become available on the EMD Group website. In case you are a resident of the U.S. or Canada please go to www.emdgroup.com/subscribe to register again for your online subscription of this service as our newly introduced geo-targeting requires new links in the email. You may later change your selection or discontinue this service.