Mike Bloomberg and FSB Chair Mark Carney Announce Growing Support for the TCFD on the Two-Year Anniversary of the Paris Agreement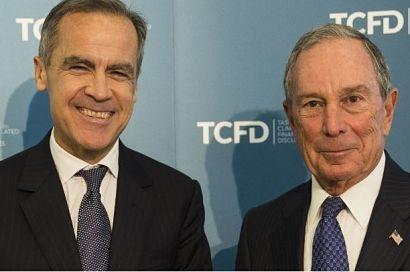 Image: Mark Carney and Michael Bloomberg (photo courtesy of TCFD)
Originally posted on fsb-tcfd.org
Paris, December 12, 2017 – Two hundred thirty-seven companies with a combined market capitalization of over $6.3 trillion have publicly committed to support the Task Force on Climaterelated Financial Disclosures (TCFD). This includes over 150 financial firms, responsible for assets of over $81.7 trillion. The TCFD announced the growing support at the One Planet Summit hosted by French President Emmanuel Macron celebrating the two year anniversary of the Paris Agreement. The Task Force, led by Michael R. Bloomberg and established by the Financial Stability Board (FSB), which is chaired by Bank of England Governor Mark Carney, developed voluntary recommendations on climate-related information that companies should disclose to help investors, lenders, and others make sound financial decisions. 
Click here to read the full press release. 
View a list of the TCFD Supporters as of One Planet Summit.
Watch this video with an overview of TCFD recommendations.