With Less Than 50 Days to Election, More Artists Join Global Citizen and Headcount 'Just Vote' Campaign Targeting Young Voters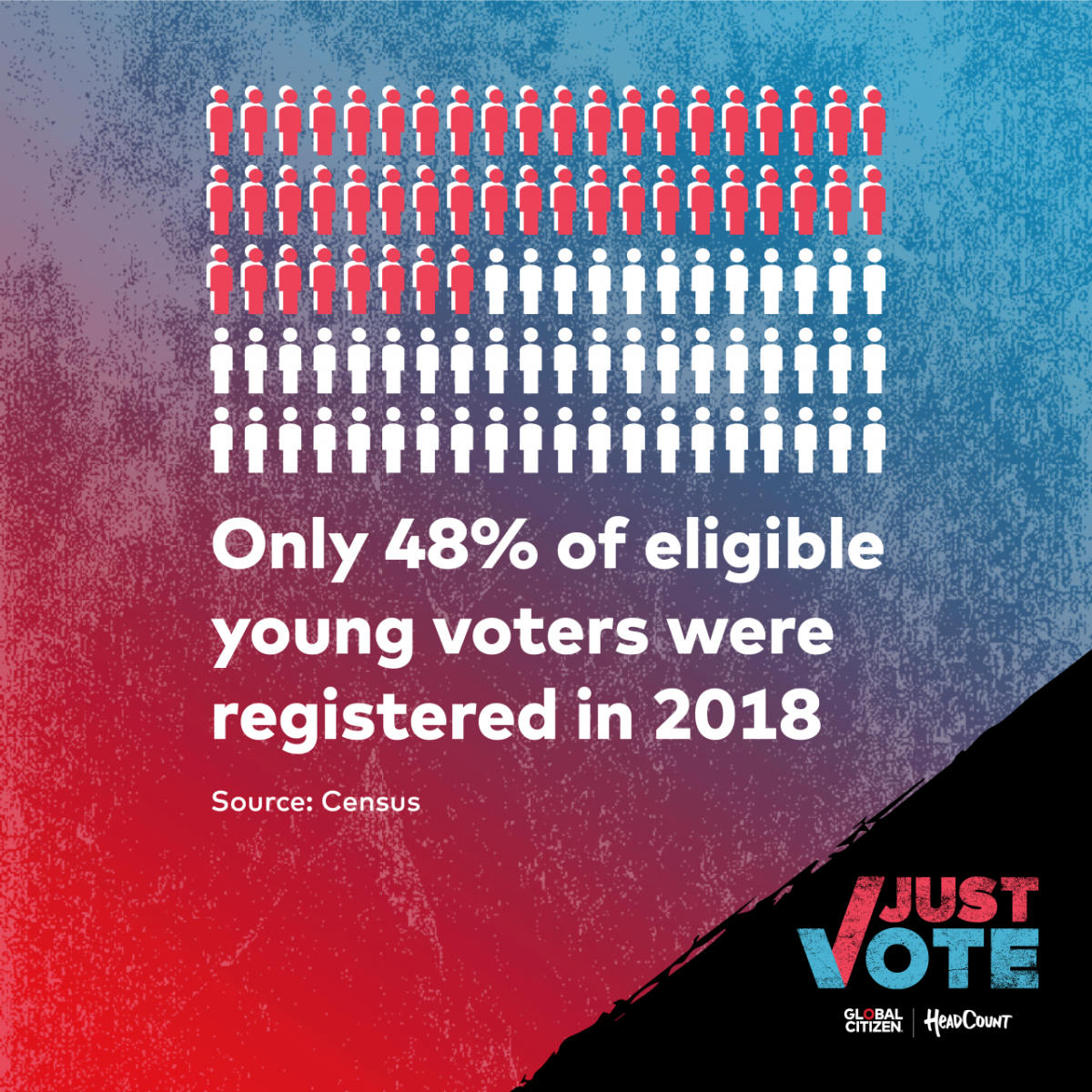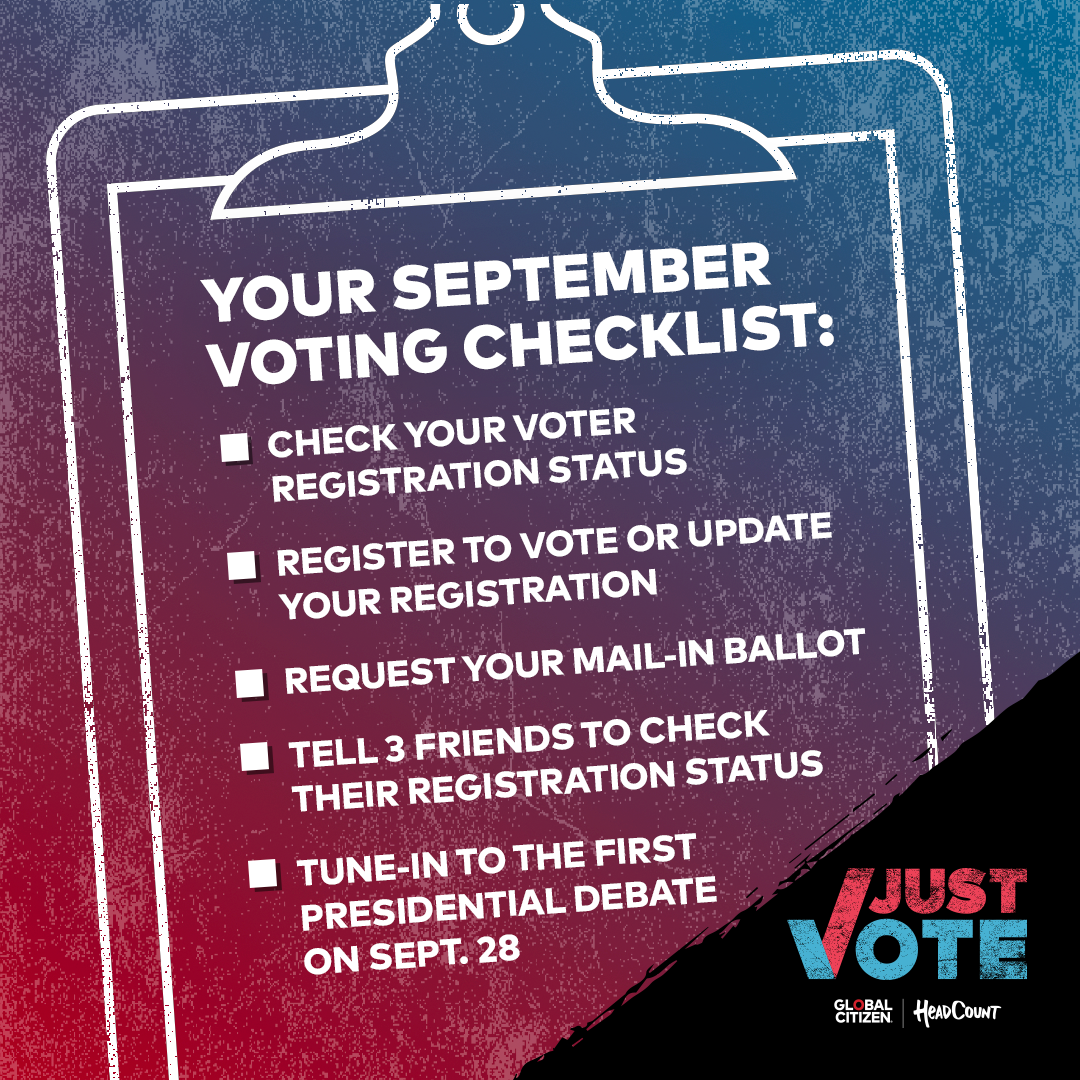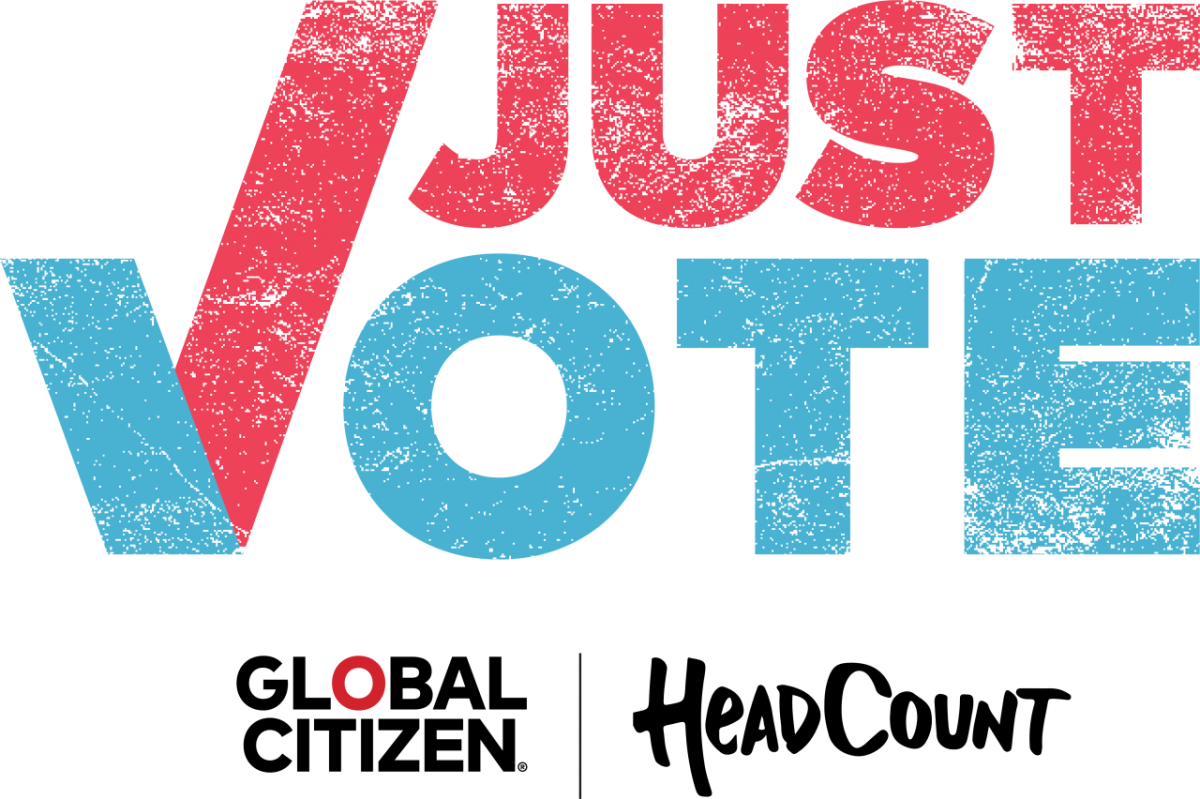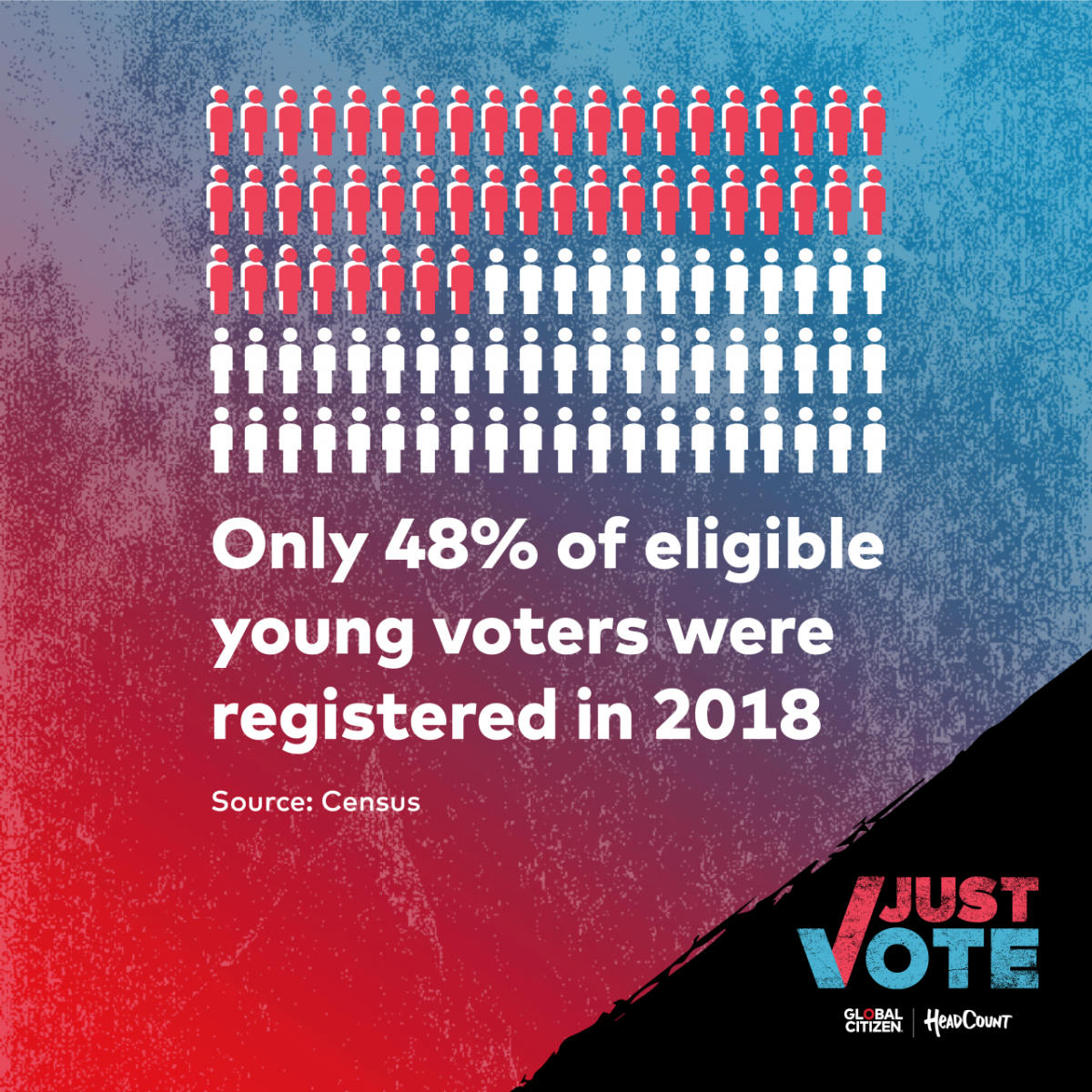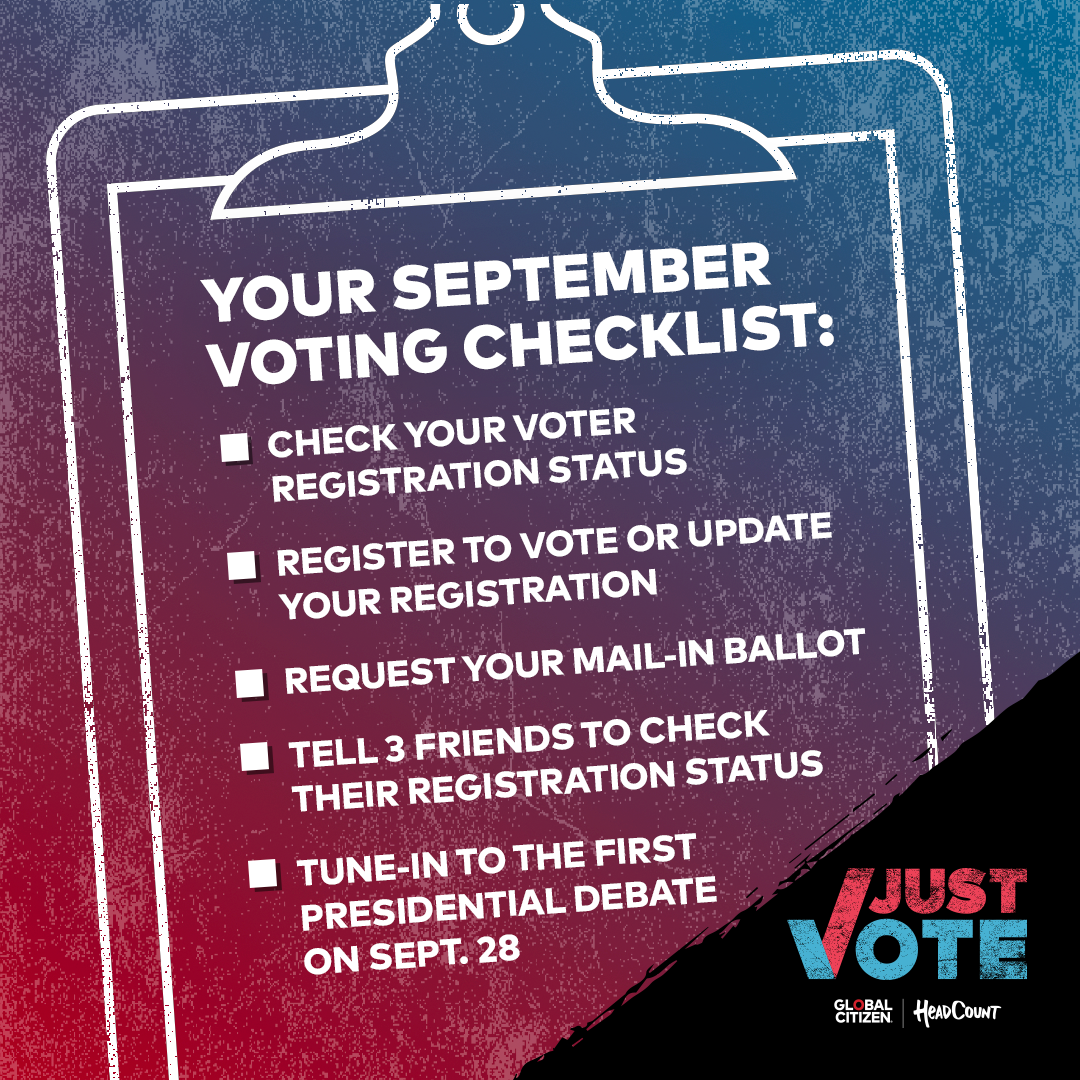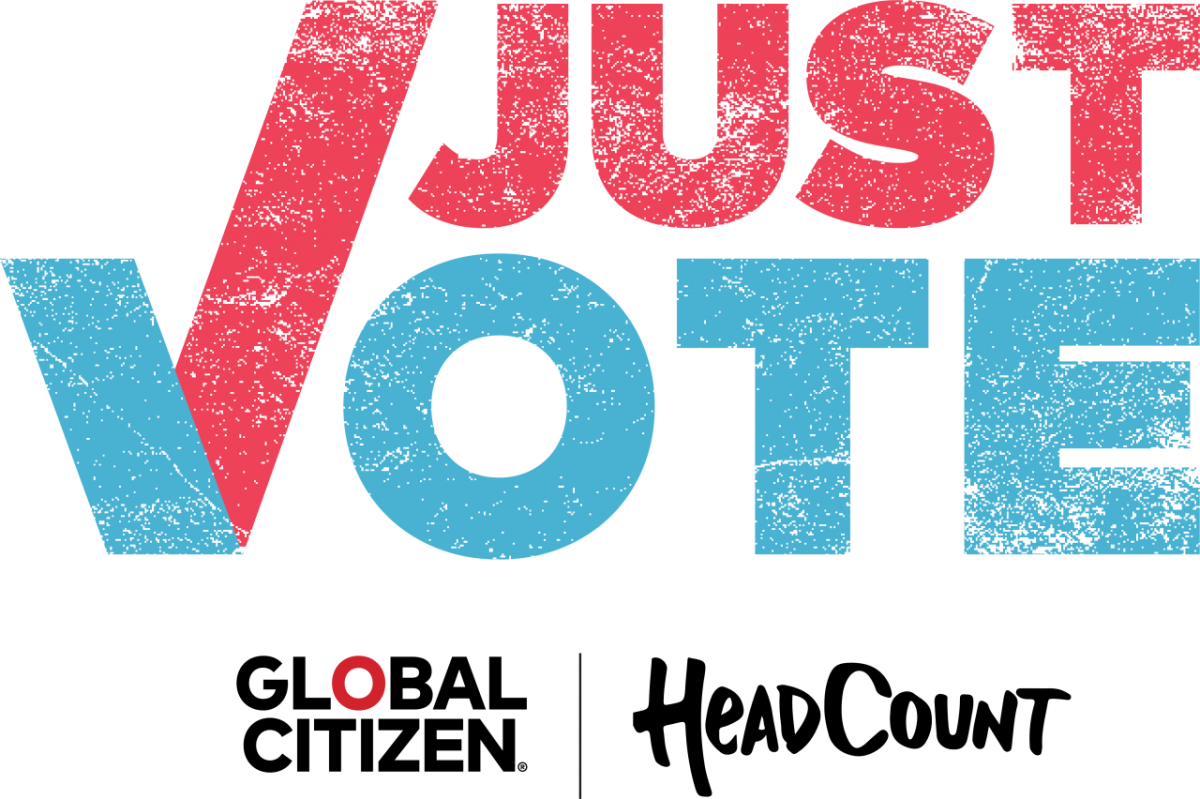 NEW YORK, Tuesday, September 15, 2020 /3BL Media/ – International advocacy organization Global Citizen and voter registration organization HeadCount today announced additional artists participating in the Just Vote campaign, with the mission of engaging young Americans to check their status, register and vote in November and elections beyond. The non-partisan campaign aims to engage one million young voters and get 50,000 young people registered ahead of the 2020 elections. 
With today's addition of artists, the campaign features exclusive experiences, performances and memorabilia donated by Billie Eilish, Billy Porter, Bob Weir, Dave Matthews, DJ Khaled, Donna Karan, Dove Cameron, FINNEAS, Gavin Rossdale, Julianne Hough, Kaia Gerber, Andrew "King Bach" Bachelor, Lenny Kravitz, Loren Gray, Madison Beer, Meghan Trainor, Nicky Jam, Prince Royce, Quavo, Shawn Mendes, Taylor Swift and Usher. 
The Just Vote campaign will engage and reward young people by offering exclusive experiences, performances, and memorabilia donated by artists and entertainers that can only be unlocked through checking their voting registration status. Once they check their voting registration status, participants will have the opportunity to receive access to exciting opportunities like a 1:1 video chat with Lenny Kravitz, an exclusive acoustic performance by Dave Matthews, a virtual hangout with Meghan Trainor, or a virtual boxing class with Andrew "King Bach" Bachelor, and more. The Just Vote campaign will then employ precise tracking of voter registrations to track the campaign's success.
"We are at a pivotal moment in the campaign as we head towards the final stretch of voter registration," said HUGH EVANS, CO-FOUNDER AND CEO OF GLOBAL CITIZEN. "Through this campaign, tens of thousands of young people have already checked their voter registration status, but we have to keep up the momentum. It's more important than ever to engage young people in the political process, and with the support of these great artists, even more young people will get registered to vote."
This year, young people have more sway than ever. Research shows that more than a third of eligible voters are Gen Z or Millennials, and 83% of people 18-29 believe they have the power to change the country and the world. But only 60% are planning to vote. In fact across the board, voter registration numbers are down as a result of the COVID-19 pandemic. According to a recent study, in 11 states the number of new voters in April of 2020 decreased by 70% as compared to April 2016. Other states are down as much as 50% over the same period. 
"As we get closer to the election, it is critical to ensure that young people have the tools to check their status and register to vote," said ANDY BERNSTEIN, EXECUTIVE DIRECTOR OF HEADCOUNT. "We have less than 50 days to ensure that everyone can participate in our democracy. That's why the work of Just Vote is so crucial, and why the team behind it - from HeadCount, to Global Citizen, to the corporate and foundation partners, to the artists themselves - is so dedicated to the cause."
Just Vote is also teaming up with a number of organizations to expand the campaign's impact. Campaign partners Cisco and Procter & Gamble have taken on a leadership role in support of the initiative. The Wallace Global Fund has contributed resources to support the effort. As part of the campaign, these partners, as well as The Coca-Cola Company, Delta Air Lines, Twitter, AEG Presents, Chobani, Lyft, Tony's Chocolonely and others, are supporting their employees' participation in the civic engagement process, including providing them with resources and time off.
"It's so important to use our voices," said MEGHAN TRAINOR, SINGER. "I can't wait to host a Just Vote virtual hangout with one lucky fan who has checked their registration status. Less than 50 days left until the election, so let's all make sure to get out there and vote!"
This unique coalition of organizations has an unprecedented power to mobilize the youth vote. Both Global Citizen and HeadCount have the ability to connect people through music and entertainment, and are uniquely positioned to reach potential new voters. Global Citizen and HeadCount will inspire inclusion through culture, with the goal of bolstering and activating the will of the next generation to vote. 
"As designers I have always said we must not only dress our customers but also address the issues at hand, and right now the most important issue is voting," said DONNA KARAN, FASHION ICON & PHILANTHROPIST. "Voting is our most basic right, and we each have to do our part to check our status and get registered. That's why I'm partnering with Just Vote to reach young people across the country, and encourage them to get involved to create the change that is needed."
For more information about Just Vote, please visit https://www.globalcitizen.org/en/justvote.
###
ABOUT JUST VOTE:
Just Vote is a non-partisan, get-out-the-vote campaign launched by Global Citizen and HeadCount to mobilize support from artists, influencers, media and corporations to give young Americans the tools to use their voice in the 2020 U.S. elections. The non-partisan effort aims to engage one million young voters and get 50,000 young people registered for the first time or re-registered ahead of November 3, 2020. Visit www.globalcitizen.org/en/justvote to learn more. 
ABOUT GLOBAL CITIZEN:
Global Citizen is the world's largest movement of action takers and impact makers dedicated to ending extreme poverty by 2030. With over 10 million monthly advocates, our voices have the power to drive lasting change around sustainability, equality, and humanity. We post, tweet, message, vote, sign, and call to inspire those who can make things happen to act — government leaders, businesses, philanthropists, artists, and citizens — together improving lives. By downloading our app, Global Citizens learn about the systemic causes of extreme poverty, take action on those issues, and earn rewards with tickets to concerts, events, and experiences all over the world. To date, the actions of our community, along with high-level advocacy efforts and work with partners, has resulted in commitments and policy announcements from leaders valued at over $48 billion, affecting the lives of more than 880 million people. For more information, visit GlobalCitizen.org.
ABOUT HEADCOUNT:
HeadCount is a non-partisan, non-profit organization that promotes participation in democracy through music, culture, and digital media. Since 2004 the organization has registered over 700,000 voters and worked with a long list of musicians and partners including Ariana Grande, Billie Eilish, Camila Cabello, Dave Matthews Band, JAY-Z, Beyoncé, March for Our Lives, RuPaul's DragCon, MTV, and Dead & Company. With 40,000 volunteers, street teams in most major U.S. cities, and presence at more than 1,000 events each year, HeadCount ranks as one of the most active grassroots civic participation organizations in the United States. Following COVID-19 restrictions, the organization quickly pivoted to an all-digital approach that led to innovation and online initiatives to fill the needs of the public in using their voices in democracy. For more information, visit HeadCount.org.
CONTACTS:
Global Citizen, Charmion N. Kinder, media@globalcitizen.org 
Sunshine Sachs on behalf of Global Citizen, GC@sunshinesachs.com 
The Syndicate on behalf of HeadCount, Jeff Kilgour, jeff@thesyn.com