Legg Mason Issues 2017 Corporate Social Responsibility Report
Legg Mason Issues 2017 Corporate Social Responsibility Report
A deep sense of purpose drives our commitment to our clients, our shareholders, our communities and one another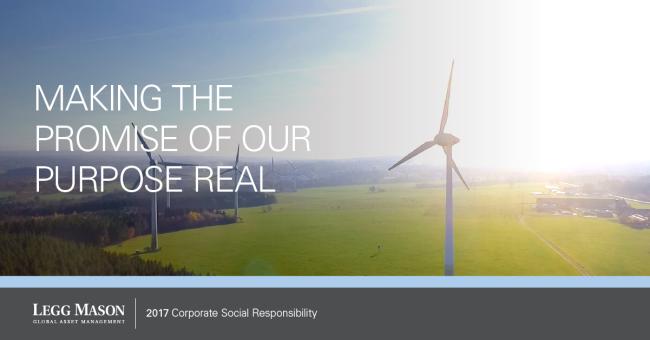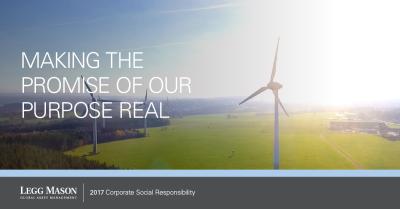 Tuesday, November 14, 2017 - 3:45pm
BALTIMORE, November 14, 2017 /3BL Media/ - 2017 Legg Mason, Inc. (NYSE: LM) announced today it has published its annual Corporate Social Responsibility Report, for fiscal year 2017[1]. This report reflects the combined effort and contribution of professionals within the firm and across our affiliate organizations.
"I am deeply proud of the CSR efforts that reinforce Legg Mason's corporate mission, Investing to Improve Lives™," said Joe Sullivan, Chairman and Chief Executive Officer of Legg Mason. "Our commitment to social responsibility is broad, spanning investment management, business operations and our mission.  We believe in ESG as a fundamental tenet of our active investment approach and our affiliates are committed to the integration of ESG factors into their respective investment processes.  Each day we strive to improve the lives of our clients, financial stakeholders, employees and the communities in which we live and work.  We look forward to further progress in the coming year."
A majority of the metrics in the report focus on Legg Mason's overall corporate performance, but, where appropriate, include activities and performance of the firm's independent investment affiliates.
Notable highlights from fiscal year 2017 include:
$159 Billion of total long-term AUM[2] - roughly 25 percent - is invested in ESG products or strategies.
Legg Mason Chairman and CEO, Joe Sullivan, signed the CEO Action for Diversity & Inclusion™ pledge along with over 300 CEOs. The goal of the initiative is to increase diversity in the workplace and foster inclusive professional environments as well as dialogue and engagement.
JUST Capital and Forbes Magazine awarded Legg Mason "Most Just" company in Capital Markets for its 2016 Just 100 rankings.
Named to Pensions & Investments' list of "Best Places to Work in Asset Management," joining affiliates Brandywine Global, ClearBridge Investment and Western Asset.
Eight of nine independent investment affiliates are signatories of United Nations-supported Principles of Responsible Investing (PRI).
ClearBridge and Martin Currie each received an A+ Rating from UNPRI based on assessment of responsible investing activities for the calendar year 2016.
To see the full report, click here.
Download the attached file(s):