LEED-Certified Office Buildings Command Higher Rents, Even Amid Challenging Conditions
CBRE analysis finds 4 percent average premium for LEED-certified buildings; Effect is greater in suburbs than downtowns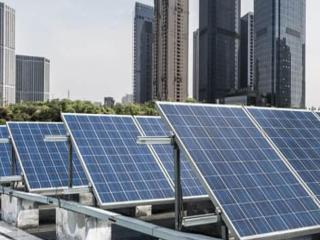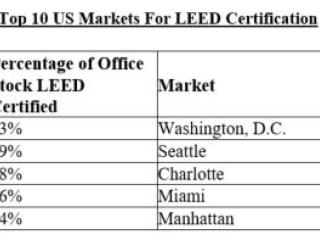 Originally published by CBRE, October 26, 2022
LEED-certified office buildings command a rent premium over their non-certified peers even as the market endures the reverberations of the COVID-19 pandemic and remote work, according to a new report from CBRE.
CBRE analyzed 20,600 U.S. office buildings to find that those with LEED certifications command an average rent premium of 4 percent between 2019 and 2022 over those without the certification. LEED is a green-building certification program that gauges buildings' energy efficiency, carbon reduction, sustainability and other measures.
CBRE got clarity on the impact of buildings' LEED certification on rents by using statistical analysis to factor out the buildings' location, age and renovation history. LEED certification tends to be more prevalent in newer buildings in downtowns or popular submarkets. Thus, CBRE's analysis sought to separate one influence from another.
"The current average 4 percent premium for LEED-certified buildings is at the low end of the historical window of a 4 percent to 8 percent premium," said Richard Barkham, CBRE's Global Chief Economist and Head of Global Research. "This shows that, even in challenging times for the U.S. office market, LEED certification creates value for buildings. We anticipate the premium will increase a bit as the office market slowly recovers and office occupiers increasingly favor sustainable properties."
"LEED certification certainly is viewed as favorable by office occupiers, many of whom increasingly are requiring building owners to explain their ESG platforms during the space-search process," said Mike Watts, CBRE's President of Americas Investor Leasing. "A LEED certification may turn out to be a key determinant in a given occupier's decision of where to lease their space, regardless of whether that designation brings a rent premium."
That premium differs between downtown (2 percent) and suburban (4 percent) buildings. The latter likely gets a larger premium because LEED-certified buildings are more rare in suburbs than downtown.
CBRE found similar rent premiums in most cases for buildings carrying the Environmental Protection Agency's Energy Star certification.
To read the full report, click here.
About CBRE Group, Inc.
CBRE Group, Inc. (NYSE:CBRE), a Fortune 500 and S&P 500 company headquartered in Dallas, is the world's largest commercial real estate services and investment firm (based on 2021 revenue). The company has more than 105,000 employees (excluding Turner & Townsend employees) serving clients in more than 100 countries. CBRE serves a diverse range of clients with an integrated suite of services, including facilities, transaction and project management; property management; investment management; appraisal and valuation; property leasing; strategic consulting; property sales; mortgage services and development services. Please visit our website at www.cbre.com.