Leading Study of 120 Global Companies Finds Corporate Social Investments Resilient and Growing, Despite Continued Unrest
New report uncovers trends and cross-regional commonalities among world's leading companies and their societal engagement strategies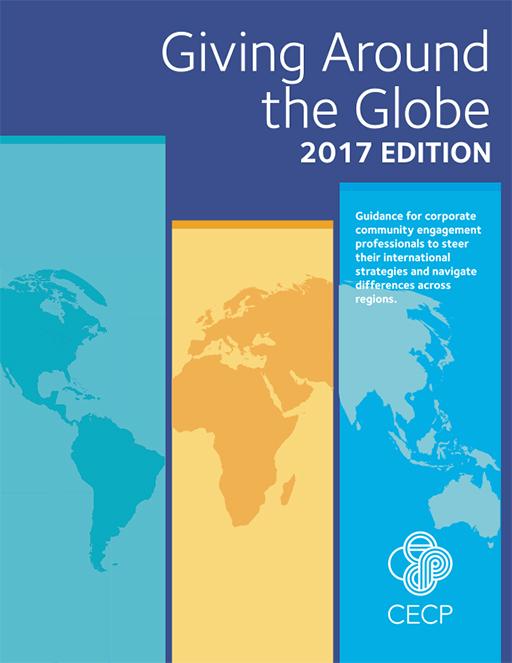 October 26, 2017 /3BL Media/ - A global study from CECP: The CEO Force for Good found that businesses headquartered around the world continued to stand firm in their social investments, despite unrest and instability in their home countries and beyond. Giving Around the Globe: 2017 Edition, the leading source for guidance on the global expansion of corporate community engagement, uncovered four key trends common across companies operating internationally, including advocacy as a business imperative, levering the Sustainable Development Goals as a roadmap for defining long-term business goals, using technology to improve employee engagement, and the rapid growth of voluntary disclosure instruments.
Giving Around the Globe: 2017 Edition is based on data from 120 of the world's largest companies headquartered in Africa, Asia, North America, South America, and Europe. This is the fifth edition of the expanded report, benchmarking global corporate engagement activities in multiple regions around the world, and analyzing trends and developments among leading companies.
A closer look at the trends uncovered by Giving Around the Globe reveal:
Advocacy is a business imperative: In the wake of changing political and economic landscapes, the private sector is collaborating with different stakeholders to find solutions and extend its engagement for causes in key areas such as innovation and technology.
The Sustainable Development Goals are informing business decisions: Solutions are being sourced from across sectors, unusual suspects, and disruptive technologies such as Big Data, the Internet of Things, circular economies, and Artificial Intelligence are emerging as business opportunities and could become powerful SDGs accelerators.
Companies are levering technology for improved employee engagement and discovery of purpose: Better tools, stronger infrastructure, and innovation in HR software platforms are allowing employers to find more reliable ways to tap into employees' passions, inspiring them to perform at their best.
Reporting and regulations are widespread: Social impact measurement and reporting methods have doubled since 2013, growing faster than those that focus on environmental issues, although companies should be strategic with the reporting practices with which they engage.
"We are proud to see a record number of companies participate in this year's Giving Around the Globe," said Daryl Brewster, CEO, CECP. "As part of CECP's new Global Exchange, this worldwide survey provides an essential handbook for companies looking to ensure their social investments make an impact in the global community."
The report offers critical guidance for corporate community engagement professionals to steer their international strategies and navigate differences across regions. CECP's Global Exchange, initiated nearly two years ago and born out of Giving Around the Globe, delivers on the report's promise as it seeks to unite country-based, mission-driven corporate societal engagement organizations to advance the corporate sector as a force for good around the world. Participating organizations – each a Global Exchange Local Authority in their respective country – combined cover 59% of the world's GDP and 50% of global population.
"Through stewardship of the Global Exchange, CECP has witnessed a significant uptick in the adoption of formal social investment strategies across all four regions surveyed," said Carmen Perez, Director, Data Insights, CECP. "The data and trends in Giving Around the Globe present a clear course for companies looking to expand or pursue effective social strategies in a global setting."
Four regions were examined in this year's report: Asia, Africa, Latin America, and Europe, each with unique micro-trends:  
Africa
South African companies have the highest offering of Company-Wide Day of Service than companies in any other region: 100% of companies surveyed reported offering this program to employees.
Corporate Societal Investment (CSI) expenditure has grown – South African-based Trialogue found, in its 19th edition of The Trialogue CSI Handbook, that the country's corporate sector continues to demonstrate its commitment to CSI, which increased spend from R2.9 billion in 2006 to R8.6 billion in 2016.
Asia
The Asian region has the highest offering of Pro Bono Services (61%) and saw more Flexible Scheduling volunteer programs than any other region.
Samhita, a social enterprise based in India, highlighted that companies and social organizations have an optimistic view of the 2% CSR law passed in 2013 (the Indian Companies Act).
Europe
Almost all surveyed European companies (95%) contributed to international end-recipients, more than any other region, suggesting perhaps a wide-spread corporate strategy to engage communities globally and deepen cross-border ties due to the European Union.
Latin America
Foundations are widespread in Latin America: 100% of Latin American companies surveyed reported having a foundation. This preference of a foundation as a corporate model was more prevalent in Latin America than in any other region.
"Social investment programs are common around the world, but we're seeing a greater number of companies implementing a formal strategy that is adapted to local needs and conditions," said Laura Galindo, Senior Associate, The Global Exchange. "The Global Exchange and Giving Around the Globe offer executives indispensable learnings that are sensitive to the intricacies of communities in far-flung places."
The report can be downloaded, for free, on the CECP's website: http://cecp.co/global. To learn more about the Global Exchange, please visit http://cecp.co/home/our-coalition/the-global-exchange/. For an in-depth review of the findings from Giving Around the Globe, join CECP's webinar on November 16 at 10:00 AM ET. Register here.
Note to Editors: Carmen Perez is available for comment and a more in-depth look at the community investment data collected from 120 of the world's largest companies.
#  #  # 
ABOUT THE GLOBAL EXCHANGE:
CECP's Global Exchange seeks to unite country-based, mission-driven corporate societal engagement organizations to advance the corporate sector as a force for good around the world. Participating organizations include Admical in France, Beyond Philanthropy in Germany, CECP in the USA, Cemefi in Mexico, Comunitas in Brazil, CSRone Reporting in Taiwan, Dynamo Academy in Italy, Trialogue in South Africa, Korea Productivity Center in South Korea, Samhita in India, and, SynTao in Mainland China and Hong Kong. Local Authorities work individually with some of the world's largest companies to support their societal engagement efforts, offering cultural learnings and context, expert data-driven insights on country-specific social impact efforts, and opportunities to deepen corporate programs in regions around the world.
ABOUT CECP: THE CEO FORCE FOR GOOD
CECP is a CEO-led coalition that believes that a company's social strategy—how it engages with key stakeholders including employees, communities, customers, and investors—determines company success. Founded in 1999 by actor and philanthropist Paul Newman to create a better world through business, CECP has grown to a movement of more than 200 of the world's largest companies that represent $7 trillion in revenues, $18.6 billion in societal investment, 13 million employees, and $15 trillion in assets under management. CECP helps companies transform their social strategy by providing customized connections and networking, counsel and support, benchmarking and trends, and awareness building and recognition. http://cecp.co