Leading CEOs Present Long-Term Business Strategies to Institutional Investors
CECP aims to spark the movement of trillions of dollars in capital to reward corporations that integrate material environmental, social, and governance (ESG) factors into long-term business plans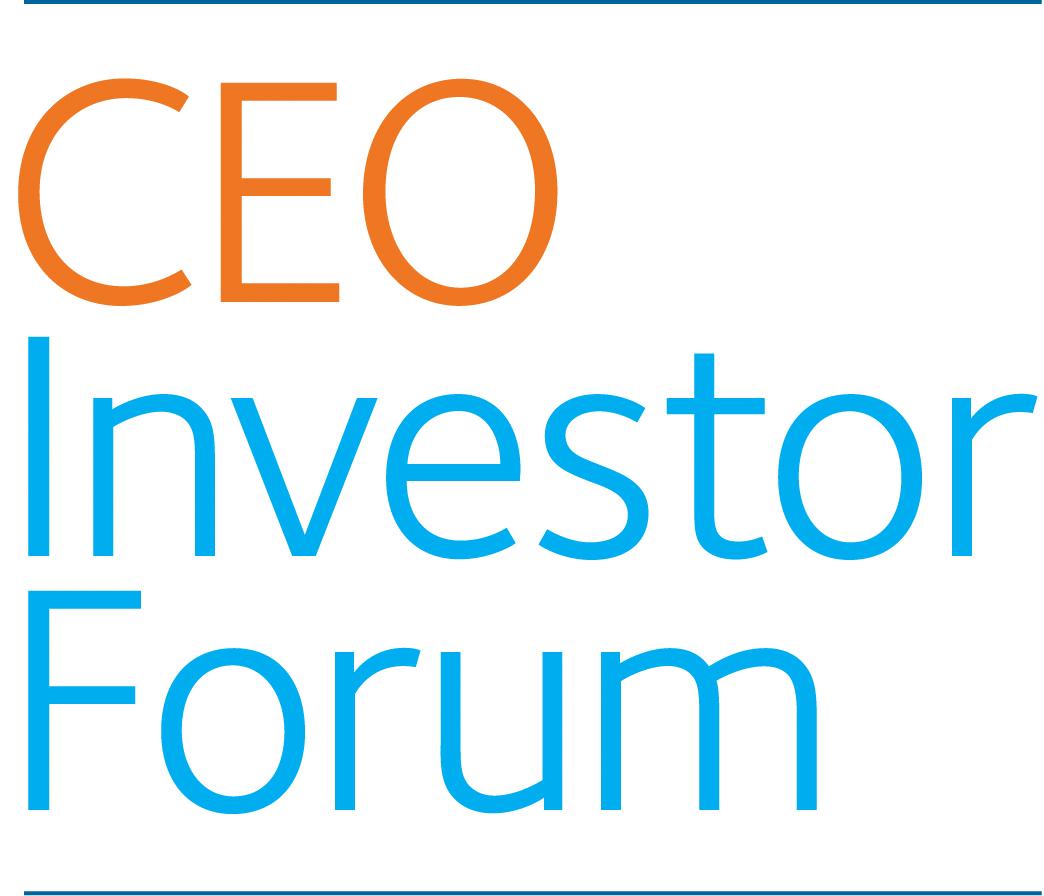 NEW YORK, September 19, 2017 /3BL Media/ - Building off the momentum from its successful inaugural Forum in February, CECP: The CEO Force for Good will again host CEOs from leading S&P 500 companies at the September 19 CEO Investor Forum (CIF) in New York. CIF, organized by CECP's Strategic Investor Initiative (SII), is a CEO- and investor-backed platform transforming Wall Street's over-emphasis on short-term quarterly financial results to focus on "long-term value creation"–multi-year strategies that incorporate financial and environmental, social, and governance (ESG) factors.
The CEO Investor Forum will host eight CEOs presenting their companies' strategies to an audience of 200 asset owners, pension funds, and sovereign wealth funds, such as BlackRock, State Street, and Vanguard, which collectively represent more than $25 Trillion in assets under management. Confirmed CEO and corporate leader presenters include: 
Mark Bertolini, Chairman & CEO, Aetna
Kevin Clark, President & CEO, Delphi
Johan Dennelind, President & CEO, Telia Company
Mike Gregoire, CEO, CA Technologies
Mark Grier, Vice Chairman and Member of the Board, Prudential Financial, Inc.
Raj Gupta, Board Chair, Delphi & Former CEO, Rohm and Haas Company
Rodney Martin, Jr., Chairman & CEO, Voya Financial
Tom Wilson, Chairman & CEO, The Allstate Corporation
CECP created the CEO Investor Forum after 86% of CEOs at CECP's 2016 Board of Boards said they spent too much time focused on the short-term. In addition, leading institutional investors such as BlackRock and State Street have repeatedly called for companies to share long-term plans that include material ESG factors. 
Twenty-five global corporate CEOs—representing $2 Trillion in market cap—have or will soon make long-term presentations through the CEO Investor Forum to investors with assets under management of $25 Trillion. By the end of 2018 CECP expects that a third of the S&P 100 will have presented their plans. The CECP effort has recently been highlighted in the Journal of Applied Corporate Finance and MIT Sloan Management Review.
"Wall Street, Main Street, and the C-Suite know that business must drive sustainable value," said Daryl Brewster, CEO, CECP. "The CEO Investor Forum operationalizes the call for long-term plans.  It serves a catalyst for companies to adopt a longer-term view and communicate those plans regularly. And CECP's CEO Investor Forum is attracting big companies, big capital, and big ideas."
"The shift to long-termism opens the door to greater and more predictable value for all stakeholders: Investors, companies, communities, consumers, and employees," said Mark Tulay, Director, Strategic Investor Initiative, CECP. "In short, it's good for all of us. Our work iaims to make this the 'new normal.'"
The long-term plans that the Strategic Investor Initiative creates with companies to be presented at the CEO Investor Forums are more effective than what's come before because they pinpoint what CECP has found that investors need to see to determine the company's value:
Shares the Vision: 3-5+ years, publicly and regularly
Features financial and material environmental, social, and governance risks
Incorporates significant stakeholders: investors, communities, employees, customers, boards
Includes governance and metrics
The convening will be held at the Bloomberg, LP headquarters in New York City, Tuesday, September 19, 2017 from 8:00 a.m. – 6:30 p.m. The agenda and list of confirmed presenters and attendees can be found here. The CEO Investor Forum will be live-streamed via a link on the SII webpage. Presentations from the forum will be available on participating company websites. Bloomberg Terminal clients can view the stream by using the function LIVE <GO>. It will appear on list of streams that day.
Additional CEO Investor Forums will take place on Monday, February 26, 2018, in New York City, and Thursday, April 19, 2018 in San Francisco, CA. Limited presentation spots remain. Email Mark Tulay for more information.
SII Advisory Board
Co-Chair: Bill McNabb, Chairman and CEO, Vanguard (see press release)
Jonathan Bailey, Managing Director and Head of ESG Investing, Neuberger Berman
Crystal Barnes, Senior Vice President Global Responsibility and Sustainability, Nielsen
Dana Bezerra (Pancrazi), Vice President, Capital Markets, F.B. Heron Foundation
Glenn Booraem, Principal and Investment Stewardship Officer, Vanguard
Daryl Brewster, CEO, CECP
Anthony Di Meo, Director, Investor Relations, BD
Michelle Edkins, Managing Director, Global Head of Investment Stewardship, BlackRock
Robert Fernandez, CFA, Vice President, Director of ESG Research, Breckinridge Capital Advisors
Benjamin Gigot, Vice President of Research, Investment Management, CDPQ
Evan Harvey, Director of Corporate Responsibility, NASDAQ
Hans Hirt, Executive Director and Head of Hermes EOS
Erika Karp, Founder, CEO and Chair of the Board, Cornerstone Capital Inc.
Paula Loop, Assurance Partner and Leader, PwC's Governance Insights Center, PwC
Teri Loxam, Vice President, Investor Relations, Merck
Gianna McCarthy, Director of Corporate Governance, Office of the New York State Comptroller
Mark McDivitt, Managing Director, Head of ESG Solutions, State Street Global Exchange
Kathleen McLaughlin, President, Walmart Foundation & Global Head of Sustainability, Walmart
Tim Nixon, Head of Sustainability Thought Leadership, Managing Editor Sustainability, Thomson Reuters
Brian Rice, Portfolio Manager, CalSTRS
Amy Springsteel, Assistant Vice President, Voya Financial
Mark Tulay, Director, Strategic Investor Initiative, CECP
Dennis Whalen, Leader, Board Leadership Center, KPMG 
Tim Youmans, Research Director, Strategic Investor Initiative, CECP
CECP thanks the Ford Foundation, Heron Foundation, and Bloomberg for their support of the Strategic Investor Initiative.
Note to Editors: CECP's Daryl Brewster, CEO, and Mark Tulay, Director, Strategic Investor Initiative, are available for comment on the CEO Investor Forum. Please contact Jackie Albano, jalbano@cecp.co, 646-863-1926 to arrange interviews.    
# # #
About CECP: The CEO Force for Good
CECP is a CEO led coalition that believes that a company's social strategy — how it engages with key stakeholders including employees, communities, investors, and customers —determines company success. Founded in 1999 by actor and philanthropist Paul Newman and other business leaders to create a better world through business, CECP has grown to a movement of more than 200 of the world's largest companies that represent $7 trillion in revenues, $18.6 billion in societal investment, 13 million employees, and $15 trillion in assets under management. CECP helps companies transform their social strategy by providing customized connections and networking, counsel and support, benchmarking and trends, and awareness building and recognition. For more information, visit http://cecp.co.
About the CECP Strategic Investor Initiative (SII)
CECP was founded by Paul Newman and John Whitehead who believed corporations and their leaders can and should be a force for good in society.  CECP's Strategic Investor Initiative (SII) is a logical extension of this vision—creating a forum where CEOs can present long-term plans to long-term investors, and demonstrate the greater sustained earnings power proven to come from longer-term thinking.  Leveraging CECP's network of 200 CEOs and companies -- representing over $7 trillion in revenues -- the SII is developing a platform to equip CEOs to escape the trap of short-termism.  SII will provide resources, tools, and research to help change market behaviors that inhibit corporations and investors from delivering sustained long-term value creation.  In doing so, SII will spark the movement of trillions of dollars of capital to companies demonstrating performance excellence over the long-term. More at http://cecp.co/sii