Leadership in Times of Transition: Live From the American Express Leadership Academy Global Alumni Summit
Leadership in Times of Transition: Live From the American Express Leadership Academy Global Alumni Summit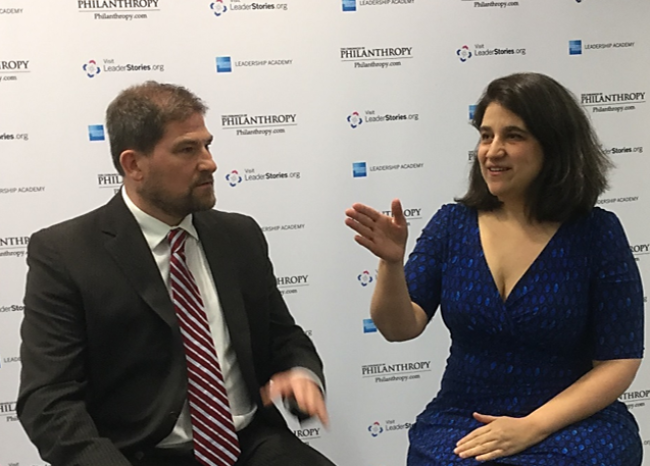 Monday, April 16, 2018 - 4:45pm
In case you missed it, this afternoon, Angela Fernandez, Esq. (executive director, Northern Manhattan Coalition for Immigrant Rights) and Dan Parks (managing editor, The Chronicle of Philanthropy) held a riveting conversation on leading during times of transition at the American Express Leadership Academy Global Alumni Summit.
With more than 20 years of experience, working in a variety of sectors, Angela has been a true advocate for human and civil rights in the U.S. and internationally. She has devoted her expansive career to educating, defending and protecting the rights of immigrants – driving impactful changes for communities.
Here are the top four leadership lessons from Angela:
Identify what type of leader you want to become. As the child of immigrants, from a young age, Angela played a critical leadership role in bridging a gap between her parents and America. This experience ultimately led her to take on many of the positions she has. Along the way, she has asked hard questions – both of herself and others, developed her personal voice, and learned to express herself with confidence.

Transitions are a good thing. Angela has had many – she started her career working as a reporter, then for a U.S. Senator. She later founded two elementary schools, and spearheaded the first of its kind Women's Studies Program at Riker's Island. In each role, Angela has been able to translate what she has learned across a variety of sectors.

Constantly educate yourself. Angela is a life-long learner and reads a great deal about leadership. At the moment she is reading Skin in the Game: Hidden Asymmetries in Daily Life by Nassim Nicholas Taleb. The book delves into why leaders who have "skin in the game" encourage fairness, commercial efficiency and risk management.

Innovation happens at the margins. The most effective policies are created by people who are directly impacted. Anyone can step up and lead if they do it with integrity and authenticity.
Angela and Dan's fireside chat has inspired all of us to embrace transition and use it to inspire others – a critical trait of strong leaders.
To hear more, be sure to watch the replay of Angela and Dan's conversation available at leaderstories.org.
If you have a comment or question, please follow me on Twitter at @timmcclimon and start a conversation there. Thanks for reading and sharing this blog posting with friends and colleagues.