Launch of Third My Child Matters Nurses Award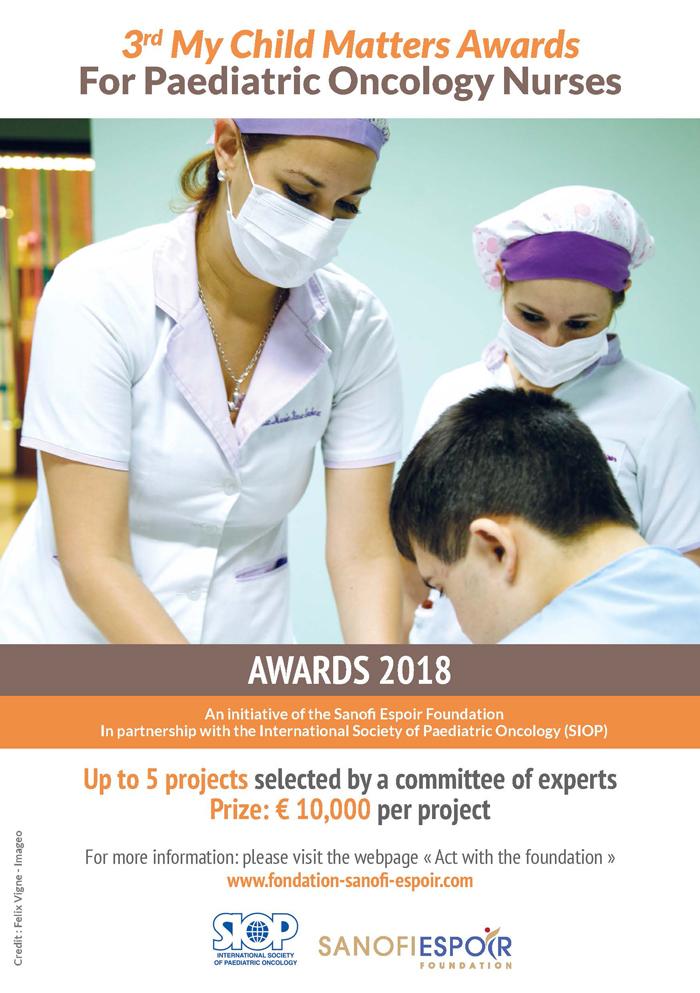 The Sanofi Espoir Foundation, in partnership with the SIOP (International Pediatric Oncology Society), has for the third year launched a call for projects for nurses in pediatric oncology in low- and medium-resource countries.  The aim is to reward and stimulate nurses' initiatives for projects that help fight against childhood cancer in the three areas of education, improving professional practice, and research.
The application must be sent to the following address: fondationsanofiespoir@sanofi.com before March 1, 2018 by filling out the call for projects:  Act with Foundation.
The results of the first two years are very encouraging with respect to care for children with cancer. Twenty awards of €5,000 have been made to nurses in 14 countries in Asia, Africa and Latin America. The selected projects have introduced new tools to improve the care of children with cancer. A special effort was made to support health personnel, resulting in nearly 450 people trained in better practices for treating children (diagnostic aid, reducing pain and infections, and improving hygiene conditions). Some projects directly targeted children and their families, for example to prevent dropouts during treatment, as in Uganda where art and music sessions were organized to reassure and retain patients.
The My Child Matters Nurses Awards project is part of the My Child Matters program, which for 11 years has supported 55 projects in 42 countries that have treated more than 50,000 children and trained more than 16,000 health professionals.