Labs Life: An Intern's View of a Summer in HPE Research
By Aisha Syed, Intern, Networking and Mobility lab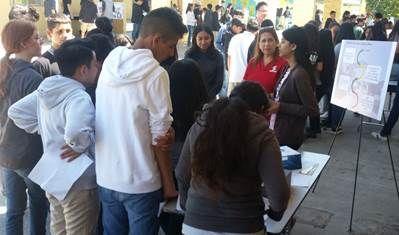 Summer just ended and along with it my wonderful experience interning at Hewlett Packard Labs in Palo Alto. But thankfully I have some great memories to remember it by, from working with some really talented teammates to helping get local kids interested in science, technology, engineering, and mathematics (STEM).
Being a Labs intern turned out to be much more fun than just sitting in a cube doing research. Our mentors and especially the intern coordinators arranged for us to have many opportunities for bonding with fellow interns and getting to know other researchers.
Social
There were a couple of intern socials arranged by the Palo Alto Intern Program, including an ice-cream social and a group breakfast with mentors. It was a good opportunity to meet other interns outside of Labs and learn what they do. They also arranged for us to meet with the CEO, Meg, and have a panel discussion.
If that wasn't enough, our Labs group itself had a weekly lunch for socializing with interns and researchers other than our direct mentors. Speaking of mentors, we all agreed we got a really cool one (Puneet Sharma, to be specific). He took us around to see the HPE buildings, including the offices of the founders – Bill Hewlett's and Dave Packard – and the datacenter used by Labs. We got some really cool photos out of that. It was particularly nice to see the very well-preserved founders' offices, and the earlier calculators and  machines on display, reminding us of the time the company was integral in shaping what came to be known as Silicon Valley.
Professional
I used to walk past the Executive Briefing Center every day to get to Labs, and I had always wondered what happens behind those fancy glass doors. The intern coordinators finally took us for brunch at the EBC, giving us a big picture view of HPE strategy, showing us around the offices, and then took us to a demo room to get an overview of what the Hewlett Packard Labs does, specifically the current status of The Machine project.
It was very exciting to get our hands on some of the very innovative chips and fabric they had come up for it.
Community
The highlight of the extra-curricular events arranged for us was the Reverse Science Fair at the Ocala STEAM Academy in San Jose.
This was a volunteering event planned as part of the HPE's Curated Pathways community engagement project. While being surrounded by high tech companies, the kids at this school were from disadvantaged backgrounds and were not really considering STEM careers before HPE started the project.
Our goal with the reverse science fair was to relate to these middle-school students why STEM and computing is cool, and to make it real so these under-represented students could see themselves in our place.
We had to come up with fun posters and interactive activities to keep 11-12 year-old kids engaged at our respective stations. The poster theme I picked was how STEM is versatile, useful, and has something of interest for everybody. I would tell the kids that for every letter of the alphabet, there is a field that can benefit from STEM or already does. Then I would ask them about their hobbies and try to connect to careers in STEM they would find interesting.
The coordinators also provided us with some Sphero robots. These are educational robots controlled by writing drag-and-drop style programs using a mobile app based on which they spin, move around, change speeds and colors. We used the Sphero robots as a fun way to engage the kids. The kids were very excited to play with them and it made my station one of the most popular. We used it to talk about the Mars rover and how it's controlled remotely, and how intuitive and fun programming is.
Overall, it was a very meaningful event for us and a successful one too since the school immediately asked us back for another such event. As interns, we already have limited time to finish our work projects at the company, so it was nice and somewhat unexpected for me to see that HPE was still motivating us to give back to the community.
While summer has ended and I'm back to school, the collaboration we started is still ongoing and will end up adding to my research publications as well as being a solution for a very relevant real-world problem, which is one of the biggest advantages of collaborating with a company like HPE. Getting access to interesting business problems and data, validating your research is pragmatic.
The internship turned out to be a great opportunity for networking with peers in my field, and giving back to the community.