Labels are for Jars, Not for People
Labels are for Jars, Not for People
Symantec's Volunteer of the Quarter challenges mental health stigmas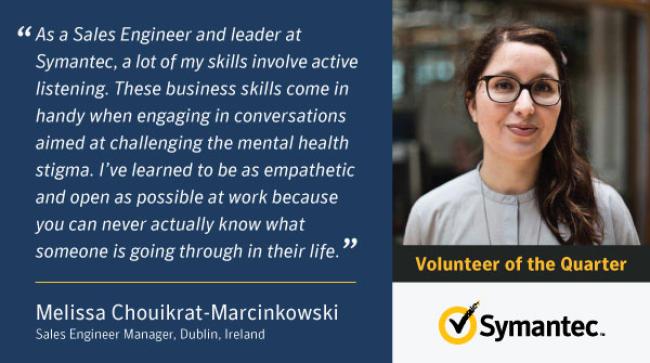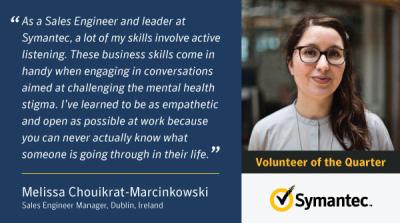 Summary
At Symantec, employees are key players in the success and expansion of our Corporate Responsibility (CR) program. Employee activism, advocacy, and passion is what transforms our CR strategy into tangible results. We have a robust community relations program that is aligned to our business and we are committed to building a culture that enables employees to apply their time and talents to the issues they care most deeply about. Each quarter we celebrate outstanding volunteer efforts and provide a $1,000 grant to an organization chosen by our "Volunteer of the Quarter." This quarter, meet Melissa Chouikrat-Marcinkowski, Sales Engineer Manager in Dublin, Ireland, and mental health champion.
Friday, May 31, 2019 - 10:00am
Walking to work one day, seven years ago, I saw a gigantic piece of street art. It was a bottle of Heinz ketchup, but read "Labels are for jars, not for people" and listed a website for a nonprofit called First Fortnight. I looked into First Fortnight and found an Irish Charity that challenges mental health prejudice through arts and cultural action. 
They were looking for volunteers and I jumped at the chance to get involved. In Ireland, one in four people are predicted to struggle with their mental health at some point in their lives. I meet many people who are prejudiced against those living with mental health illnesses and find this often stems from simply lacking a story they can relate to or understanding the impact that ill mental health can have on an individual's everyday life. Mental health illnesses are first and foremost illnesses, and someone suffering from depression or anxiety deserves the same empathy as someone suffering from a "physical" or visible illness.
First Fortnight utilizes arts and culture to challenge the mental health stigma, while supporting some of Ireland's most vulnerable people through creative psychotherapy services. My main involvement has been helping run events at their annual mental health festival, serving on their volunteer Board of Directors for two years, and helping with organization strategy and event programming.
Volunteering has helped me become more inclusive and has helped raise my self-awareness towards some of my own unconscious bias. As a Sales Engineer and leader at Symantec, a lot of my skills involve active listening. These business skills come in handy when engaging in conversations aimed at challenging the mental health stigma. At the same time, what I've learned through volunteering makes me a better manager and colleague. I've learned to be as empathetic and open as possible at work because you can never actually know what someone is going through in their life.
I'm proud to work for a company that cares about supporting our local communities. As part of Symantec's Service Time initiative, the EMEA Inside Sales Organization encourages all teammates to volunteer each quarter and my colleagues have supported First Fortnight on a regular basis for the past four years in various ways.
In addition to encouraging volunteering, Symantec financially supports the organizations employees volunteer with through our Dollars for Doers grants. These grants help First Fortnight run their free, arts-based mental health service for adults experiencing or at risk of homelessness in Dublin and last year's matching grant allowed the charity to buy new musical instruments. 
Volunteering is an important part of my life and a beautiful part of the human experience. I've met fantastic people of all backgrounds that I may not have ever met through friends or work. And, I've seen firsthand how empowered, strong, and alive a person can be when they have the right support.
Feeling inspired to help? Visit https://www.firstfortnight.ie/volunteer to learn more about First Fortnight or search for ways to give back with a volunteer search engine like Volunteermatch.org.