Kinross Gold Launches 2022 Sustainability and ESG Report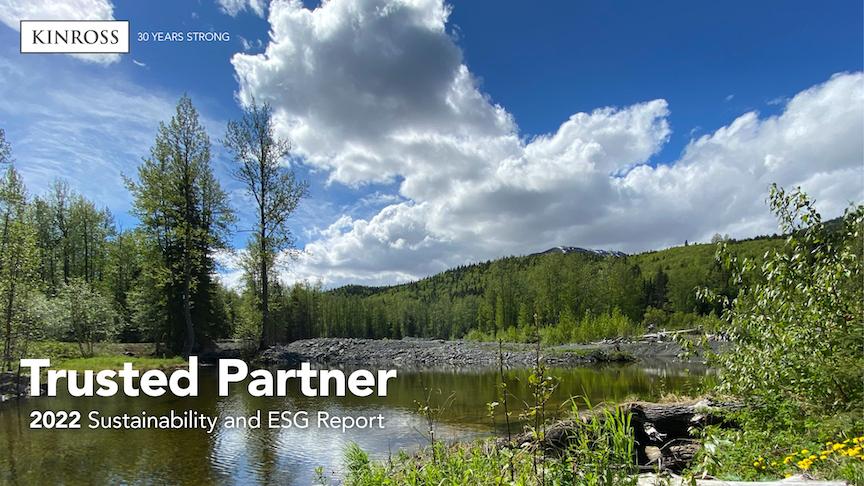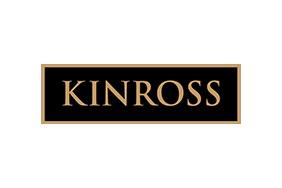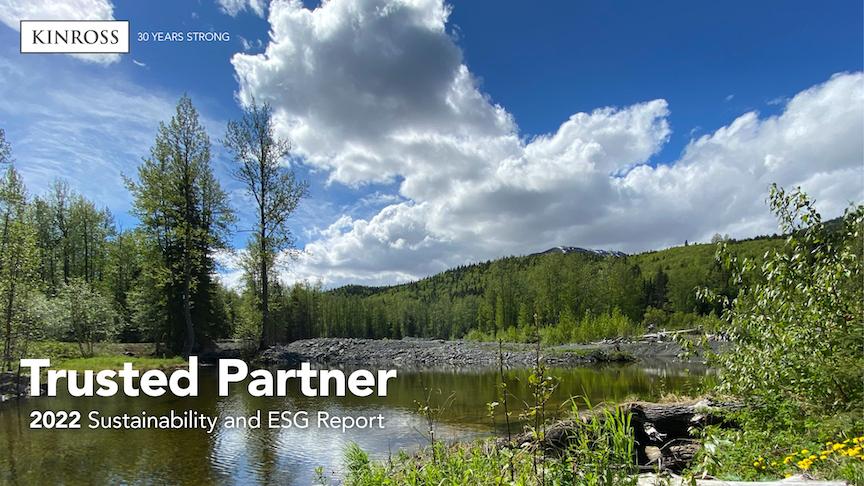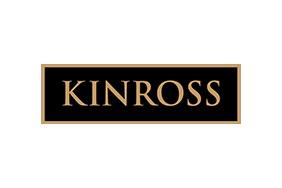 Kinross Gold is pleased to launch its 2022 Sustainability and ESG Report, summarizing the Company's progress over the past year in furthering its Environment, Social and Governance (ESG) strategy and detailing its ESG goals for 2023 and beyond.

Kinross' Sustainability and ESG Report, now in its 15th year, details the Company's approach to responsible mining that underpins its operational success. The foundation of Kinross' ESG governance structure is its core values, commitment to key international frameworks and standards, and Safety and Sustainability Policy, which grounds the Company's First Priorities and its commitment to environmental stewardship, social responsibility and governance.

Click here to view the report https://s2.q4cdn.com/496390694/files/doc_downloads/2023/ESG/Kinross-2022-Sustainability-and-ESG-Report.pdf

Key highlights and achievements contained in the report include:
Generated US$2.9 billion in economic benefits to host countries through taxes, wages, procurement, and community support. Since 2010, US$44 billion has been contributed to the economies of Kinross' host countries.
Sustained high levels of local employment with 99% of our workforce and 87% of management from within host countries.
Advanced Diversity, Equity, and Inclusion targets, achieving 13.3% female participation in Kinross' workforce, the highest level in five years.
Maintained record of zero reportable incidents at our tailings sites for the 30th consecutive year, with independent reviews conducted at 100% of our sites in the past three years.
Water intensity declined by 8% from 2021 to 2022, driven by more tonnes processed vs. 2021 and a large decline in net water storage at Paracatu.
Introduced first Climate Change Strategy, which outlines a comprehensive greenhouse gas reduction plan on our path to net-zero by 2050, setting an interim target to achieve a 30% reduction of Scope 1 and Scope 2 greenhouse gas emissions intensity (on a per gold equivalent ounce basis) over the 2021 baseline by 2030.
Lowered GHG intensity rates in 2022 and the Company is on track towards 2030 target.
Achieved highest S&P ESG Global rating in 2022, ranking in the 97th percentile, the highest ever placement for Kinross, improved Sustainalytics risk rating score with a significant 10-point improvement, and maintained 'A' position with MSCI for the third-consecutive year.
Top ranked mining company in The Globe and Mail's annual ranking for corporate governance among Canadian companies, scoring 93 out of 100.
"Sustainability is a critical component of our business and every facet of our operations at Kinross," said J. Paul Rollinson, President and CEO. "Building on the solid sustainability foundation we've established over three decades, we have updated our ESG strategy, focusing on three pillars: Workforce and Community, Natural Capital, and Climate and Energy. We see each pillar as a key focus area for us, with short- and long-term performance targets embedded into our business. Our updated ESG strategy and sharpened focus will enhance the management of our social and environmental performance in a transparent, collaborative, and responsible manner, generating long term value for our stakeholders."

About Kinross Gold Corporation
Kinross is a Canadian-based global senior gold mining company with operations and projects in the United States, Brazil, Mauritania, Chile and Canada. Our focus on delivering value is based on our core principles of responsible mining, operational excellence, disciplined growth and balance sheet strength. Kinross maintains listings on the Toronto Stock Exchange (symbol:K) and the New York Stock Exchange (symbol:KGC).

Media Contact:
Investor Relations
Chris Lichtenheldt, Vice-President, Investor Relations
Telephone: 647-821-1736

Media Relations
Victoria Barrington, Senior Director, Corporate Communications
Telephone: 647-788-4253

ESG
Michal Kowalczyk, Vice-President, ESG Strategy
Telephone: 647-788-4150