Keeping the Magic Alive for Children Living With Life-Threatening Illnesses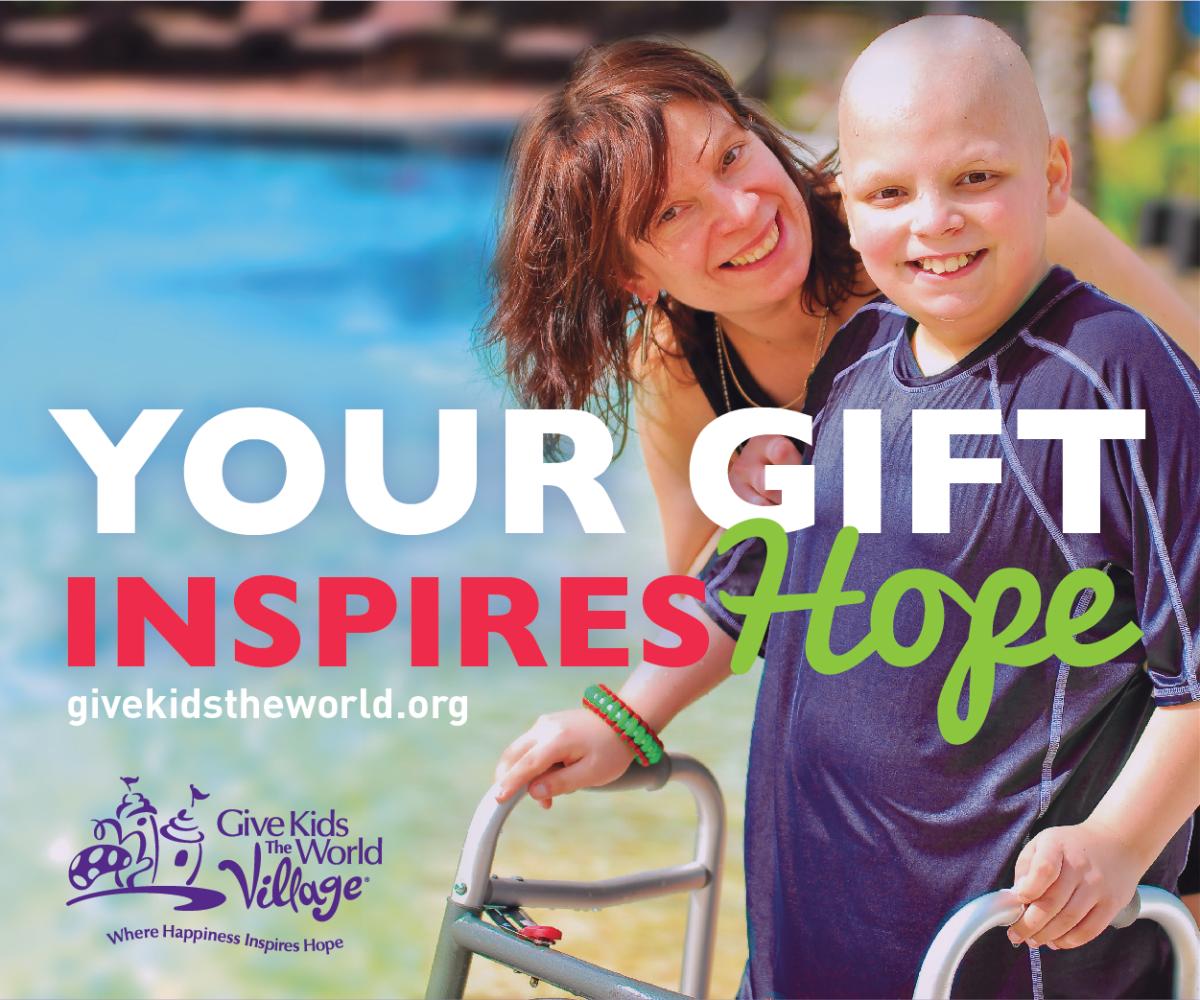 Each year 27,000 children in the United States are diagnosed with a life-threatening illness. For these children, simple surprises and joys of life are eclipsed by doctors' visits, hospital stays, medical tests and treatments. The lives of their family members shift to a place of fear and stress.
These are the families that Give Kids The World Village welcomes to a place where time slows down. At the Village, these brave children are met with surprises around every corner, as they and their families are immersed in joy, hope and fun for a few unforgettably happy days.
Since 1986, more than 156,000 children and families from around the world have had their wishes fulfilled at the organization. Give Kids The World Village is an 84-acre, nonprofit resort in Central Florida that provides weeklong, cost-free vacations to children with life-threatening illnesses and their families.
The Village is home to 166 villas. During their stay, families can enjoy rides on an enchanted carousel and a child-size train, swim in wheelchair accessible pools, play a life-sized version of CANDY LAND, putt at a dinosaur-themed mini golf course, enjoy ice cream for breakfast at the ice cream palace and so much more. There is no shortage of celebrations, including weekly Halloween and Christmas parades and parties, as well as the birthday of Mayor Clayton, a six-foot rabbit who serves as mayor of the Village.
The mission of Give Kids The World is simple: to provide everything these deserving families need to make their visit the vacation of a lifetime. Creating happiness and hope for children and their families, Give Kids The World relies on the support of its partners and donors. 
How You Can Help
Central Florida is the number one destination for wishes of children with life-threatening illnesses, and each year, the number of children Give Kids The World serves significantly increases. Whether a child wishes to visit Walt Disney World Resort, Universal Orlando Resort, SeaWorld Orlando or other Central Florida attractions, Give Kids The World Village is his or her home for a week of exciting adventures.
As Give Kids The World Village grows and continues providing the vacations of a lifetime to children, the Village looks to generous donors to contribute to making these wishes come true. Every donation matters in keeping the magic alive for children living with a life-threatening illness. The Village has repeatedly been recognized as a top-performing, Four-Star Charity by Charity Navigator, and more than 93 cents of every dollar we spend goes directly to programs for the children and families we serve. Here are just a few examples of how employee donations can help Give Kids The World provide an unforgettable experience for our guests:
$25 can provide a family with unlimited ice cream for an entire week from our beloved Ice Cream Palace. The Ice Cream Palace opens at 7:30 every morning and serves frozen treats all day. Families can enjoy hot fudge sundaes, milkshakes and more! We provide various options, like soy-based and rice-based ice cream, so we can accommodate many different diets.
 
$250 can support our daily gift-giving program. While wish families are enjoying themselves at the theme parks, the GKTW Gift-Giving Fairy visits each villa and leaves special gifts to surprise the families when they return. Many of these gifts are personalized for each child to make it that much more special.
 
$5,000 can provide a family's weeklong, cost-free, wish-fulfilling trip to Give Kids The World Village. A wish-fulfilling trip at Give Kids The World Village can have a dramatic effect on a family, giving them time away from a hectic schedule of doctor's appointments and treatments to focus on each other and strengthen family bonds to sustain them throughout their life's journey. 
Support Give Kids The World Village through your employee giving program:
As a donor, you can support GKTW by donating to them through your employer's workplace giving program (CFC#11874 if you're a military or federal employee participating in the Combined Federal Campaign). Payroll pledges made through employer-sponsored charitable giving programs represent a cost effective and near effortless way to support your favorite charities.
As GKTW's workplace giving partner, America's Charities can help your company design and implement a program centered on supporting their work - through workplace giving campaigns, employee fundraising, cause-focused signature programs, volunteerism, donation drives, matching gifts, Dollars-for-Doers, In-Kind Giving and other employee engagement and philanthropic initiatives. Click here to request a demo and learn how we can help you do this.