Just Vote Campaign, Global Citizen and Headcount Call on Corporations and Organizations Nationwide to Empower Employees to Engage in the Electoral Process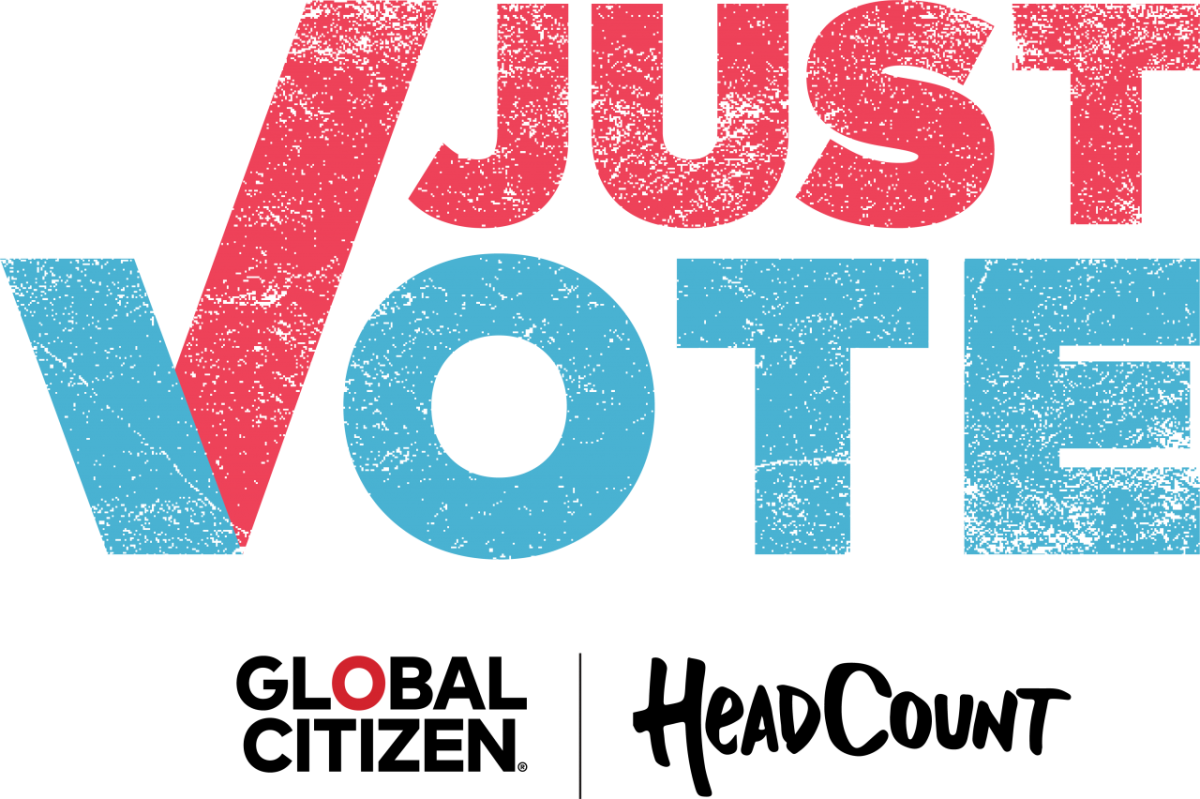 NEW YORK, October 15, 2020 /3BL Media/ – The Just Vote campaign, spearheaded by international advocacy organization Global Citizen and voter registration organization HeadCount, today announced additional companies and organizations supporting in the effort to engage more Americans in the election process. 
Companies and organizations partnering with Just Vote, include anchor collaborators Cisco, Procter & Gamble, Verizon, and The Wallace Global Fund, alongside over 50 entities that are committed to inspiring civic engagement in the electoral process. They include: Americares, Ace Hotel, American Alliance of Museums, Art Beyond Sight, Asian American Writers' Workshop, BlackStar Projects, Bridgespan Group, Brookings Institution, Campaign Legal Center, Catalyst Miami, Chobani, The Coca-Cola Company, Center for Democracy & Technology, Community Economic Development Association of Michigan, Common Justice, Crane Institute of Sustainability (Intentional Endowments Network), Constitutional Rights Foundation, CVC, Dangerous Speech Project, Delta Air Lines, Economic Hardship Reporting Project, Ford Foundation, Fountain House, Global Impact Investing Network, Global Tax Network, LLC, Heartland Coca Cola Bottling, Hunger Free America, Jobs for the Future, Lyft, National Disability Rights Network, National Women's Law Center, Net Impact, NEXUS, Osmosis, PEN America, Petco, Pioneer Works, Robert F. Kennedy Human Rights, Saks Fifth Avenue, SoundCloud, Staff Smart Medical Staffing, LLC, Team Rubicon, Tectonic Theater Project, Theatre for a New Audience, Tony's Chocoloney, True Colors United, Twitter, Vow - To End Child Marriage, Inc., Washington Office on Latin America and Wells Fargo. 
In partnering with Just Vote, the organizations have pledged to give their workers time off to vote as well as sharing resources to help their employees navigate the registration and voting process. Some are even encouraging their employees to volunteer as poll workers. For a few of the companies, including Verizon and Cisco, this is the first time they are implementing a company-wide election day policy. P&G established a new paid day off for civic engagement for its U.S. employees to enable them flexibility to participate in our democracy. Since not every state legally requires workers to receive time off to vote, it is significant that these national employers are taking steps on their own to encourage their employees to get involved. 
In the 2016 general election, 100 million eligible Americans did not vote. According to studies, roughly 1-in-7 of the people who did not cast a ballot cited conflicting work schedules as the main reason they did not go to the polls. As leaders in business, education and the nonprofit sector, Just Vote's partners have the power to change this simply by encouraging employees to participate in their civic duty. 
"We are excited to see nonprofits, foundations and the private sector step-up and encourage their employees to get involved in the democratic process," said HUGH EVANS, CO-FOUNDER AND CEO OF GLOBAL CITIZEN. "With 19 days until the election, it's inspiring to see such widespread commitment to ensuring as many people as possible get to the polls."
The Just Vote campaign has also engaged dozens of artists and influencers to encourage young people to check their status and register to vote. Through October 11, 2020, the campaign featured exclusive experiences, performances and memorabilia donated by Alanis Morissette, Billie Eilish, Billy Porter, Bob Weir, Dave Matthews, DJ Khaled, Donna Karan, Dove Cameron, FINNEAS, Gavin Rossdale, Jack Johnson, Julianne Hough, Kaia Gerber, Andrew 'King Bach' Bachelor, Lenny Kravitz, Loren Gray, Madison Beer, Meghan Trainor, Nicky Jam, Prince Royce, Quavo, Shawn Mendes, Taylor Swift and Usher. 
"100 million eligible Americans didn't show up to vote last election, so in the remaining weeks before this November's election, we have to get creative in encouraging people to go to the polls," said ANDY BERNSTEIN, EXECUTIVE DIRECTOR OF HEADCOUNT. "That's why we're thrilled to have so many corporate partners who are committed to encouraging their staff to cast a ballot, and so many influencers and artists who are engaging their followers to check their status. It's because of these efforts across industries that 'Just Vote' will be successful."
For more information about Just Vote, please visit www.globalcitizen.org/en/justvote.
 
###
ABOUT JUST VOTE:
Just Vote is a non-partisan, get-out-the-vote campaign launched by Global Citizen and HeadCount to mobilize support from artists, influencers, media and corporations to give young Americans the tools to use their voice in the 2020 U.S. elections. The non-partisan effort aims to engage one million young voters and get 50,000 young people registered for the first time or re-registered ahead of November 3, 2020. Visit www.globalcitizen.org/en/justvote to learn more.  
ABOUT GLOBAL CITIZEN:
Global Citizen is the world's largest movement of action takers and impact makers dedicated to ending extreme poverty by 2030. With over 10 million monthly advocates, our voices have the power to drive lasting change around sustainability, equality, and humanity. We post, tweet, message, vote, sign, and call to inspire those who can make things happen to act — government leaders, businesses, philanthropists, artists, and citizens — together improving lives. By downloading our app, Global Citizens learn about the systemic causes of extreme poverty, take action on those issues, and earn rewards with tickets to concerts, events, and experiences all over the world. To date, the actions of our community, along with high-level advocacy efforts and work with partners, has resulted in commitments and policy announcements from leaders valued at over $48 billion, affecting the lives of more than 880 million people. For more information, visit GlobalCitizen.org.
ABOUT HEADCOUNT:
HeadCount is a non-partisan, non-profit organization that promotes participation in democracy through music, culture, and digital media. Since 2004 the organization has registered over 700,000 voters and worked with a long list of musicians and partners including Ariana Grande, Billie Eilish, Camila Cabello, Dave Matthews Band, JAY-Z, Beyoncé, March for Our Lives, RuPaul's DragCon, MTV, and Dead & Company. With 40,000 volunteers, street teams in most major U.S. cities, and presence at more than 1,000 events each year, HeadCount ranks as one of the most active grassroots civic participation organizations in the United States. Following COVID-19 restrictions, the organization quickly pivoted to an all-digital approach that led to innovation and online initiatives to fill the needs of the public in using their voices in democracy. For more information, visit HeadCount.org.
CONTACTS:
Global Citizen, Charmion N. Kinder, media@globalcitizen.org 
Sunshine Sachs on behalf of Global Citizen, GC@sunshinesachs.com 
The Syndicate on behalf of HeadCount, Jeff Kilgour, jeff@thesyn.com