JetBlue's Soar with Reading® Initiative Lands in San Francisco and Oakland This Summer
JetBlue Partners with Simon & Schuster Children's Publishing to Battle Bay Area "Book Deserts" and Bring 100,000 Free Books to Kids In Need Through Free Vending Machines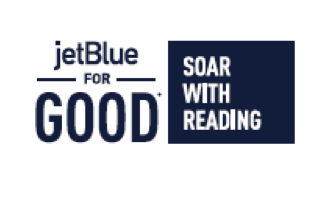 New York, May 22, 2018 /3BL Media/ – JetBlue (Nasdaq: JBLU) today announced San Francisco and Oakland, Calif. as the next locations to receive free book vending machines as part of its annual Soar with Reading program. This award-winning literacy initiative tackles the issue of "book deserts" and provides access to age-appropriate books to children in underserved communities. To kick off the eighth year of Soar with Reading, JetBlue also announced a new partnership with Simon & Schuster Children's Publishing.
JetBlue and Simon & Schuster Children's Publishing will bring books to children in the Bay Area through five custom vending machines which will distribute 100,000 books throughout the summer, free of charge.  The program aims to help fight "book deserts," areas offering limited access to age-appropriate books. Since 2011, JetBlue has donated $3 million worth of books to children in areas of need.
"Our customers voted and we're excited to bring Soar with Reading to the Bay Area this summer," said Icema Gibbs, director corporate social responsibility, JetBlue. "In book deserts, access to age-appropriate reading material is very limited. JetBlue's goal is to provide books to help children build their personal libraries. As we continue to grow the initiative, we've also added select titles for adults as a way to encourage families to read together."
This is the fourth year JetBlue has funded this innovative book vending machine program. Last summer, JetBlue's vending machine initiative visited Fort Lauderdale, Fla., and previously Detroit and Washington, D.C. During an online vote, JetBlue's customers, crewmembers and the local community overwhelmingly voted for San Francisco to receive 100,000 free children's books in 2018.
Vending machines, powered by Innovative Vending Solutions, will be installed at five locations in San Francisco and Oakland. Reading events with Simon & Schuster Children's Book authors will also take place throughout the summer. Specific locations for the vending machines and dates for the reading events will be announced next month.
"We are thrilled to partner with JetBlue for the Soar with Reading program," said Jon Anderson, President & Publisher of Simon & Schuster Children Publishing. "Access to quality children's books is key to fostering a lifelong love of reading, and we couldn't be happier that many of our authors will be participating in events this summer in the San Francisco area to meet with kids and share their stories."
This summer, JetBlue will invite customers to #BookWithUs and take their city's reading adventures to new heights. Customers and community members will be invited to vote for the city they would like to win $25,000 in children's books plus a "celebrity reading room makeover" for a local community organization. Voting will start in June at SoarwithReading.com. No purchase is necessary. Stay tuned for more details.
This year's Soar with Reading program will officially launch in late June 2018, just in time for summer break. The experience will include an updated website which will offer free downloadable resources for families, interactive reading lists, games, advice for keeping kids engaged in reading all summer long, and more. Passport booklets filled with activities will also be distributed at JetBlue terminals across the U.S. and throughout the Caribbean in July and August to encourage summer reading.
Soar with Reading is a signature program of JetBlue For Good®, the airline's platform for social impact and corporate responsibility. As the program continues to grow, JetBlue is working to ensure that the books in the vending machines represent the communities where the machines will be place. The selection of books in the machines will be changed out every two weeks so kids can come back and grab new books all summer long.
Giving back is part of JetBlue's DNA and is core to its mission of inspiring humanity. Centered around volunteerism and service, JetBlue For Good focuses on the areas that are most important to the airline's customers and crewmembers - community, youth/education and the environment. Combining JetBlue's corporate efforts with its customers' and crewmembers' passions, the common theme is Good – JetBlue For Good. Join the #JetBlueForGood conversation on Twitter, Instagram and Facebook, check for regular updates and get involved.
ABOUT JETBLUE
JetBlue is New York's Hometown Airline®, and a leading carrier in Boston, Fort Lauderdale - Hollywood, Los Angeles (Long Beach), Orlando, and San Juan. JetBlue carries more than 40 million customers a year to 102 cities in the U.S., Caribbean, and Latin America with an average of 1,000 daily flights. For more information please visit www.jetblue.com.
About Simon & Schuster Children's Publishing
Simon & Schuster Children's Publishing, one of the leading children's book publishers in the world, comprises the following imprints: Aladdin, Atheneum Books for Young Readers, Beach Lane Books, Libros para niños, Little Simon®, Margaret K. McElderry Books, Paula Wiseman Books, Simon & Schuster Books for Young Readers, Simon Pulse, and Simon Spotlight®. While maintaining an extensive award-winning backlist, the division continues to publish acclaimed and bestselling books for children of all ages. Simon & Schuster publishes numerous Caldecott, Newbery, and National Book Award winners. For more information about Simon & Schuster Children's Publishing, visit our website at www.simonandschuster.com.
MEDIA CONTACTS
JetBlue Corporate Communications
Tel: +1 718 709 3089, corpcomm@jetblue.com  
Lisa Moraleda, Director of Publicity, Simon & Schuster Children's Publishing
212-698-7087, lisa.moraleda@simonandschuster.com