JetBlue Marks the 100-Day Milestone of its 100x35JetBlue Hurricane Relief Program in Puerto Rico
JetBlue Marks the 100-Day Milestone of its 100x35JetBlue Hurricane Relief Program in Puerto Rico
JetBlue's relief program encompassing 100 days and 35 ways – and beyond - of caring for Puerto Rico now transitions to its long-term recovery phase.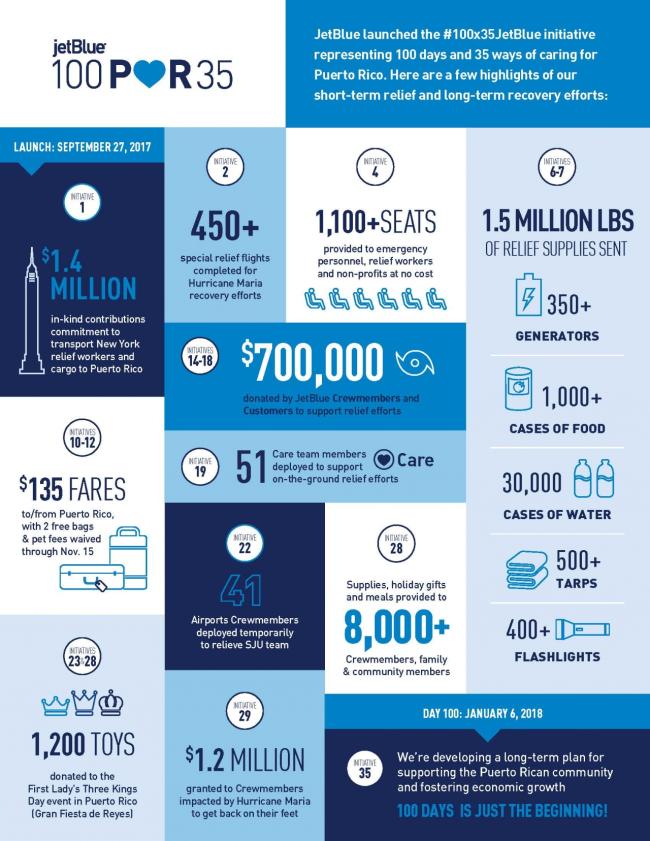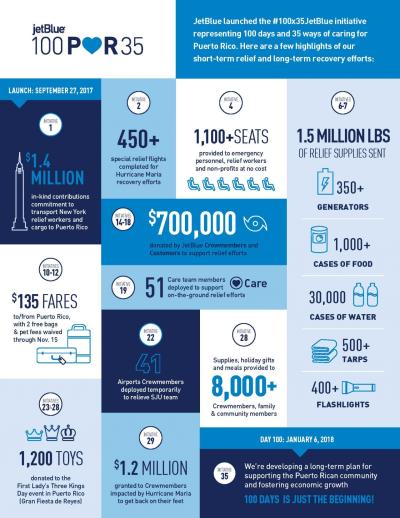 Tuesday, January 9, 2018 - 3:00pm
NEW YORK, January 9, 2018 /3BL Media/ – JetBlue (NASDAQ: JBLU) announced the 100-day milestone of its 100x35JetBlue hurricane relief initiative, which launched shortly after Hurricane Maria struck Puerto Rico in September 2017. A nod to the island's 100x35 mile dimensions, 100x35JetBlue outlined 100 days and 35 ways – and beyond – of caring for Puerto Rico and the Caribbean. JetBlue has completed or launched 34 of the 35 initiatives, and now transitions to initiative #35: developing a long-term plan for supporting Puerto Rico and fostering economic growth.
As the largest airline in Puerto Rico, JetBlue made a commitment to its crewmembers, customers and communities by pledging to assist in the island's rebuilding and recovery. Puerto Rico is home to nearly 500 JetBlue crewmembers who support the airline's operations in its focus city of San Juan, as well as in Aguadilla and Ponce.
With the help of crewmembers across JetBlue's 101-city network, including those in Puerto Rico, as well as partners such as New York Governor Andrew Cuomo, Puerto Rico Governor Ricardo Rosselló, and the Puerto Rico Tourism Company, the airline has spent the past 100 days implementing its plan. The initiative's pillars included providing free and reduced rate air transportation; charitable fundraising support; donation and delivery of supplies and services to meet the basic needs of the community; overall reconstruction efforts; and activities to restore a sense of normalcy to those most impacted by the storms. At the same time, JetBlue has focused on raising awareness for Puerto Rico to ensure continued focus on the island's needs.
Some of the actions taken for Puerto Rico in the past 100 days include:
Operating over 450 special relief flights for Hurricane Maria recovery efforts
Providing more than 1,100 seats to the island for emergency personnel, relief workers, and non-profits at no cost
Making a $1 million in-kind contribution commitment to transport relief workers and cargo from New York as part of the Empire State Relief and Recovery efforts
Offering reduced fares for customers to/from Puerto Rico, including two free checked bags and waived pet fees, in the immediate aftermath of the storm
Sending more than 1.5 million pounds of relief supplies on JetBlue and in partnership with Atlas Air 
Partnering with celebrities to conduct relief flights to raise awareness for recovery efforts and deliver much-needed supplies
Quickly resuming service from all three cities JetBlue serves in Puerto Rico: San Juan (SJU), Aguadilla (BQN) and Ponce (PSE). During 2018, JetBlue plans to operate up to 30 daily roundtrip flights to/from Puerto Rico including 25 in San Juan alone.
Continuing to monitor booking trends closely and adjusting flight schedules and seat capacity as demand necessitates.
Granting $1.2 million in grants to impacted JetBlue crewmembers in Puerto Rico to get back on their feet through the JetBlue Crewmember Crisis Fund
Supporting Puerto Rico Tourism Company's efforts to promote tourism to the island
"In the aftermath of the hurricanes, our crewmembers rose to the challenge of truly caring for one another and our customers in incredible ways." said Robin Hayes, President & CEO of JetBlue.
"As Puerto Rico's largest airline, we have an ability – and a responsibility – to play a significant role in rebuilding the economy by supporting the return of tourism," Hayes continued. "We've already begun planning these initiatives with our partners at the Puerto Rico Tourism Company. We know that Puerto Rico has a bright future, and we pledge to stand alongside the community as the island recovers and thrives."
Three Kings Day Celebrations
JetBlue's 100-day milestone coincided with Three Kings Day, an important holiday and tradition in Hispanic and Puerto Rican culture that caps off the Christmas holiday season. The airline commemorated the start of its long-term initiatives by celebrating events on the island with crewmembers, their families and the community. Three Kings Day and holiday season initiatives included:
Donation of 1,200 toys to Puerto Rico's First Lady's event, Gran Fiesta de Reyes
Donation of formula, diapers and other essential supplies to the Puerto Rico Tourism Company (PRTC) for distribution at their San Jorge's Children Hospital event
Title sponsorship of Promesa de Reyes, which included the distribution of about 3,500 toys to children in five different communities on the island with the help of professional baseball players
Three Kings Day celebration with JetBlue senior leader to distribute gifts and toys to crewmembers and their families
Hosting Thanksgiving and Christmas / Noche Buena meals for the community, crewmembers, and partners throughout the season
For more information and updates on JetBlue's 100x35JetBlue initiative, and ways to assist in Puerto Rico's continued recovery, visit www.jetblue.com/100x35.
About JetBlue Airways
JetBlue is New York's Hometown Airline®, and a leading carrier in Boston, Fort Lauderdale-Hollywood, Los Angeles (Long Beach), Orlando, and San Juan. JetBlue carries more than 38 million customers a year to 101 cities in the U.S., Caribbean, and Latin America with an average of 1,000 daily flights. For more information please visit jetblue.com. 
Contact
JetBlue Corporate Communications