JetBlue Donates Instruments to A Miami Middle School After a Decade Without Music
JetBlue Donates Instruments to A Miami Middle School After a Decade Without Music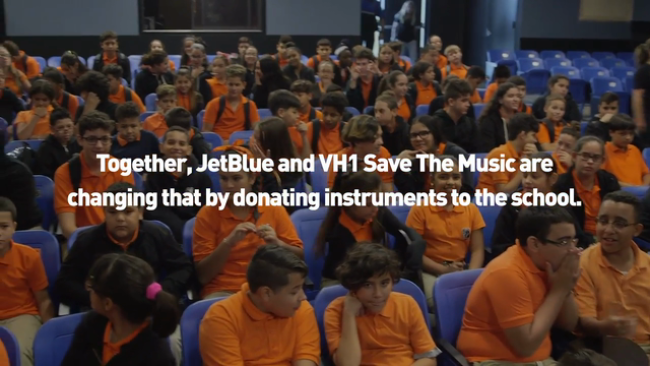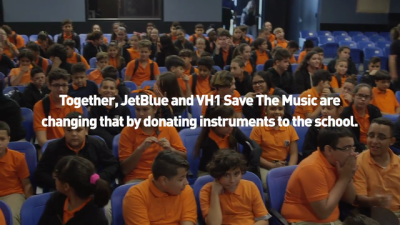 Friday, September 14, 2018 - 12:15pm
Last month, JetBlue worked with VH1's Save the Music to donate instruments to Henry H. Filer Middle Schoo in Hialeah, Fla. to "bring the beat back." The donation will help revival their music program, which had been shut down for more than a decade. JetBlue recognizes how much music adds into a child's education. The arts help inspire creative thinking and opportunities. The event ended on a high note with a surprise guest performance from Emily Estefan.
With a focus on STEAM (science, technology engineering, arts and math) education, JetBlue has been a proud partner of VH1 Save The Music for more than 10 years, raising more than $300,000 to boost the Foundation's mission on a national level and save the music in public schools across the country.
JetBlue For Good - Giving back is part of JetBlue's DNA and is core to its mission of inspiring humanity. Centered around volunteerism and service, JetBlue For Good focuses on the areas that are most important to the airline's customers and crewmembers - community, youth/education and the environment. Combining JetBlue's corporate efforts with its customers' and crewmembers' passions, the common theme is Good – JetBlue For Good. Join the #JetBlueForGood conversation on Twitter, Instagram and Facebook, check for regular updates and get involved.
About JetBlue
JetBlue is New York's Hometown Airline®, and a leading carrier in Boston, Fort Lauderdale - Hollywood, Los Angeles (Long Beach), Orlando, and San Juan. JetBlue carries more than 40 million customers a year to 103 cities in the U.S., Caribbean, and Latin America with an average of 1,000 daily flights. For more information please visit www.jetblue.com.
About VH1 Save The Music Foundation
VH1 Save The Music Foundation, Inc. is a New York 501(c)(3) nonprofit that helps kids, schools, and communities realize their full potential through the power of making music. Since 1997, the Foundation has donated $56M worth of new musical instruments to over 2,100 public schools in 261 school districts around the country—impacting millions of public school students. Get involved at vh1savethemusic.org.