iRelaunch Gets Women in STEM Back to Work After Gap Years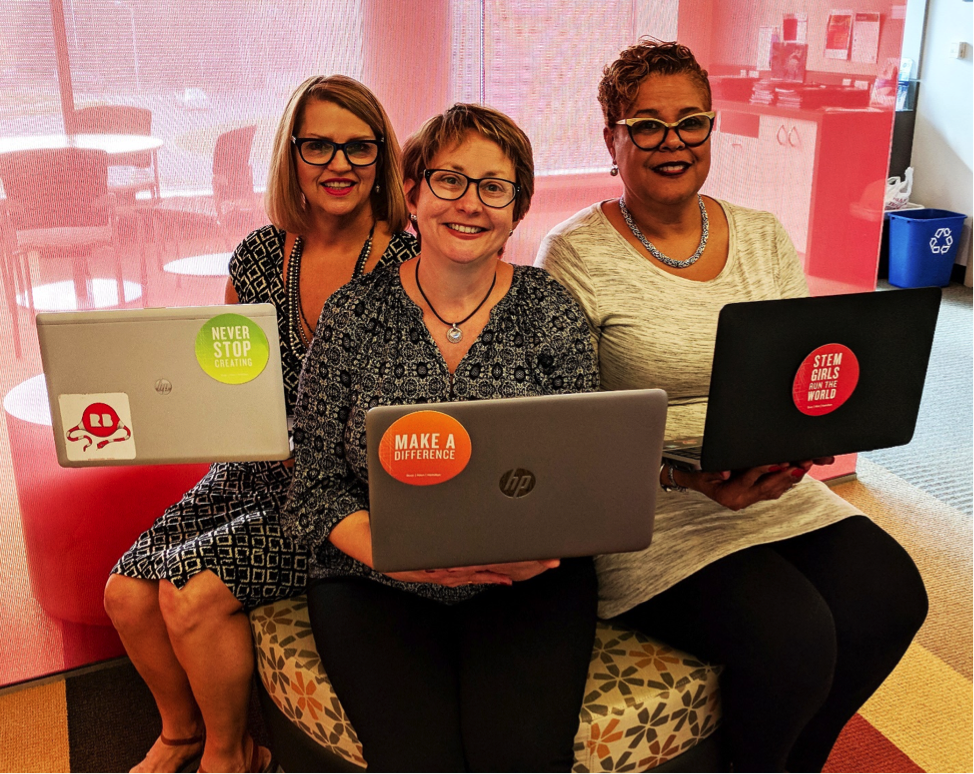 Pictured (from left to right): Booz Allen's Barbara Cano, Allison Palmer and Regina Crump.
During the course of their careers, many highly- skilled professional women will take time away from the workforce—for maternity leave, to care for elderly parents, or due to a spouse's career change. But after an extended time away, re-entering the job market can seem daunting or down right impossible.
It doesn't have to be. Management technology consulting firm Booz Allen Hamilton has joined with the Society of Women Engineers (SWE) and iRelaunch's STEM Task Force to change the equation for women returning to work.
The goal? Getting women with STEM skills back in the workforce after gap years. It's a cause taken up by many leading companies including IBM, General Motors and nearly 60 others worldwide, all part of the iRelaunch STEM Task Force.
Last year, Booz Allen launched a "Return-to-Work Program," a paid internship designed to draw women engineers back to the workforce. The program has expanded in 2017 into regions across the U.S., including Colorado Springs, CO; San Diego and Los Angeles, CA; Albuquerque, NM, San Antonio, TX, Dayton, OH; and Rome, NY.
The twelve-week internships kick off in the fall, when kids return to school.
"Women who have taken a break from the workforce can struggle to explain a gap on their resume," says Holly Rollins, a senior cybersecurity director who spearheads Booz Allen's participation in the iRelaunch program. "With our internship, women don't have to worry about that gap, and we're gaining the expertise we need to drive solutions for our clients."
The program targets women engineers with 3+ years of experience, and those who have been out of the workforce for a minimum of 24 months. The focus is on high-demand skill sets—like engineering, cybersecurity, software development, and data science.
"What those women may not know is how much we need them," Holly continued. "These are incredibly talented, skilled women, and yes, it's great that we're helping them restart their careers. But Booz Allen benefits from this program, too. Competition for talented employees is fierce, and we feel we've got the inside track to a pool of talented, smart women."
The focus of the 12-week internship is rebooting skills through formal training and meaningful engagement with colleagues. Interns may focus on obtaining a security clearance, seeking relevant certifications, and reengaging in their fields without the pressure of billability and client assignment performance.
Martha Johnston, who holds a degree in industrial engineering, was ready to jump back into her career after an 18-year break to raise her children. She was part of the pilot cohort of Booz Allen's iRelaunch program and is now a full-time Booz Allen employee focusing on cybersecurity for Air Force clients.
Martha says the program felt tailor-made for her: "It's so exciting to be engaged in a technical, challenging, and rewarding career again. The iRelaunch internship was the perfect opportunity to re-enter the workforce because there's an understanding that you might be a little rusty on some things. Booz Allen provides the support and training interns need to be successful."
Ready to return to work? Learn more about the iRelaunch program, here.