Intel Travels To Africa To Closely Track Responsibly Sourced Tech Minerals
Intel Travels To Africa To Closely Track Responsibly Sourced Tech Minerals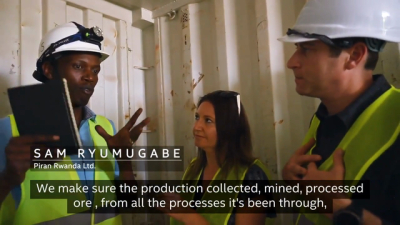 Thursday, August 20, 2020 - 12:00pm
Adam Schafer, Intel director of Supply Chain Sustainability, and Erin Mitchell, Intel's Responsible Minerals Program manager, spent a week in late 2019 crisscrossing Rwanda's mineral-rich mountains. Schafer and Mitchell made the trip to fully understand the first part of a complex process that brings minerals from Africa to high-tech companies for use in their devices. The Intel team's fact-finding trip was completed before the coronavirus pandemic halted most air travel — but helped guide Intel's recently announced 2030 Corporate Responsibility Goals as they relate to responsible sourcing.
In Rwanda, the Intel team talked not just with mine operators, refiners and local government leaders, but also with fellow corporate responsibility representatives in the technology industry. Accompanying the Intel team on several of the mine and government visits were reps from Apple, Facebook, Google, Nokia and other companies with whom Intel has been partnering on conflict minerals and responsible sourcing issues for nearly a decade.
Says Schafer: "It's important that we continue to work with our peers and customers to help make our industry even better."
Click here to learn more about Intel's commitment to responsibly sourced minerals
About Intel
Intel (Nasdaq: INTC) is an industry leader, creating world-changing technology that enables global progress and enriches lives. Inspired by Moore's Law, we continuously work to advance the design and manufacturing of semiconductors to help address our customers' greatest challenges. By embedding intelligence in the cloud, network, edge and every kind of computing device, we unleash the potential of data to transform business and society for the better. To learn more about Intel's innovations, go to newsroom.intel.com and intel.com.