Why The Future of Tech Must Include Women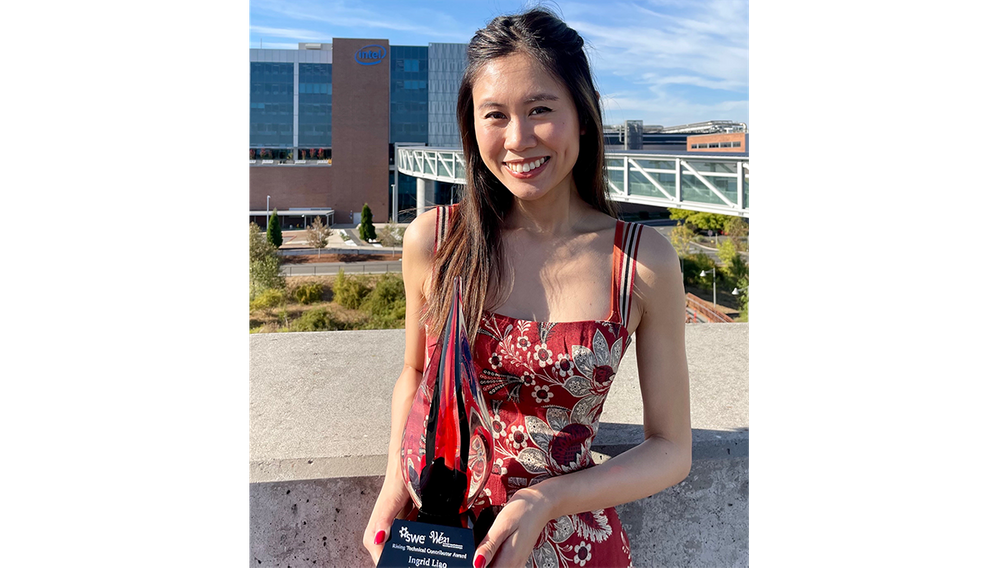 Intel engineer Ingrid Liao understands the unique challenges that women in tech face.
Tell us a bit about what you do and what a typical day looks like.
I'm an epitaxy technology development engineer at the Ronler Acres, Oregon D1 site, overseeing film deposition tools that deposit epitaxial source and drain layers onto our wafers. Every day I make sure my tools are working properly and validate my tools' deposition quality by evaluating different quality charts. I also make sure that communication is aligned with the equipment technicians who help with our projects and daily tasks.
Did you always know you wanted to work in technology? How did you decide to go into engineering?
I was intrigued by science and technology concepts at a young age but never thought I would pursue a career in engineering. I dedicated a lot of my time pre-college to ballet lessons, dance teams, playing in orchestras at school and in the Southern California region, being a part of the marching band, taking viola and piano lessons. I got repeated (minor) injuries from over-dancing and playing instruments. Eventually, I realized that it wasn't a practical career path for me after high school. When I took my first high school chemistry class, I fell in love and realized that it was the major I wanted to pursue in college.
After taking multiple STEM classes as an undergraduate, I grew a liking to physical chemistry and multivariable calculus, then combined it with my passion for creative arts and looked for applications in the real world. Luckily, I met my research professor, who introduced to me the concept of photolithography patterning on semiconductor substrates in my Statistical Mechanics and Kinetics class, which led me to pursue a higher degree in Materials Science and Engineering.
And I still enjoy participating in creative activities in my free time.
Many women in the tech industry feel that their gender has affected how they are perceived or treated. Have you also felt this, and how did you handle it?
This stands somewhat true, in my opinion. I believe that society often forces most women (or those who identify as) to be quiet, polite, and submissive, instilling the idea that outspoken women are "unattractive." This societal pressure results in women tending to be more apologetic and self-conscious than their male (identifying) peers, leading to a lack of confidence and ultimately coming off as "untrustworthy" in their decision-making. I think that we, as a society, have significantly progressed compared to ten or even five years ago in the way we communicate with and respect each other—but there is still a long way to go. As an advocate for women and minorities in STEM, I actively try to speak up for those who can't (whether they can't legally or don't find enough confidence to), raise awareness for resources to help empower women and minorities, and create communities and safe spaces for mentorship and validation. I think there is a lot of responsibility from everyone to self-reflect from time to time and think about the way we communicate- if it is neutral and psychologically safe or not. It would be a shame if you were trying to advocate for women/minorities in the tech industry but unintentionally create a toxic workplace.
What do you think is the best part of being a woman in the tech industry?
My favorite part is meeting other women in the tech industry who are supportive and look out for other females. It is important to help each other succeed if we want to create a future industry with more equality.
Do you notice a lack of women in technology? If so, why do you think that's the case?
Yes, unfortunately, I think many women still take the larger (or entire) share of homemaking responsibilities while trying to juggle an equal career as their male counterparts. It gets overwhelming, and the (traditionally male dominating) workplace does not have resources, support, or realistic empathy for these women (or individuals) who have to juggle both home and work tasks. Most of these women end up picking family over career at the end and leaving the workforce. On top of this, the pool of eligible women candidates is much smaller for these jobs, as they have not experienced the privilege (intentional or systematically built-in) offered to our male counterparts. This is why diversity and inclusion efforts such as Intel's RISE goals and others are extremely important in creating a new future for our industry.
Many women in the tech industry consider themselves introverts. Are you an introvert, and if so, what is the most difficult thing about being an introvert in the tech industry? How did you overcome it?
I'd consider myself to be mostly shy, haha! The most difficult thing for me is letting my thoughts and opinions be heard. Often I have an idea, but I am too scared of saying it; a serious case of imposters syndrome. People around me assume I don't know what I'm doing, but usually, my idea is correct and makes me regret not speaking up earlier. I have learned in my experience so far that it's better to voice my ideas and bounce them off my team instead of keeping them to myself. Even if I'm wrong, it ends up being a good learning experience for myself and others who may be too introverted to speak up.
Is there a female technologist you admire who has influenced your career journey and choices?
I wouldn't say that she has influenced my career journey or choices because I only recently learned of her, but I find Hayley Arceneaux (Inspiration4) extremely inspiring. I admire her ongoing dedication to the health and medical industry following her medical history. There is something respectable about those who give back and dedicate their lives to others going through something you once struggled with.
Want to learn more about career opportunities at Intel?