Innovators @ Qualcomm: Serafin Diaz
Innovators @ Qualcomm: Serafin Diaz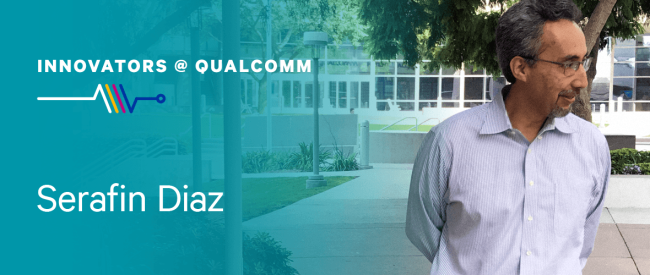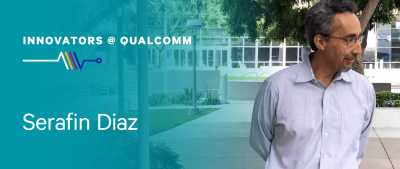 Friday, September 29, 2017 - 1:00pm
In a new series we're calling Innovators @ Qualcomm, or IQ, we're getting to know some of the very talented people that work at Qualcomm.
Today, we're profiling Serafin Diaz, vice president of engineering at Qualcomm Technologies. Diaz grew up in La Paz, Baja, Mexico where he developed an early fascination of electronics and how things work. He's put that inquisitive nature to good use in his almost-20 years with the company, working on a variety of projects, from designing and executing test cases for cellular systems to field testing EV-DO to starting and leading R&D in augmented reality (AR) and computer vision.
We chatted with Diaz about his history with the company he's loved since before he was actually an employee, the road to next-level connectivity and experiences, and why he wants to set a good example for the Latino community.
This interview has been edited for clarity and length.
OnQ: You've been with the Qualcomm organization for almost 20 years. Tell us about your first job with the company.
Serafin Diaz: After school, I got a job with Northern Telecom (Nortel). I had been working there for a bit more than a year when I was selected to work on a big project with this new company named Qualcomm. I came to San Diego to work with Qualcomm on Sprint's first deployment of wireless CDMA technology. So I worked with the company but wasn't an employee. I went back to Dallas, and I realized I really wanted to be here. Less than a year later, I was.
OnQ: As a new employee, what did they have you working on?
Diaz: I worked on the first 2G data services technology — before data was important. I did that for a couple of years. Then, because I had fairly strong software, testing, and validation skills, I was asked to lead a team. We created one of the first [automation] platforms. After that project, I decided I wanted to be close to research, and my manager told me that a small team was being assembled to create a new wireless technology. It was CDMA2000 1xEV-DO, often referred to as EV-DO, the first high-speed internet connection. That's when I moved to corporate research. I worked on EV-DO for many years, almost from the very beginning, until the technology was deployed. I even followed the technology to Korea.