Infrastructure Opportunity on The Ray: Solar Noise Barriers
The Ray reveals comprehensive research on renewable energy producing noise barriers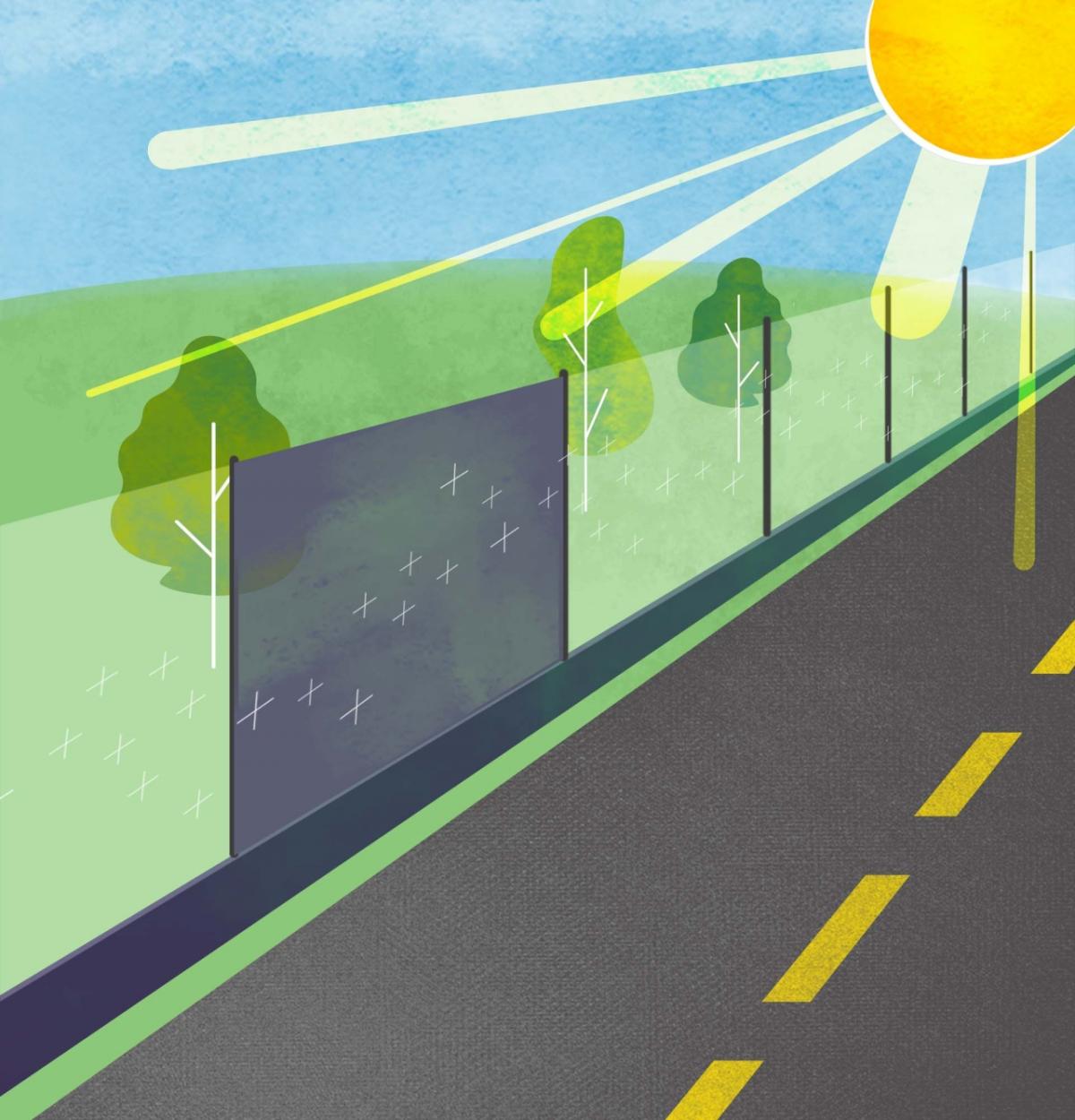 Infrastructure Opportunity on The Ray: Solar Noise Barriers
December 19, 2017 /3BL Media/ - The Ray is proud to release groundbreaking research on solar noise barriers in conjunction with Innovia Technology, a UK based innovation consultancy. The Ray's research was conducted in parallel with the U.S. Department of Transportation Volpe Center, which recently released complimentary research.  The Ray's  research dives deep into different designs and technologies, key technology providers and innovators, and gives an in-depth cost-benefit analysis of noise barriers that are made from photovoltaic materials that produce renewable energy, all while blocking highway noise pollution.   
One of the ways that The Ray reaches its sustainability and safety goals is by examining transportation infrastructure to find places where assets are being underutilized. So much of transportation infrastructure has multi-tasking potential. In 2016, The Ray introduced Wattway, the world's first drivable solar road which produces renewable energy when not obscured by vehicles, to the U.S. market. Last month we introduced a new project - growing perennial wheat in the right-of-way, the land in the shoulder of the highway, instead of the traditional turf grass. This wheat's robust root system works to enrich the depleted soil of the right-of-way and actually sequesters carbon. Turning to solar noise barriers as another opportunity to maximize a staple of highway infrastructure is a natural next step.
Unlike solar farms, solar noise barriers do not require additional dedicated land, allowing for the adoption of this technology in built up areas where land is at a premium. "Miles of sound barriers have been produced from the same traditional materials over and over again," said Harriet Langford, president and founder of The Ray, "By changing the decision on the front end about what kind of materials we use, we can unlock additional value. If you can mitigate noise pollution and produce renewable energy at the same time, why wouldn't you?"
"In this research we found that selecting the right solar noise barrier technology for the right situation is critical. Important factors include the required noise reduction, road orientation, local insolation, and the local value of electricity. The aesthetics are also critical, and especially in urban settings, significant value is placed on a better looking barrier," said Andy Milton, an Innovator at Innovia Technology, "Although bolting standard crystalline silicon panels onto a concrete barrier is cheap and functional, it is somewhat inelegant and wasteful of materials. Thin film solar technologies such as a-Si, CdTe, or perhaps in the future tunable bandgap perovskites integrate the solar panel into one elegant (and optionally transparent) noise-blocking pane of safety glass. With their cost declining and efficiency increasing, we may see more of these technologies on our highways in the future."
There are currently 30 solar noise barriers installed worldwide, the majority in Germany and Switzerland, but none in the United States. States like California, Colorado, Georgia,  Maryland, Minnesota, New Jersey, New York, Ohio, and Michigan have the majority of noise barriers and have the most to gain from this innovation. At The Ray, we are still evaluating whether our 18-mile stretch of I-85 is the ideal location for a pilot project. We are excited to share our research far and wide and participate in any conversations that state Departments of Transportation, local governments, or other organizations might have about bringing solar noise barriers to their community.
About The Ray
The Ray is a proving ground for the evolving ideas and technologies that will transform the transportation infrastructure of the future, beginning with the corridor of road that is named in memory of Ray C. Anderson (1934-2011), a Georgia native who became a captain of industry and was recognized as a leader in green business when he challenged his company, Atlanta-based Interface, Inc., to reimagine the enterprise as a sustainable company—one that would pursue zero environmental footprint. Chaired by Ray's daughter Harriet Langford, The Ray is an epiphany of the Ray C. Anderson Foundation.
About Innovia Technology
Innovia Technology is a global innovation consultancy specialising in the front end of innovation, working with the best companies in the world to create opportunities for growth. We combine creativity with structure, drawing on a wide range of capabilities from science and engineering, to psychology and design. Our solutions work well and drive growth: they are emotionally compelling and commercially effective. We're agile and responsive, delivering just what you need to make it happen.