INFOGRAPHIC | eBay Everyday Heroes: Feeding the Hungry
Millions of Senior Citizens struggle with hunger on a daily basis. Learn how a nonprofit is using eBay to help deliver food to those in need.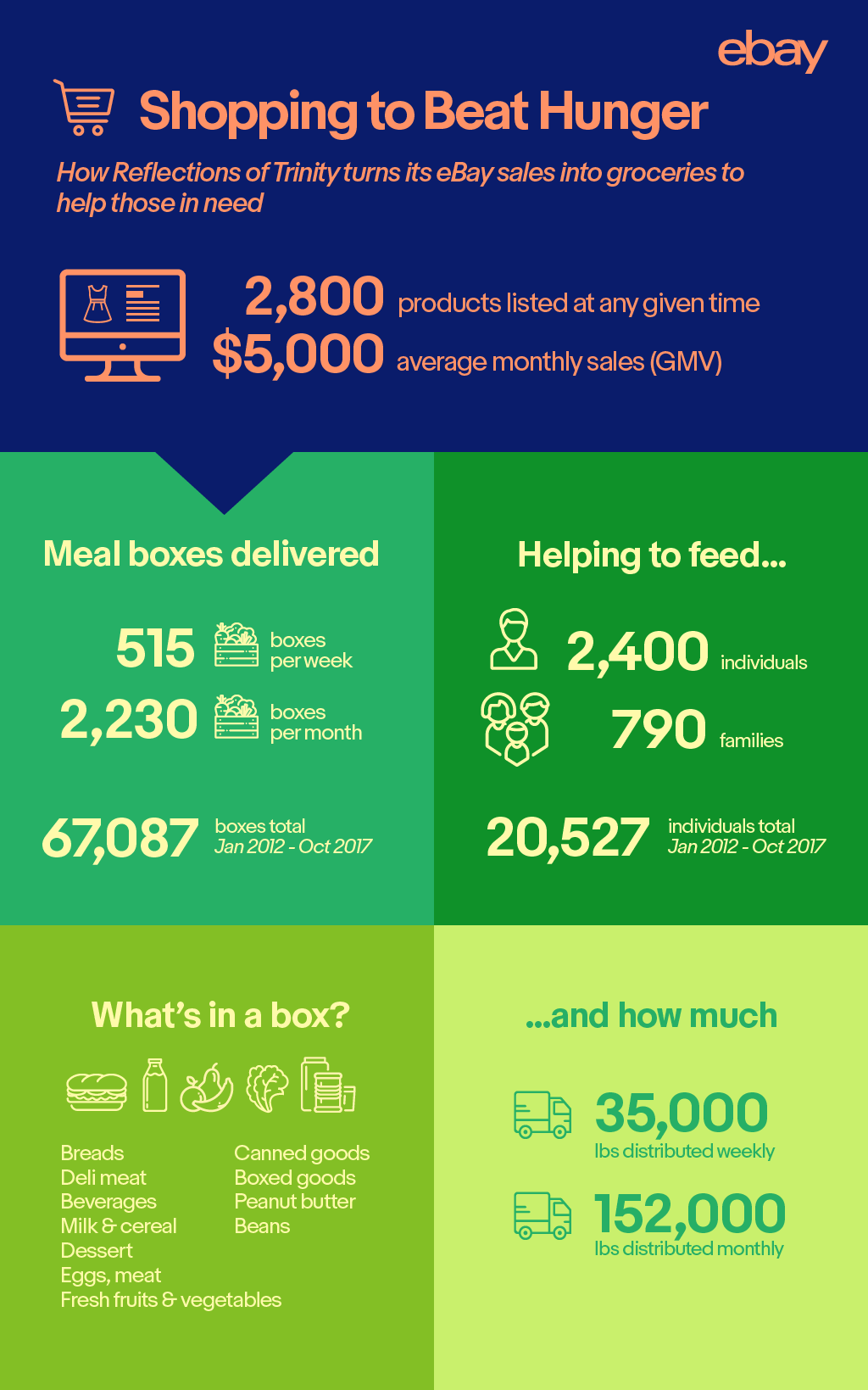 Millions of people from all around the world connect on eBay. Each time that happens, something positive happens in the world. These are the stories of everyday people on eBay making an extraordinary difference in the lives of others.
Roy Byrd has volunteered with Reflections of Trinity in Powder Springs, GA, for more than 10 years. When the nonprofit opened a food pantry in 2012, Roy rose to the challenge. As director of the food ministry, Roy makes sure nearly 400 families get food boxes each week.
"Everybody loves Roy," says Reflections of Trinity Founder and CEO, Laurie Wong.  "When the food truck pulls up, you see joy. You see smiles on everyone's faces. We know that we're making an impact in that community. We can see it plain as day on their faces." 
Laurie Wong didn't start her nonprofit as an eBay business. But with a friend's help and a willingness to try something new, Laurie began what she calls her "online adventure" in 2005, which changed the trajectory of her business. With the ability to sell locally, nationally and internationally through eBay for Charity, Reflections of Trinity's revenue has increased tremendously, allowing the charity to expand its operations and reach more people in her community struggling to get food on the table.
"I would say probably 75 percent of the people who walk through this door depend on us to be able to get through the week, week by week, and have the stuff that they can't afford to buy," says Roy.  "A lot of them are on fixed income. By the time they pay rent and buy medication and utilities, there's nothing left for food."
Roy has witnessed people at their lowest point. As they return to the pantry week after week, he has seen how greater food security reduces their stress and helps them rebuild self-esteem.
One former beneficiary now volunteers alongside Roy—helping lift up others as they were lifted up.
Click here for more stories of Everyday Heroes, who are using eBay to make a difference in other's lives.