Increasing DEI Development Opportunities
Increasing DEI Development Opportunities
2021 Diversity, Equity & Inclusion Report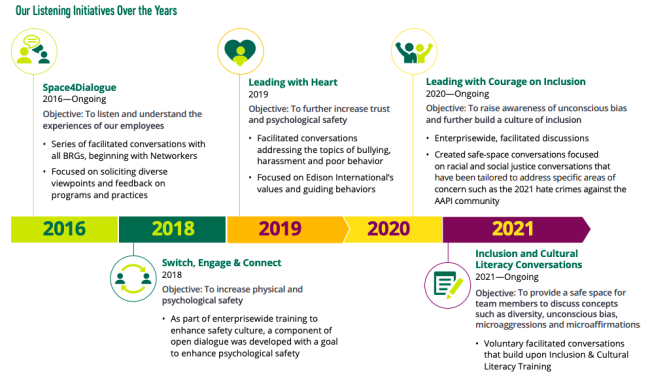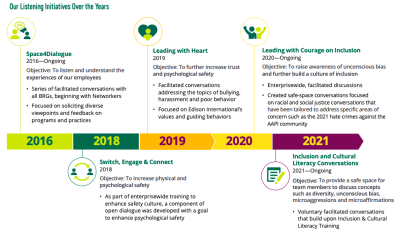 Tuesday, June 21, 2022 - 9:30am
Our diverse talent strategies focus on increasing inclusion, career advancement and leadership opportunities.
Recent Pulse survey results, measuring employee sentiment, indicate that employees continue to feel we can do more to provide meaningful growth and development opportunities. We're addressing this element of job satisfaction through new programs— such as our Talent Development Accelerator, Job Shadowing, Peer-to-Peer Learning and Career Counseling Programs—as we look for new ways to provide a culture that fosters professional and personal growth and well-being.
DEI Training and Education
Edison International invests in education and training to provide employees with skills and resources to activate DEI in their day-to-day interactions and decisions. Programs we use to build DEI skills include:
Empower, a one-year leadership training and mentoring program that equips new leaders with tools and resources to lead with values, inclusion and empathy on a daily basis. In 2021, more than 150 team members participated in Empower. More than 1,200 leaders have completed Empower or its predecessor program, Leader's Academy, since 2017.
Inclusion and Cultural Literacy Training, a required training for all employees that covers topics that include diversity, inclusive/ exclusive behaviors, unconscious bias, psychological safety and belonging.
Assessing Culture Through Listening
We undertake a variety of initiatives, in addition to our Pulse Survey, to promote a culture of honest feedback and open dialogue. Each of our listening initiatives has resulted in broader insight and greater understanding of employee feelings around inclusion and belonging. These insights and employee sentiment data have enabled us to create additional opportunities for discussion and helped shape our DEI programs and priorities. Among many benefits, listening helps us build cohesive teams, effectively and quickly address team members' concerns and better retain our talent.
Pulse Surveys: Gathering Real-Time Feedback
We conduct enterprisewide pulse surveys throughout the year, seeking input from each employee once annually, to help us understand employee sentiment around what is working and where we can improve. This survey includes questions pertaining to DEI and tracks employee sentiment on trust, engagement, the work itself, growth and development and inclusion.
In 2021, 88% of employees indicated that they are proud to work at Edison International, and 84% feel that they are treated with respect at work. Pulse category trends appear to be flat or on a slight decline. Although root causes are still under analysis, we continue to examine the impact of the pandemic on the responses of our employees. Surveys indicate there is room for improvement in the areas of recognition, collaboration and facilitation of career growth and development for all employees.
In 2021, two of our commitments—the Talent Development Accelerator and Career Counseling—directly addressed growth and development opportunities. In 2022, to achieve our DEI corporate goal, each of our OUs will create a DEI Action Plan focused on specific areas of need within their OU. Some of the focus areas chosen have been centered on collaboration, employee growth and development and recognition. Additionally, a corporate-wide employee recognition campaign is being rolled out in 2022.
Our Commitment to Pay Equity
We believe all team members should be paid equitably regardless of gender, race or ethnicity. In 2016, we signed the Obama Administration's White House Equal Pay Pledge to underscore our commitment to helping reduce the national pay gap. In 2021, we signed #EqualPayCA, an initiative led by the First Partner's Office and the California Commission on the Status of Women and Girls. We recognize our role in ensuring pay equity, and we are committed to doing our part to level the playing field. Our 2021 analysis confirmed that, on average, employees in similar roles receive equal pay for equal work. However, in order to achieve pay parity across groups, regardless of role, we are working to diversify gender representation in roles where one gender may be overrepresented.
View the full 2021 Diversity, Equity & Inclusion Report here.