Improving Positive Environmental Contributions from Products and Services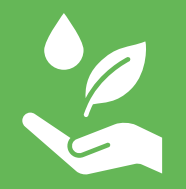 The LIXIL Group's Environmental Vision 2030 outlines the Group's medium- to long-term goals for water conservation and environmental sustainability. Under this vision, we are working to achieve a Net Zero Environmental Footprint by 2030.
Since product use represents about 80% of the overall environmental footprint of our entire value chain, efforts to enhance our products and services are key to achieving our Environmental Vision 2030.
In FYE2017, we made a Group-wide effort to evaluate and reduce our environmental footprint in our entire value chain around the world.
Reducing Greenhouse Gas Emissions from Housing
Hot water and air conditioning represent more than 50% of total energy consumption in single-family homes in Japan.1 LIXIL's Navish hands-free faucets use automatic Eco Sensors to detect the presence of hands and other objects, enabling water to be dispensed and stopped without touching the faucet. Faucets equipped with the Eco Sensor function also separate hot and cold water, preventing unintended use of hot water and energy. Compared to conventional faucets, users can expect to see energy savings of about 52%, and water savings of about 31%.
To reduce energy consumption from air conditioning, it is important to improve the thermal insulation of openings in the home. These represent the greatest inflow and outflow of heat. Following the introduction of LIXIL's high-performance SAMOS X hybrid aluminum and resin windows, in FYE2017 LIXIL introduced SAMOS L, a strategic product designed to be more affordable while maintaining high thermal insulation. In addition, ERSTER X, a resin window aimed at providing the top-class level in thermal insulation performance, has been joined by ERSTER S, a resin window at a more affordable price point.
Meanwhile, GROHE developed smart connected products such as GROHE Sense Guard, which includes sensors that detect water leaks and is able to shut off water supply automatically or through a mobile app. American Standard launched two new ultra-high-efficiency toilets that achieve greater water savings with a choice of a dual flush H2Option tank or single flush H2Optimum style. These products have acquired MaP PREMIUM certification,2 and conserve nearly 20% more water than the specifications set by the US Environmental Protection Agency in its WaterSense program.
Linking Products and Services to Promote ZEH
In FYE2017, LIXIL also worked to promote Net Zero Energy Housing (ZEH).3 In October 2016, we renamed the Exterior Business Department the ZEH Solutions Division to further our focus on promoting ZEH in Japan. In April 2017, we also began offering ZEH Design Support Services to assist builders in designing houses that meet ZEH criteria. By providing both building materials with high-performance thermal insulation and design services for builders, LIXIL is helping to promote the growth of ZEH in Japan.
As a top manufacturer of home building materials, LIXIL will continue to operate as an integrated and sustainable business.
Click here to read LIXIL's 2017 Annual Report
1 Breakdown of standard primary energy consumption under energy conservation standards for homes and buildings. (For a four-member household in a singlefamily home in Tokyo with a floor area of 120 square meters.)
2MaP PREMIUM testing performed by IAPMO R&T Lab. MaP report conducted by Veritec Consulting Inc. and Koeller and Company.
3A house that achieves net zero energy consumption through the use of improved thermal insulation, energy-saving technology, and renewable energy-generating equipment such as solar panels. The definition or criteria of a net zero energy house can vary by country