Implementing the EU Directive: Where Are We Now?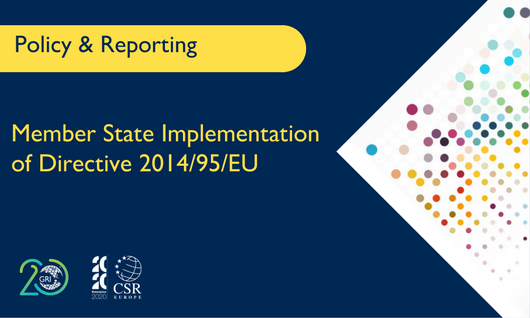 The EU Directive on Non-Financial and Diversity Information is now in force, with member states required to have legislation in place as of December 2016. Which countries have implemented the directive, and what do companies need to know about the new legislation? ​ 
In a recent webinar, GRI and CSR Europe presented the results of a project that aimed to collect information on the implementation, assess non-financial reporting across Europe and enable a fruitful dialogue on the topic. The EU Directive on Non-financial and Diversity Information is a big step toward transparency in the private sector, and by keeping track of its implementation the two organizations can support companies throughout Europe as they embark on a new or adjusted reporting journey.
 
GRI was closely involved in the drafting process of the EU NFI Directive (2014/95/EU) and welcomed its adoption in 2014. Working with CSR Europe, GRI created a platform for collecting information through the two organizations' networks, and provided updates and analysis as the legislative landscape developed. The result of this project is a new publication, due to be launched later this month: Policy & Reporting: Member State Implementation of the Directive 2014/95/EU.
 
The aims of the project include:
Outlining the implications of the Directive to businesses
Collecting and sharing information about the local implementation of the EU Directive 95/2014 for non-financial reporting
Mapping out the 28 Member States positions and statuses with respect to non-financial reporting and grasp Europe's direction on this matter
Enabling non-financial reporting dialogue across Europe
The publication addresses two questions: What are the main requirements of the various national laws, in terms of scope, reporting topics, reporting features, assurance, fines and other aspects? And what are the similarities and differences in the way the Directive has been transposed in different countries? Broken down by country, the report details the companies covered by the national law, what they need to include in their reports and what additional aspects they have to cover.
 
The publication will be officially launched on 22 November, as part of Invest Week 2017. Hosted by Accountancy Europe, which supported the project, the event will feature presentations from Tim Mohin, Chief Executive of GRI and Stefan Crets, Executive Director of CSR Europe. A panel discussion on the role of non-financial reporting in the future of corporate reporting, will feature Wim Bartels, speaking as Deputy Chair of the ESG Reporting Task Force at Accountancy Europe. A member of the European Commission will close the session. A recording of the webinar will be available after the publication launch on the Sustainability Reporting in the European Union page.
 
To find out more and register for the launch event, visit the Investweek agenda.​
For more relevant news on sustainability and regulatory updates, subscribe to GRI's monthly newsletter.