Impact at Work: Research Triangle Foundation of North Carolina
Creating a culture of cross-sector skill sharing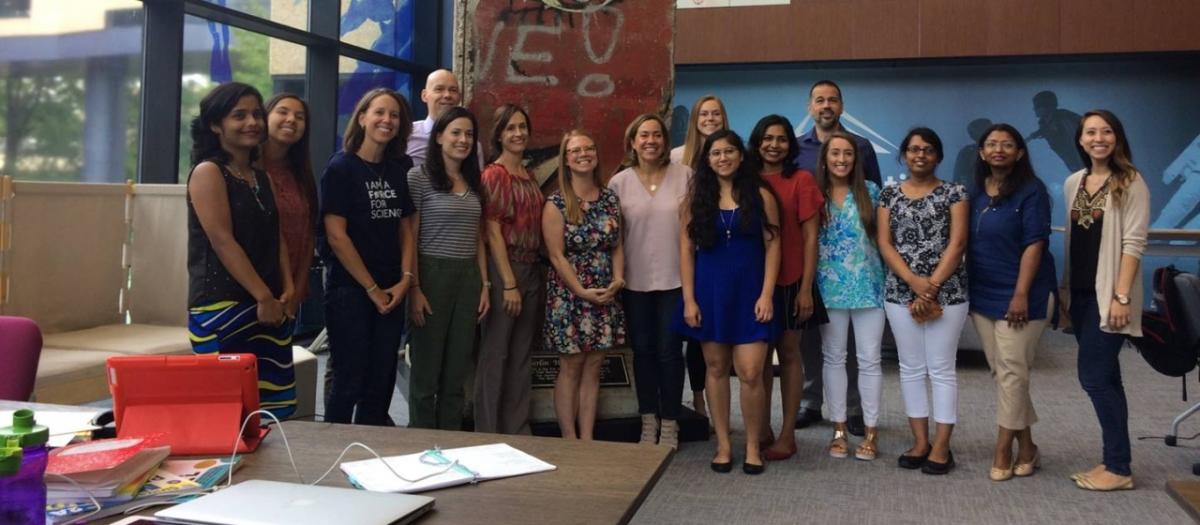 This month, we're highlighting a project with a talented team from Fidelity Investments and its nonprofit partner, Research Triangle Foundation of North Carolina (RTF), whose mission is to support and partner with local universities, create jobs, and lift up all the citizens of North Carolina by providing a positive economic and social impact.  RTF manages the Research Triangle Park (RTP), the nation's largest business park, and creates economic development by attracting and retaining over 200 innovative companies, driving business, university, and government collaboration, and by offering knowledge-based programming and incubation spaces such as The Frontier – a co-working space for entrepreneurs, small businesses, and nonprofits.
With a changing business model, RTF found it challenging to cohesively manage its contacts and prospects for business and program development. In summer 2017, RTF worked with a group of all-female technologists from Fidelity Investments to analyze their business needs and optimize their Salesforce instance.
Michael Pittman, VP of Marketing and Communication at RTF speaks to the impact this project had on his organization.
1. Why does this project matter?
RTF is currently in the middle of changing our business model. 10 years ago we were a small organization that promoted the RTP and sold land to big corporations that needed research campuses. Now, with the change in business trends, we are working to reinvent our space to develop more incubation and co-working areas to create a sense of community. We have close to 30 people on our staff and we needed an efficient way to track all of our contacts and prospects. We knew Salesforce was a great resource, but it was intimidating and complicated for our staff to figure out. We partnered with a team of all-female technologists from Fidelity Investments to leverage their technology expertise to build out a Salesforce instance that would best support our organizational needs.
The success of RTP has always been based on collaboration. This project gave us an opportunity to practice what we preach. Too often, the Foundation tells the story of all of the great companies within the park, but we don't always collaborate with them.  We needed help solving a challenge and Fidelity Investments, one of the companies located in the park, was interested in supporting us. It ended up being a win-win for both us.
2. What type of knowledge transfer took place over the course of the project? What have you learned from your Fidelity Investments volunteers?
Our engagement with Fidelity Investments was mutually beneficial – while we were able to leverage their technology expertise, the volunteers were able to get a better understanding of RTF's mission and connect with their community. Fidelity Investments' North Carolina office is located within RTP and none of the volunteers on the project were familiar with the Foundation prior to the project. They were able to see long-term benefit of their work to not only the Foundation, but to their company and community.
What made this such a great project is that both teams had the opportunity learn and share knowledge. Only a few of the volunteers had direct Salesforce experience in their day-to-day roles so they were able to dig in deeper to that platform. Our team was incredibly intimidated by Salesforce when we first started, but we learned by watching the volunteers pick up Salesforce so quickly. Perhaps the biggest thing we walked away with was an understanding of the agile project methodology.  We watched the volunteers prioritize each feature, organize their tasks into two-week sprint cycles, create incremental improvements and then review what was accomplished before deciding on next steps. We were so excited by the efficiency of this process and ended up taking it back to our organization to integrate into our own operational processes.
3. How do you plan to continue your relationship with the Fidelity Investments' volunteers?
We have a community co-working hub called the Frontier, which is half a mile up the road from Fidelity Investments' RTP office, but only half of the volunteers were even aware it existed! We decided to meet throughout the project at the Frontier to foster a collaborative working environment and introduce the volunteers to this resource in their community. A few months after the project ended, we decided to invite the volunteers to meet us at our weekly happy hour event so we could check in and update them on our progress. It was a great way to both celebrate the success of the project and proactively stay engaged with the volunteers. It's nice to feel connected and have solid relationships with these smart individuals that work in RTP as our neighbors.
Interested in learning more about the work of both Research Triangle Foundation and Fidelity Investments? Follow them on Twitter at @TheRTP @Fidelity and #FidelityCares2017.