Impact at Work Employee Volunteer Spotlight: May Chen
by Lauren Chasanoff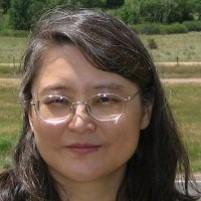 This holiday season, we're spotlighting May Chen, one of our inspiring employee volunteers from Fidelity Investments. May has now volunteered on two skills-based volunteering projects, where she helped develop a Salesforce community application for Citizen Schools and an IT assessment and strategic roadmap with Metrocrest Services. Throughout both projects, May has been an incredible team player and is extremely dedicated to developing the most effective deliverable for her nonprofit partners.
Check out some sound bites from the Citizen Schools project:
May acted as an "active advisor" and consultant for Citizen Schools by aligning her configuration recommendations with Citizen Schools' broader business needs and strategy.
May was deep in the technology on this project and stretched her development skills on the new, cloud-based Salesforce Communities platform. She mastered Salesforce new "Lightning" framework, which required the development of new coding skills.
Focused on the sustainability of the project, May trained and coached Citizen Schools' employees to deploy Salesforce capabilities in-house. She also trained her Fidelity Investment's colleagues on configuration activities, enabling skill-building across the volunteer team.
I had the pleasure of interviewing, May about her experience as a skills-based volunteer along with impact these opportunities have had on her personal and professional development.
1. How were these two projects different from other volunteer events or programs you have participated in? What did you learn?
These projects were my first ever skills-based volunteer experiences. My prior volunteer experiences were more traditional in nature and lasted only a few hours. Although the work was impactful, I realized that if I can lend my skills to build capacity for a nonprofit the impact will be much more sustainable. Before I heard about Common Impact, I didn't really think about the impact I could make with the skills I use in my day job. Now, I can't get enough!  
The new technology I helped develop for Citizen Schools will help save time for their staff and volunteers on the operational side, which means they can spend more time focusing on their missions. The IT assessment for Metrocrest Services will save money and reduce security risks. Donating money to a nonprofit is a great way to contribute, but it's transactional. Skills-based volunteering provides an ongoing benefit to the nonprofit.
2. What impact did you have on your nonprofit partners and what impact did these experiences have on you both personally and professionally?
I am an architect by nature and always explore things. Even though the Citizen Schools focused on Salesforce, which is a platform I was familiar with, it required knowledge of the new Salesforce Lightening framework, which is something I hadn't worked with at Fidelity Investments. By developing this technology in a new environment, all of the volunteers learned something from the project, while simultaneously delivering value to the nonprofit. To me, this is a win-win.
Personally, I had a wonderful time with the people, both on my volunteer teams and at the nonprofits. Every time we met with the nonprofit professionals in both organizations, they were so passionate about their missions. By solving critical business challenges, we were really able to add value back into the organizations. Additionally, all of the volunteers came from different backgrounds ranging from project managers to system analysts to data analysts. During these projects, we all came together to work as a team and everyone chipped in to collaborate.
3. Did you have a favorite or aha moment throughout the course of these projects?
While I conducted many proof of concepts on Salesforce, I never actually delivered a production Salesforce application before. However, when our developer couldn't plug into the project, we weren't sure how we were going to finish on time. So I said, let me dive in and figure this out. Once I figured out producing the first Lightning module, I realized that the pattern can be applied to the rest of the project and we were able to proceed apace!
Now that I know the value of skills-based volunteering, I am officially hooked! I will definitely be contributing in the future and plan to tap into my technology skills across the board. Technology changes so fast and each project presents an opportunity to give back to an organization I am passionate about, challenge myself to learn new systems and to have fun while doing so