Illumina Ranked as One of the 50 Smartest Companies in China 2021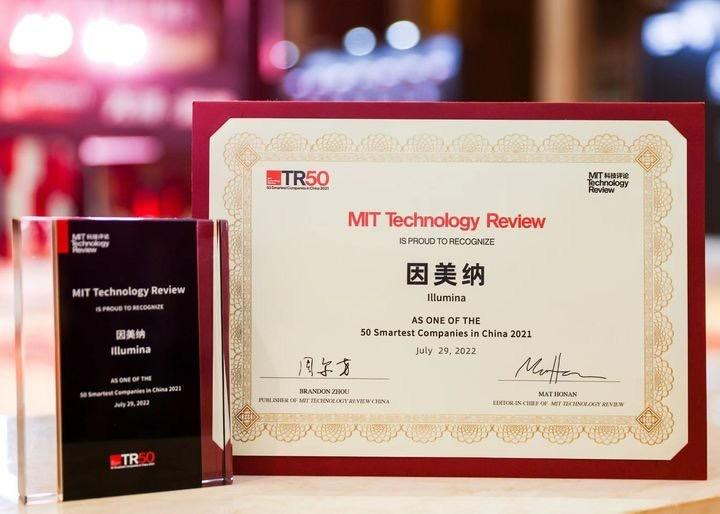 Illumina was named as one of the 50 Smartest Companies in China 2021 by MIT Technology Review. This is the sixth consecutive time Illumina has been included on the list.
The innovation in next-generation sequencing (NGS) technologies and relentless efforts to combat COVID-19 worldwide contributed to Illumina's inclusion. In 2022, China CDC used the Illumina sequencing platform to report the first imported case confirmed to be infected with the Omicron variant of COVID-19.
With China's 14th Five-Year Plan (2021-2025) and the Long-Range Objectives Through the Year 2035 both prioritizing genomics and biotechnology within key projects in the pioneering science and technology domain, Illumina continues to support the many opportunities for genetic sequencing in China.
Illumina is committed to accelerating the introduction of innovative technologies and solutions, joining with local government, researchers, clinicians, partners, and others to promote high-quality development of the genetic sequencing industry in China to benefit more people, create possibilities, and improve human health by unlocking the power of the genome.
About Illumina
Illumina is improving human health by unlocking the power of the genome. Our focus on innovation has established us as a global leader in DNA sequencing and array-based technologies, serving customers in the research, clinical and applied markets. Our products are used for applications in the life sciences, oncology, reproductive health, agriculture and other emerging segments. To learn more, visit illumina.com and connect with us on Twitter, Facebook, LinkedIn, Instagram, and YouTube.