Help JetBlue 'GreenUp®' Your Local Community with Grants for Local Environmental Non-Profits
Help JetBlue 'GreenUp®' Your Local Community with Grants for Local Environmental Non-Profits
During Earth Month, customers can nominate their favorite environmental-focused nonprofits to receive 'GreenUp' grants and enter for a chance to receive free carbon offsets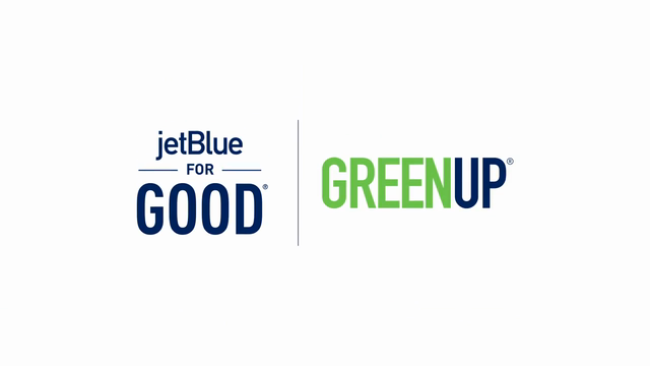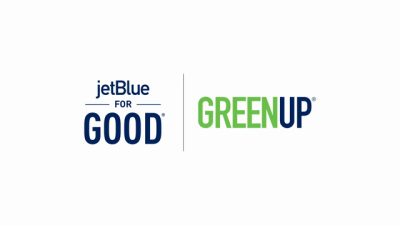 Monday, April 1, 2019 - 1:00pm
NEW YORK, April 1, 2019 /3BL Media/ – JetBlue (Nasdaq: JBLU) today launched its annual "GreenUp" campaign which highlights the airline's commitment to local environments. In celebration of Earth Month, JetBlue is empowering its customers to educate themselves, and join the airline in donating and volunteering with non-profits working to preserve natural spaces. From April 1-15, 2019, JetBlue For Good, the airline's platform for social impact and corporate responsibility, is encouraging customers to nominate their favorite earth-friendly non-profit for a chance to receive a grant at jetblueforgood.com/GreenUp (a). One lucky non-profit will be rewarded with a grand prize grant of $20,000 and three runners-up will each receive a $5,000 grant.
"A healthy environment is not only important to our customers, it's critical for our business," said Icema Gibbs, director of corporate social responsibility, JetBlue. "JetBlue focuses on reducing our environmental impact all year long. Earth Month is a great time to remind our customers and crewmembers that it will take a joint effort to preserve our local natural spaces. GreenUp is one way we're encouraging our community to take small steps in their daily lives while we as an airline work on our own footprint."
When customers nominate their favorite environmental charities to receive a grant, they will automatically be entered to have offsets totaling 3.6 million lbs. of carbon dioxide equivalent (CO2e) emissions (1,632 MT) retired in their name and on their behalf. This represents the average American's lifetime carbon footprint according to Carbonfund.org Foundation. This reduction is accomplished by offsetting CO2 through a carbon offset project approved by the Verified Carbon Standard (VCS) and Climate Community and Biodiversity (CCB) Standard. This project protects nearly 500,000 acres of Amazon tropical rain forest, mitigates the release of more than 12.5 million tons of carbon dioxide emissions over the project lifetime, preserves the habitat for an extraordinary amount of biodiversity, and enhances the lives of rural forest communities.
Select winners will also receive a pair of JetBlue travel certificates with carbon offsets, which JetBlue will donate to Carbonfund.org Foundation for on the winner's behalf. For more information on the technical elements of offsetting, visit Carbonfund.org. Winners will be announced by May 31, 2019.
Carbon Offsetting:
Carbon offsetting can be done by a company or an individual to balance their greenhouse gas (GHG) emissions via financing a reduction in GHG emissions elsewhere. JetBlue is actively working to reduce its GHG emissions through a variety of efforts, primarily reducing fuel use through more efficient engines and aircraft. Additionally, JetBlue is actively pursuing renewable jet fuel opportunities and large scale offsetting purchases. For more information on JetBlue's GHG reduction and mitigation strategy, please see the airline's Environmental Social Governance report.
Since 2008, JetBlue has offset more than two billion lbs. of CO2e in partnership with Carbonfund.org. JetBlue also offers opportunities for its customers and crewmembers to offset their GHG emissions when they fly. To learn more about carbon offsetting, view a video here.To estimate your flight's impact and offset the CO2e emissions from your next flight visit Carbonfund.org/partners/jetblue.
In The Community:
JetBlue For Good prioritizes its social impact efforts in the areas that are most important to its customers and crewmembers:community, youth/education and the environment. This Earth Month, JetBlue's crewmembers and customers will bring "GreenUp" to life by volunteering with a variety of environmental causes and initiatives throughout the airline's network, including revitalization projects in Puerto Rico.
As the largest airline in Puerto Rico, last year JetBlue made a commitment to assist in reforestation efforts as the final step in its 100x35JetBlue initiative, 100 days and 35 ways – and beyond – of caring for Puerto Rico and the Caribbean after the devastation of Hurricane Maria. Puerto Rico is home to nearly 500 JetBlue crewmembers who support the airline's operations in its focus city of San Juan, as well as in Aguadilla and Ponce. In 2018, Vida Marina's Center for Conservation and Ecological Restoration located at the University of Puerto Rico at Aguadilla won a "GreenUp" grant. Throughout April, JetBlue crewmembers will participate in projects including landscaping and mural painting projects.
A sampling of GreenUp volunteer activities in JetBlue's focus cities include:
Boston: JetBlue's New England crewmembers will participate in the Charles River Cleanup, an annual Earth Day initiative that brings together more than 3,000 volunteers each year to pick up litter, remove invasive species and assist with park maintenance. 

Fort Lauderdale, Fla.: JetBlue crewmembers in South Florida will partner with the Gumbo Limbo Nature Center for their annual Earth Day event for a beach and mangrove clean-up.

Long Beach, Calif.: As a precursor to Earth Month, in March JetBlue supported the City of Long Beach's sustainability initiative 'I Dig Long Beach.' Crewmembers helped plant 100 trees in Central Long Beach.

Orlando, Fla.: Through Keep Orlando Beautiful, JetBlue crewmembers based in Central Florida will volunteer on a variety of tasks to spruce up the Rock Lake neighborhood.

New York: In 2018 GrowNYC won a grant through the GreenUp campaign. This year, JetBlue is partnering with the organization on volunteer opportunities in the Rockaways section of Queens to restore a local community garden. GrownNYC's mission is to improve New York City's quality of life through environmental programs that transform communities block by block and empower all New Yorkers to secure a clean and healthy environment for future generations.

San Juan, Puerto Rico: JetBlue crewmembers will participate in a variety of events, including a visit to a local coffee farm to learn about the importance of reforesting to the island.
If you are looking for opportunities to get involved in your community this Earth Month and beyond, visit VolunteerMatch.org.
JetBlue For Good: Commitment to the Environment - JetBlue depends on natural resources and a healthy environment to keep its business running smoothly. Natural resources are essential for the airline to fly and tourism relies on having beautiful, natural and preserved destinations for customers to visit. The airline focuses on issues that have the potential to impact its business. Customers, crewmembers and community are key to JetBlue's sustainability strategy. Demand from these groups for responsible service is one of the motivations behind ongoing changes that help to reduce the airline's environmental impact. For more on JetBlue's environmental initiatives, visit jetblue.com/green. Join the #JetBlueForGood conversation on Twitter, Instagram and Facebook, check for regular updates and get involved.
About JetBlue
JetBlue is New York's Hometown Airline®, and a leading carrier in Boston, Fort Lauderdale-Hollywood, Los Angeles (Long Beach), Orlando, and San Juan. JetBlue carries more than 42 million customers a year to 100+ cities in the U.S., Caribbean, and Latin America with an average of more than 1,000 daily flights. For more information please visit jetblue.com. 
NO PURCHASE NECESSARY. Sweepstakes ends at 11:59:59 PM ET on 4/15/19. Open to legal residents of the 50 US/DC/PR who are 18 years of age or older at the time of entry and crewmembers of JetBlue Airways who are in good standing at the time of entry and at the time of prize distribution. To enter, visit https://jetblueforgood.com/GreenUp and complete the official entry form as directed to nominate your favorite earth-friendly, environmentally-focused green non-profit 501(c)(3). Consumers may also enter via Twitter or Instagram (data rates may apply). Crewmembers are not eligible to enter via social media. Void outside the 50 US/DC/PR and where prohibited by law. Total ARV of consumer prizes to be awarded: $2,392. Total ARV of crewmember prizes to be awarded: $3,520. Odds of winning depend on number of eligible entries received for each random drawing. Subject to complete Official Rules. For complete Official Rules including entry instructions, grant recipient judging criteria and prize details, visit https://jetblueforgood.com/GreenUp/official-rules. LIMIT UP TO THREE (3) ENTRIES PER PERSON, PER DAY, PER ENTRY METHOD. SPONSOR: JETBLUE AIRWAYS CORPORATION, 27-01 QUEENS PLAZA NORTH, LONG ISLAND CITY, NY 11101.
Contact
JetBlue Corporate Communications