Heidlersburg Enters Service As Enbridge Continues to Blaze Solar Self Power Trail
2.5-MW Pennsylvania facility will provide power for our Texas Eastern Transmission natural gas system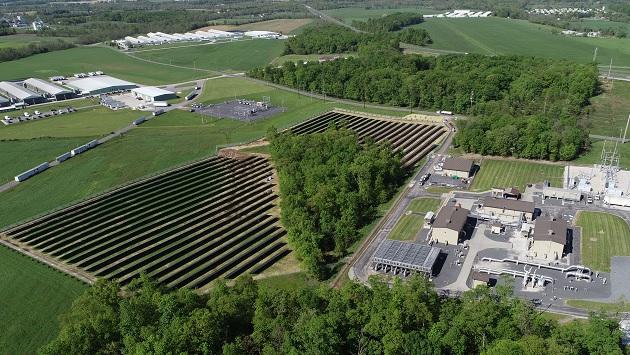 The Heidlersburg Solar Project, in Tyrone Township, PA, supplies 2.5 megawatts of solar energy that helps to power our Texas Eastern Transmission natural gas system.
Like the morning sun on a summer day, Enbridge's solar self-power program is rapidly on the rise—and starting to look like the proverbial scorcher.
On May 15, the 2.5-megawatt Heidlersburg Solar Project in Tyrone Township, PA entered service, with its 8,190 solar panels now supplying a portion of the electrical power required to run Enbridge's Texas Eastern Transmission natural gas pipeline system, which moves the natural gas that heats homes, hospitals, businesses and schools up and down the Atlantic seaboard.
It's the third solar project Enbridge has brought into service as part of our solar self-power program, an integral component of our company-wide goal of net-zero greenhouse gas (GHG) emissions by 2050.
Heidlersburg follows in the footsteps of the 2.25-MW Lambertville Solar Project in New Jersey, which entered service in September 2020 and also provides power for Texas Eastern, and the 10.5-MW Alberta Solar One project in Western Canada, which helps to move crude oil and liquids along our cross-continent Mainline network.
Next up? Three such solar farms in Wisconsin, one in Illinois, and several more across the continent.
"The Heidlersburg solar project is just the second of its kind in the U.S. and tangibly demonstrates the complementary nature of natural gas and renewables," says Caitlin Tessin, Enbridge's Director of Market Information. "We are proud to be a leader in self-power."
Notes Pete Sheffield, our Chief Sustainability Officer: "Enbridge is focused on the energy transition—and we're advancing projects across our system to green our operations and reduce our carbon intensity. The Heidlersburg solar project is part of a broader program . . . we're advancing other initiatives across North America to generate more of the energy that powers our operations from renewable resources."
Enbridge also recently sanctioned the development of four more solar projects along our U.S. Mainline (or Lakehead) and Flanagan South crude and liquids systems. All four will be located at existing pump stations—Adams (6.9 MW), Vesper (8.8 MW) and Portage (8 MW) in central Wisconsin, and Flanagan (10 MW) in north-central Illinois—and provide a combined 35 MW of electrical generation when they enter service in late 2022.
In all, we've identified 15 to 20 solar projects for potential development along our natural gas and liquids transmission networks through 2023.
The $6.5-million Heidlersburg Solar Project is expected to reduce GHGs by 73,200 metric tons over the 25-year life of the facility, which is the equivalent of taking 15,810 cars off the road.
Enbridge's approach to achieving our 2050 emissions goals will be supported through tactics like system modernization and innovation, decarbonizing energy use, and investment in renewables and lower-carbon infrastructure.
"Through initiatives like solar self-power, infrastructure modernization and exploration of greener fuels, the 2050 target is absolutely doable," says Tessin. "We will continue to advance more solar projects to generate green electricity to power our operations."