Have Boat, Will Rescue
Wells Fargo banker with a boat joins Houston rescuers after Hurricane Harvey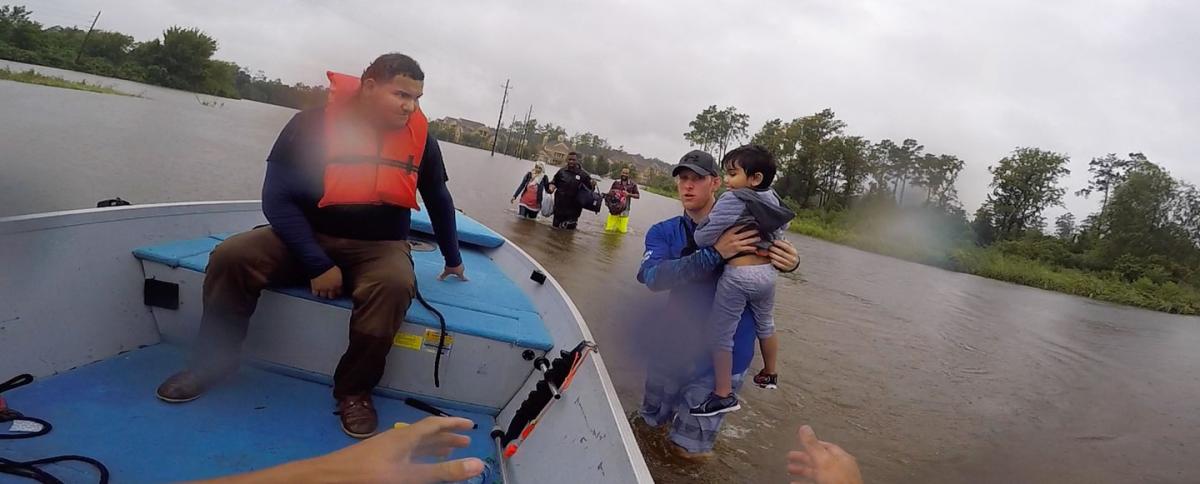 Chase McKinney carries a young boy to safety from the floodwaters in northeast Houston.
Chase McKinney knew Hurricane Harvey had been devastating, but he didn't know just how bad the situation was until he made the short drive from his home up U.S. Highway 59 in Houston and saw folks wading in chest-high water and cars bobbing like apples on the exit ramps below.
Turning his car around, the business development manager for Wells Fargo Dealer Services returned to his home in Sugarland, a suburb of southeast Houston, where there wasn't even a puddle of water in his driveway.
"I thought, 'I gotta go do something. I can't sit here all day, safe and dry, and watch people get displaced from their homes or possibly face death,'" McKinney said.
Around this same time, both Harris County authorities and the Houston Police put out an urgent call asking for assistance from anyone with a boat. McKinney, a boat owner who felt confident in his skills navigating potentially dangerous waters, saw his opportunity to help.
Knowing that he couldn't do it alone, he then called his friend and fellow outdoorsman, Israel Lopez. One brief phone conversation later and the "Madmen Xtreme" — the group the two friends had formed to introduce people to outdoor adventures — became a lifeline of hope.
"One of things that motivated me was when I walked out on the street after coming back that Sunday — when we'd had something like 24 inches of rain in two days — and saw zero standing water," McKinney said, "and knowing authorities were overwhelmed with 911 calls they didn't have enough resources to answer, and were begging for help."
Sentry on the bow
After meeting around dawn the next morning, the two drove about 45 minutes to their boat — wading in three feet of water to feel for and pop the lock of the storage unit before launching nearby in northeast Houston.
Working around the clock Aug. 28-30, McKinney, Lopez, and another friend rescued 124 people from the rising coffee-colored waters in Houston, and another 22 in Port Arthur, Texas.
As Lopez drove, McKinney stood on the bow of the boat watching for cars, downed power lines, alligators, and other hazards — all while keeping an eye out for people trapped in or on vehicles or those already stranded in the water.
Towels or sheets in the windows of homes indicated folks awaiting rescue, McKinney said, and they were removed once a rescue was completed so boat crews didn't waste precious time visiting the same house twice.
Arriving at houses where they couldn't see anyone, rescuers would tap the siding or roof with their knuckles, and blow whistles to let people know they were there. Some flood victims climbed off their roofs into the boat, others walked in from their porches, and some the rescuers waded or swam to reach.
"The people we rescued were elated and relieved," said McKinney, "and just thankful to be out of that situation, and out of the water."
'Like putting my own kids in the boat'
Almost overnight, a website dedicated to Houston rescue efforts was started to give residents the opportunity to use their phones to indicate whether they needed to be rescued or were willing to serve as a rescuer.
"They'd pop up on the rescue map's geolocator like bubbles," McKinney said, "and there were bubbles everywhere. We'd take a screenshot of the rescue map, and that's how we figured out where to go next."
In the middle of rescuing one family from neck-high waters, McKinney noticed a woman across the street waving her arms to get their attention. Clearly in need of help, her family was rescued next.
Once they were all safely inside the boat, the lady told McKinney her son's name was Aiden and her daughter's name was Olivia — the names of his own children, ages 7 and 2.
"That was pretty emotional," McKinney said. "It was like putting my own kids in the boat. They had no power, no food, and had lost everything. It was bad. We can't forget these people after the flood fades from the news since it will take months — maybe years — for people like we had in our boat to fully recover from this."
Unifying moment
According to modeling by the Federal Emergency Management Agency, Harvey's torrential rains affected more than 135,000 homes in Texas, including more than 22,000 with five feet or more of water. Texas state and county officials told the Associated Press that the storm caused 30 deaths in Harris County alone — out of at least 70 deaths across Texas.
McKinney said more than 300 Wells Fargo team members experienced damage from the floodwaters — including some who were rescued by other civilian boaters. He claims he would take to the waters again to help people, and was struck most by the way everyone pulled together and worked as one.
"With everything that is going on in the nation and all the division, it was an inspiring example to me of unity in the face of adversity, and I'm glad I got to be part of a spirit like that in my community," he said. "We stopped at big houses and little houses, and helped people of all ages and nationalities. No one I took out of the water ever asked me who I voted for or what my race or religion was, and I wasn't interested in that either. They were just glad I was there to lend a hand, and I'm glad I could be there for them."