A Hand Up for the Homeless in Central Connecticut
Founder Pat Stebbins of Brian's Angels encourages kindness, care and compassion in memory of her son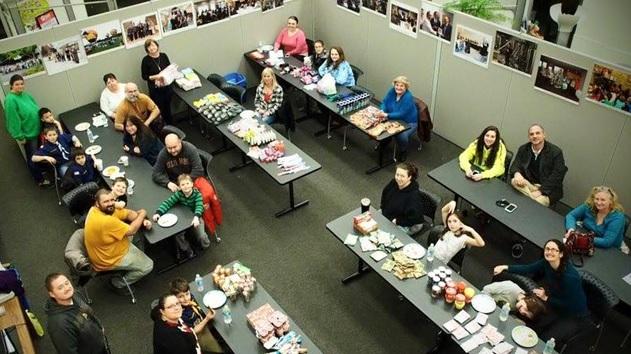 Brian's Angels volunteers provide immediate need items such as toiletries, non-perishable foods, and clothing, and also offers a temporary shelter as well as services for job seekers
Pat Stebbins is on a mission to tackle homelessness in central Connecticut.
Lovingly named Brian's Angels, Stebbins founded the organization in memory of her son after the local warming centre closed following a short spring season stint. When Stebbins proposed trying to run a longer-term centre without paid staff, she wasn't exactly met with confidence.
"I was told at the time that I'd never be able to do it with all volunteers," says Stebbins.
Her response? "Watch me."
Today, 25 volunteers—with Stebbins at the helm—operate Brian's Angels to support about 30 to 40 individuals a day in Bristol, CT.
Brian's Angels serves community members who are facing homelessness by providing immediate need items such as toiletries, non-perishable foods, and clothing, but their support programs extend further. The organization offers a temporary shelter as well as services for job seeking and helping people set up bank accounts.
"We've come a long way in seven years," says Stebbins. "Historically we have relied mostly on private donations, but we are so happy and grateful for corporations who have been stepping us to help us more recently, too."
In 2022, Enbridge gave a $2,500 Fueling Futures grant to Brian's Angels as part of our commitment to maintaining vibrant and sustainable communities. The funding helped to replace an industrial-sized refrigerator for the organization, which stores fresh foods for facility clients.
Brian's Angels was started on one very hot day in Bristol when Stebbins happened across a line of homeless people at a local fast-food chain. With a few community members, Stebbins purchased some bottled water to pass out, and the rest is history.
"I was looking for a way to express myself in the wake of the loss of my son, who was only 24 and had gone through a few months of homelessness," says Stebbins. "The most rewarding part of this for me is when I see people doing well after we've been able to help them with donations or volunteering."
After receiving two "fortunate" large donations to get Brian's Angels off the ground, Stebbins saw the organization shifting quickly from handing out cold water to passing out toiletries and finding a facility to run additional programs and services.
Now, as the organization looks to double its current facility capacity, Stebbins has a simple ask of people across the nation—aside from the various ways to directly help the Brian's Angels cause.
"I want anyone hearing our story to just be willing to help people—go see what you can do to help support your local homeless center."