#GivingTuesday: How Your Support Can Enrich Communities Through Healthy Green Spaces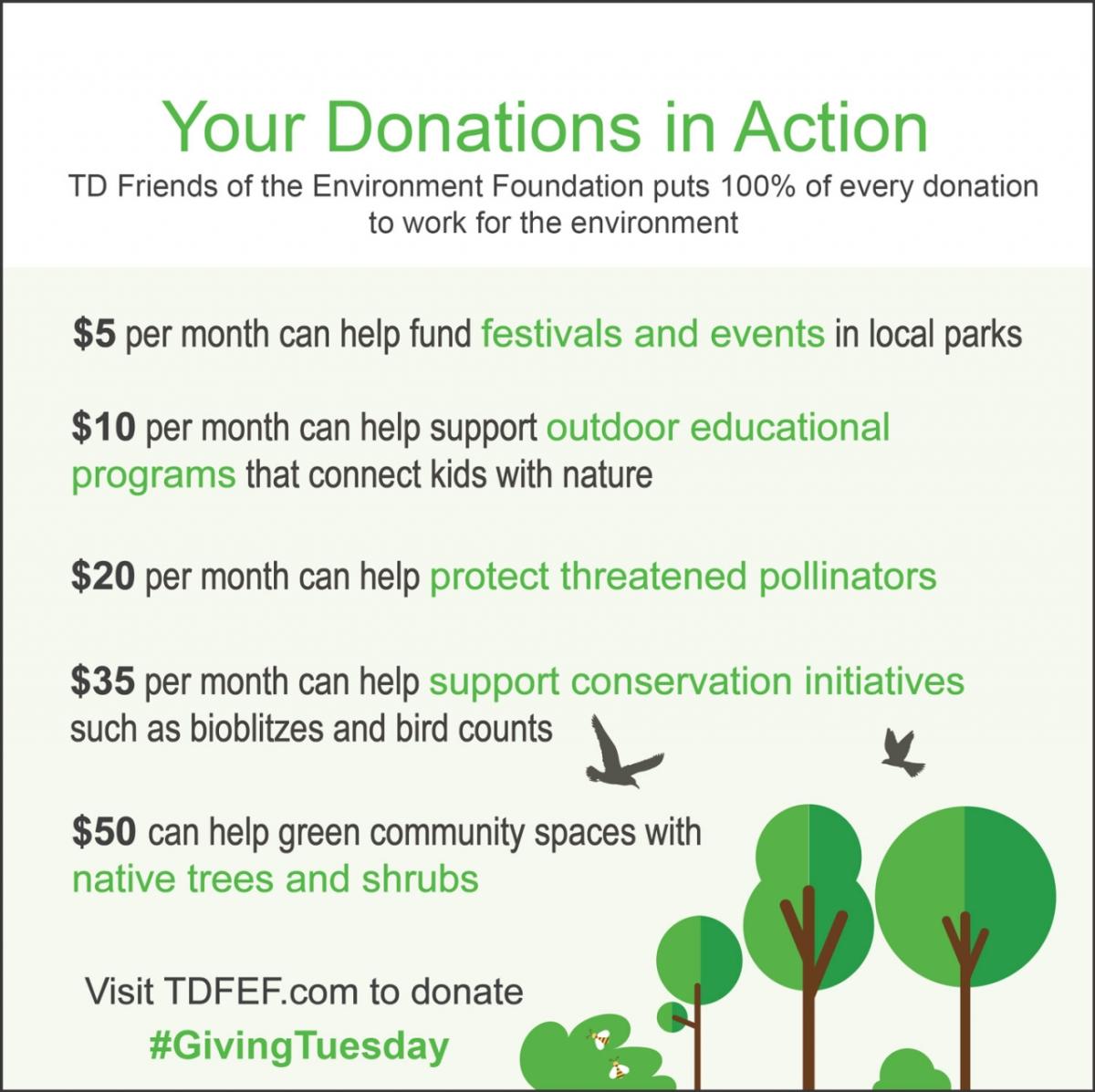 Since 1990, TD Friends of the Environment Foundation (TD FEF) has been helping to enrich communities across Canada by supporting environmental grassroots projects. From building outdoor classrooms to restoring natural habitats and inspiring a new generation of environmental stewards, every dollar donated has made a positive difference in communities.
TD Bank Group covers the charity group's administrative costs, so that 100 percent of every donation goes towards improving urban green spaces, outdoor education, local events and various conservation initiatives. In 2016, TD FEF was able to provide $5.5 million in funding to more than 1,000 community environment projects. None of this could have been done without the generous support of the foundation's donors.
Here are some of the ways those dollars made a difference:
"Thanks to the grant provided by TD FEF, our organization was able to engage 62 children in outdoor recreational activity and increase their awareness of the natural world.  In providing the necessary tools, equipment and gear we now have the first Forest School in St. Margaret's Bay, which is creating life-long positive experiences in nature and training the stewards of the future." – St. Margarets Bay Stewardship Association
"This garden expansion has allowed us to integrate newly arrived Syrian families and others who have been waiting for garden space.  The garden provides a place for new families to gather and socialize, practice English, share and learn new gardening tips and feel a restored sense of peace and belonging.  The impact of this cannot be underestimated, in the context of resettlement of refugees and the transformation of Canadian communities." – Growing Strong Neighbourhoods Program
"Our Grade 3 class was thrilled to be offered the opportunity to participate in a six-week forest school program at the MacSkimming Outdoor Education Centre. The inquiry based learning, natural environment and opportunity to wonder and explore, enriched the learning and social growth of all students participating. Students were able to develop, strengthen or enhance their collaboration and leadership skills. Self-confidence skills soared, as did the language skills of the many new Canadians in our group. Students were able to bond with one another, make new connections with their peers and see strengths in others that may not have been noticed in a structured classroom. – Teacher at Carson Grove E.S.
By donating to TD Friends of the Environment Foundation, donors are directly supporting projects that make a positive difference in communities. To learn more, visit tdfef.com.