Giving Tuesday Twitter Chat: A Year in Review Through the Lens of Skills-Based Volunteering
Giving Tuesday Twitter Chat: A Year in Review Through the Lens of Skills-Based Volunteering
#GivingSkills on #GivingTuesday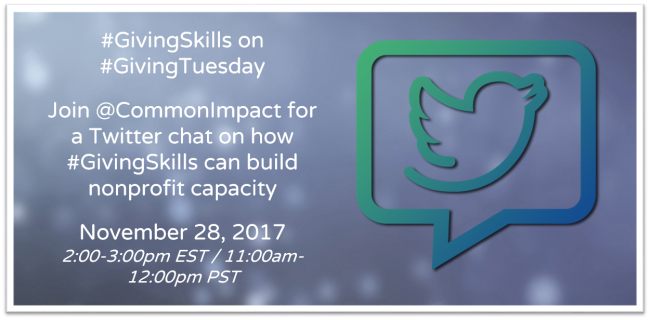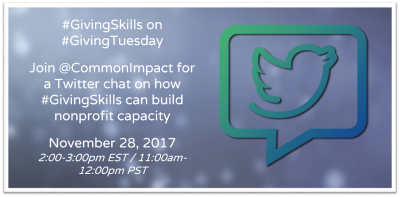 Monday, November 20, 2017 - 1:30pm
In honor of Giving Tuesday, Common Impact is hosting a Twitter chat on Tuesday, November 28th to reflect on a year in review through the lens of skills-based volunteering (SBV). In light of everything that happened over the past year, we will explore ways in which nonprofits and corporations are working together to building nonprofit capacity and enhance the social sector's ability to meet their missions.
Key Takeaways:
Best practices around how nonprofits can leverage skills-based volunteering to build capacity and strengthen their ability to enhance their mission
How companies can give their skills to build nonprofit capacity and create sustainable solutions for the social sector
The ways in which skills-based volunteering can create deep impact for nonprofits addressing complex social challenges
An understanding of the skill and knowledge transfer that can occur from skills-based volunteering for both companies and nonprofits
Our Panelists:
Amanda Pape Lenaghan, Program Manager, Charles Schwab Foundation and Schwab Community Services
Chris Sherwood, Director of Development and Education and Zachary Alexander, Community Relations and Events Manager at CHIP – Coalition for Homelessness Intervention and Prevention, Indianapolis
Erica Tavares, Senior Director of Institutional Advancement at International Medical Corps
Stacy Malone, Executive Director, Victim Rights Law Center
Who Should Participate?
Individuals, nonprofits, and companies who want to make a difference on and around #GivingTuesday, to reflect on ways nonprofits and companies are partnering to addressing core societal challenges and are interested in how to leverage their skills to help build up capacity at local nonprofit organizations. 
How to Join:
Log onto Twitter on Tuesday, November 28th at 2 pm EST / 11 am PST and follow the hashtags #GivingSkills and #GivingTuesday. Our questions will be posted to the Panelists who will answer Q1 with A1, and Q2 with A2, but we encourage participants to get involved in the conversation as well! Remember to always include the hashtags #GivingSkills and #GivingTuesday to track the conversation and feel free to talk to others in the chat, ask questions, provide your own resources and be social!
Giving Tuesday is a global day of giving fueled by the power of social media and collaboration taking place on Tuesday, November 28th. Celebrated on the Tuesday following Thanksgiving (in the U.S.), #GivingTuesday kicks off the charitable season, when many focus on their holiday and end-of-year giving.