Giving Tuesday Twitter Chat: #GivingSkills to Build Nonprofit Capacity
Giving Tuesday Twitter Chat: #GivingSkills to Build Nonprofit Capacity
#GivingSkills on #GivingTuesday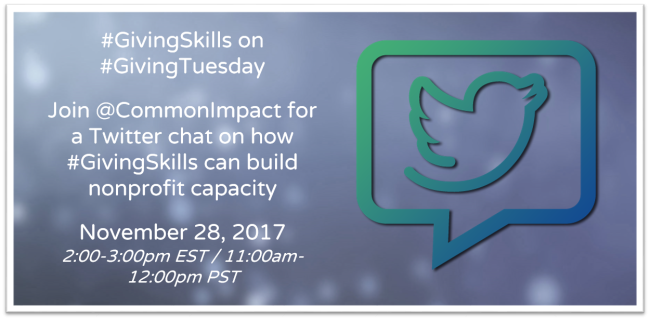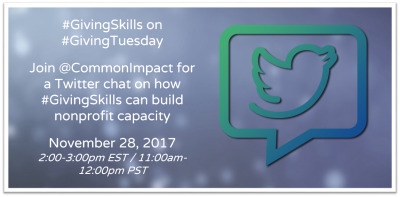 Monday, November 27, 2017 - 12:15pm
In honor of Giving Tuesday, Common Impact is hosting a Twitter chat tomorrow, November 28th at 2pm EST / 11am PST to reflect on a year in review through the lens of skills-based volunteering (SBV). In light of everything that happened over the past year, we will explore ways in which nonprofits and corporations are working together to building nonprofit capacity and enhance the social sector's ability to meet their missions.
Key Takeaways:
Best practices around how nonprofits can leverage skills-based volunteering to build capacity and strengthen their ability to enhance their mission
How companies can give their skills to build nonprofit capacity and create sustainable solutions for the social sector
The ways in which skills-based volunteering can create deep impact for nonprofits addressing complex social challenges
An understanding of the skill and knowledge transfer that can occur from skills-based volunteering for both companies and nonprofits
Our Panelists:
Amanda Pape Lenaghan, Program Manager, Charles Schwab Foundation and Schwab Community Services
Chris Sherwood, Director of Development and Education and Zachary Alexander, Community Relations and Events Manager at CHIP – Coalition for Homelessness Intervention and Prevention, Indianapolis
Erica Tavares, Senior Director of Institutional Advancement at International Medical Corps
Stacy Malone, Executive Director, Victim Rights Law Center
Read more to learn how you can join the chat and make a difference by #GivingSkills on #GivingTuesday!