General Motors Donates Face Masks and Flu Vaccines to California Communities
One million face masks distributed to new state testing lab, schools and homeless shelters will help support health and safety of Californians; GM to provide funding for 5,000 flu vaccines available to Californians in need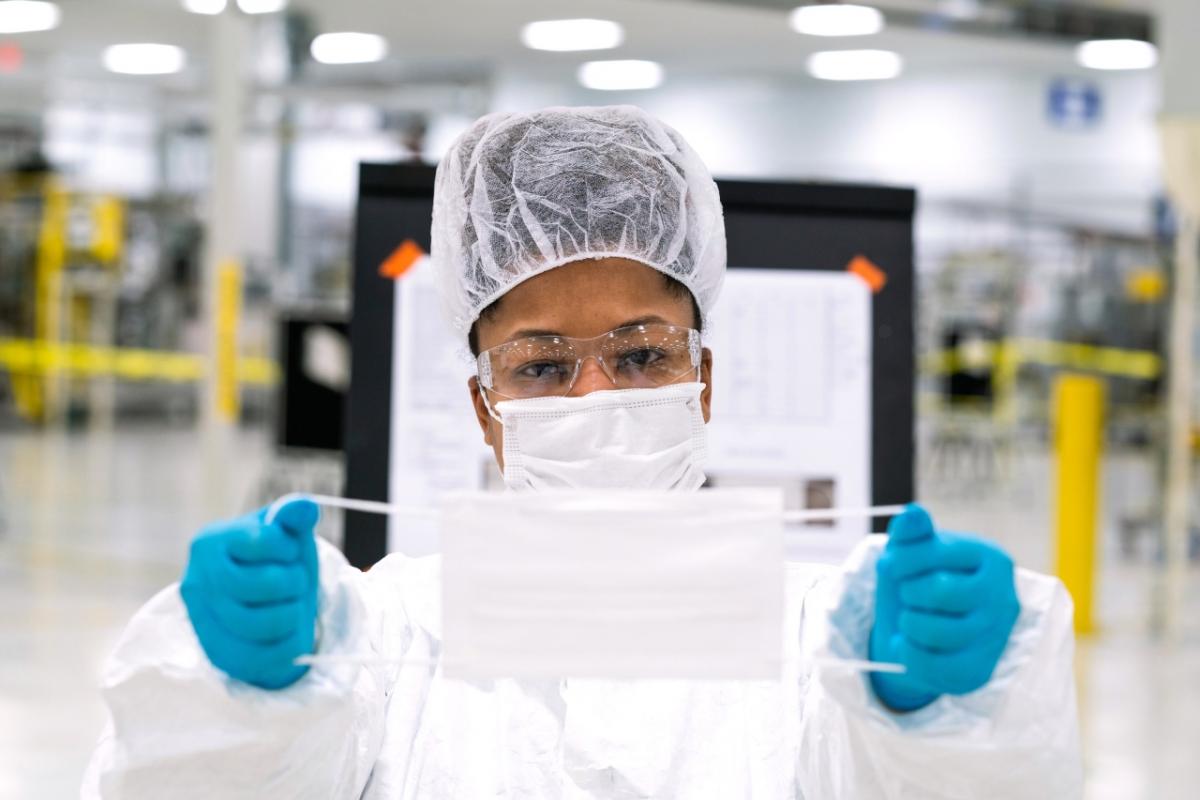 Workers begin final preparation for manufacturing Level 1 face masks Wednesday, April 1, 2020 at the General Motors facility in Warren, Michigan. (Photo by John F. Martin for General Motors)
General Motors Donates Face Masks and Flu Vaccines to California Communities
One million face masks distributed to new state testing lab, schools and homeless shelters will help support health and safety of Californians
GM to provide funding for 5,000 flu vaccines available to Californians in need
DETROIT, Nov. 18, 2020 /3BL Media/– General Motors today announced a donation of 1 million face masks and funding for 5,000 flu vaccines for California communities in need. GM's support will help protect workers at a new COVID-19 testing lab and Californians in the schools and communities most impacted by the pandemic and devastating wildfires.
"We are proud to collaborate with state and local leaders to donate 1 million masks and funding for 5,000 flu vaccines to support the safety and well-being of Californians as many plan and prepare to return to school and work amid the ongoing pandemic," said Dr. Jeffery Hess, GM chief medical director. "So many Californians are enduring multiple crises during this difficult time, and we are grateful to be able to provide this support."
The California Health and Human Services Agency will receive 300,000 face masks to help ensure employees at the newly built COVID-19 testing lab in Valencia, California have the personal protective equipment they need to stay safe at work.
"COVID-19 continues to be a challenge for all Californians and it is critical that we all do our part to keep each other safe as we see our rates continue to rise," said Dr. Mark Ghaly, Secretary of the CHHS. "State and local governments must partner with our private sector partners to reach all Californians. We are grateful to partners like GM for joining us in this. These donations will help Californians stay safer."
GM is also donating 5,000 flu vouchers that Californians in need across the Greater Los Angeles area can redeem, at no cost, at any CVS Pharmacy location. These vouchers will go to public health and community organizations in the region to distribute to members of the communities they serve. GM and CVS Health will also work together to host two pop-up flu clinics for community members to receive the flu vaccine, at no cost, and to help avoid a dual pandemic in a region hit particularly hard by COVID-19. The first clinic will be on Nov. 20 in North Hollywood and the second in Pomona at a later date.
In addition to the CHHS donation, at-risk communities in the Los Angeles area will receive 170,000 face masks, including Watts, Wilmington, Harbor City and San Pedro. The masks will go to the Los Angeles Police Department, homeless shelters and nonprofits serving children and families in need.
"Angelenos have been severely impacted by COVID-19, especially our communities that have been in need since long before the pandemic," said Los Angeles City Councilmember Joe Buscaino. "We appreciate GM's assistance to provide much-needed PPE to help keep our children, families, homeless community members and first responders safe through this time of need."
GM also worked with the California Secretary of State to provide 30,000 masks and 2,500 face shields to polling locations statewide to help keep poll workers safe on Election Day. The masks were distributed to voting centers across the state, including in Inyo, Fresno, Shasta, Sutter, Monterey, Mono, San Diego, Sacramento and Kern counties.
"California had a safe, accessible election thanks to partners like GM," said Secretary of State Alex Padilla. "Maintaining in-person voting options, while expanding vote-by-mail, was a big reason that we had such a smooth election during the pandemic. The face masks and face shields provided by GM helped create a safe environment for poll workers on the frontline of our democracy and Californians exercising their voting rights."
Last month, GM and the California Department of Education announced a donation of 500,000 face masks to schools in need across the state, prioritizing communities experiencing disproportionate COVID-19 health risks, such as the families of farmworkers, Black and Latino students, children of essential workers and California tribal communities.
GM began producing face masks in Michigan in March, as the coronavirus pandemic created a critical shortage worldwide. Today, GM's Warren facility has two production lines for face masks and a third line to make N95 facepiece respirators. To date, the facility has produced more than 10 million masks, with production going to employees at GM facilities or donated to communities across the country. For more information about GM's face mask facility, please visit GM.com.
General Motors (NYSE:GM) is a global company committed to delivering safer, better and more sustainable ways for people to get around. General Motors, its subsidiaries and its joint venture entities sell vehicles under the Chevrolet, Buick, GMC, Cadillac, Holden, Baojun and Wuling brands. More information on the company and its subsidiaries, including OnStar, a global leader in vehicle safety and security services, can be found at http://www.gm.com.
###