Fresh Thyme Market and Afritex Ventures Partner to Market Fresh, Premium Grade Wild Caught Ahi Tuna
Fresh Thyme Market and Afritex Ventures Partner to Market Fresh, Premium Grade Wild Caught Ahi Tuna
Wild Caught, Fair Trade Certified™ and Dolphin Safe certified all-natural fresh loins with no chemicals added.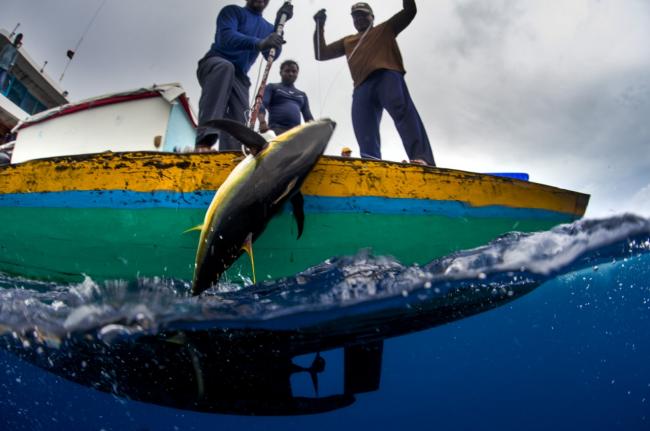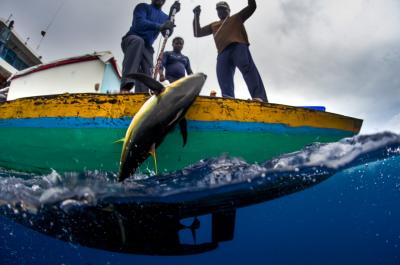 Friday, February 12, 2021 - 3:10pm
February 12, 2021 /3BL Media/ - Afritex Ventures, a leading longline value-added fishing company that exports globally, and rising specialty grocer, Fresh Thyme Market, are proud to announce their new partnership to provide tuna loins to the U.S. market. This partnership will bring fresh, wild caught premium Yellowfin Ahi Tuna loins to all Fresh Thyme Market grocery stores across 10 Midwest states.
Fresh Thyme Market and Afritex Ventures have worked together to ensure that their core values of social responsibility, sustainability and traceability are embraced in this new offering. Afritex Yellowfin Ahi Tuna loins are fresh sashimi grade, never frozen, all natural, and never treated with chemicals.  Further, the tuna loins are certified by Fair Trade USA® and Dolphin Safe and are part of a Fisheries Improvement Plan endorsed by the Sustainable Fisheries Partnership. The loins, which are harvested in the pristine waters of the Indian Ocean, are expertly hand trimmed, skin-off, boneless and bloodline free. They are currently shipped to high-end white tablecloth restaurants globally and will now be offered for the first time in the United States through Fresh Thyme Market's 70 grocery stores. 
David Diamond, Executive Chairman of Afritex commented, "We are honored to be partnering with Fresh Thyme Market to bring top quality fresh tuna loins direct from our source to your local Fresh Thyme Market grocery store. Fresh Thyme Market has been a key supporter of our Fair Trade program which ensures that both the fishermen and our factory associates have the opportunity to re-invest in their communities thanks to the fair trade premium associated with each loin purchase. Sustainability, traceability, and social responsibility are the driving forces of our company and our Fair Trade certification helps our whole team realize these objectives.  We are excited to be providing these fresh products from the pristine waters of the Indian Ocean to the United States for the first time."
"We are thrilled with our partnership with Afritex Ventures. Our newest edition, the fresh Fair Trade Certified Yellowfin Ahi Tuna, has far exceeded our expectations on sales across all of our Fresh Thyme locations," says Fresh Thyme Market's Vice President of Fresh Merchandising, Jason Resner. "At Fresh Thyme Market, we pride ourselves on providing the very best seafood available, and Afritex Ventures' sustainable, Fair Trade Certified, all-natural tuna does just that. With more consumers cooking from home than ever before, Fresh Thyme Market is dedicated to helping provide restaurant quality seafood at a value people can enjoy from the comforts of their own kitchens."
"When seafood is Fair Trade Certified it means that small-holder fishers can support themselves, their fishing communities, and the long-term health of the oceans that ensure their livelihoods and provide a sustainable source of protein to the world," says Abby Ayers, Head of Retail & Factory Partnerships at Fair Trade USA®. "With every purchase of Fair Trade Certified seafood consumers are supporting the well-being of fishers and oceans. Thanks to this collaboration, which brings new sustainable offerings to the market, more long-term impact will be possible for fishing communities in Mozambique. We're thrilled to continue to work with Fresh Thyme as they build out their sustainable seafood commitments."
About Afritex Ventures
Afritex Ventures is a global, vertically integrated fishing company with a self-managed and owned fleet of vessels, supported by world-class processing, packing, and exporting operations in Mozambique. The Afritex Ventures Group supplies premium quality Yellowfin Ahi Tuna, Swordfish, Mahi Mahi, Lobster and Langoustines to a broad set of retail, foodservice, and fresh market sectors globally, with an emphasis on sustainability, social responsibility, and consumer satisfaction. Find us at afritexventures.com. Like and follow us on facebook.com/afritexventures and twitter.com/afritexventures. For further information: fishing@afritexventures.com
Contact person: Gavin van der Burgh
M 904-860-2959
E gavin@afritexventures.com
Chief Commercial Officer
About Fresh Thyme Market
Fresh Thyme Market is a full-service specialty retailer focusing on value-priced fresh, healthy, natural and organic offerings. It boasts an extensive produce department with organic and local fruits and vegetables, a natural meat department, healthy deli foods to go, hundreds of bulk food items, frozen and dairy products including hundreds of plant-based options, health-focused vitamin and supplement products, and its own line of organic and natural private label products. Fresh Thyme has 70 stores in 10 states throughout the Midwest. Learn more at freshthyme.com. Keep in touch by liking us at facebook.com/freshthymemarket, and following us at twitter.com/freshthymefm.
Contact person: Tara Coyle
M 847-987-0379
E Tarac@spoolmarketing.com
Spool Marketing and Communications
About Fair Trade USA
Fair Trade USA® is a tax-exempt 501(c)(3) nonprofit organization and the leading certifier of fair trade products in North America. Its trusted Fair Trade Certified™ seal on a product signifies that it was made according to rigorous fair trade standards that promote sustainable livelihoods and safe working conditions, protection of the environment, and strong, transparent supply chains. Rather than creating dependency on aid, Fair Trade USA's model empowers farmers, workers, and fishermen to fight poverty and earn additional money to improve their communities. Winner of Fast Company's Social Capitalist of the Year Award and recognized as a leading social venture by the World Economic Forum, Clinton Global Initiative, Skoll Foundation, and Ashoka, Fair Trade USA® also helps brands and retailers tell their stories of impact and educate consumers about the power of their purchase.
Contact: Kasi Martin, Fair Trade USA® kmartin@fairtradeusa.org