Fourteen Booz Allen Women Honored with Women of Color in STEM Awards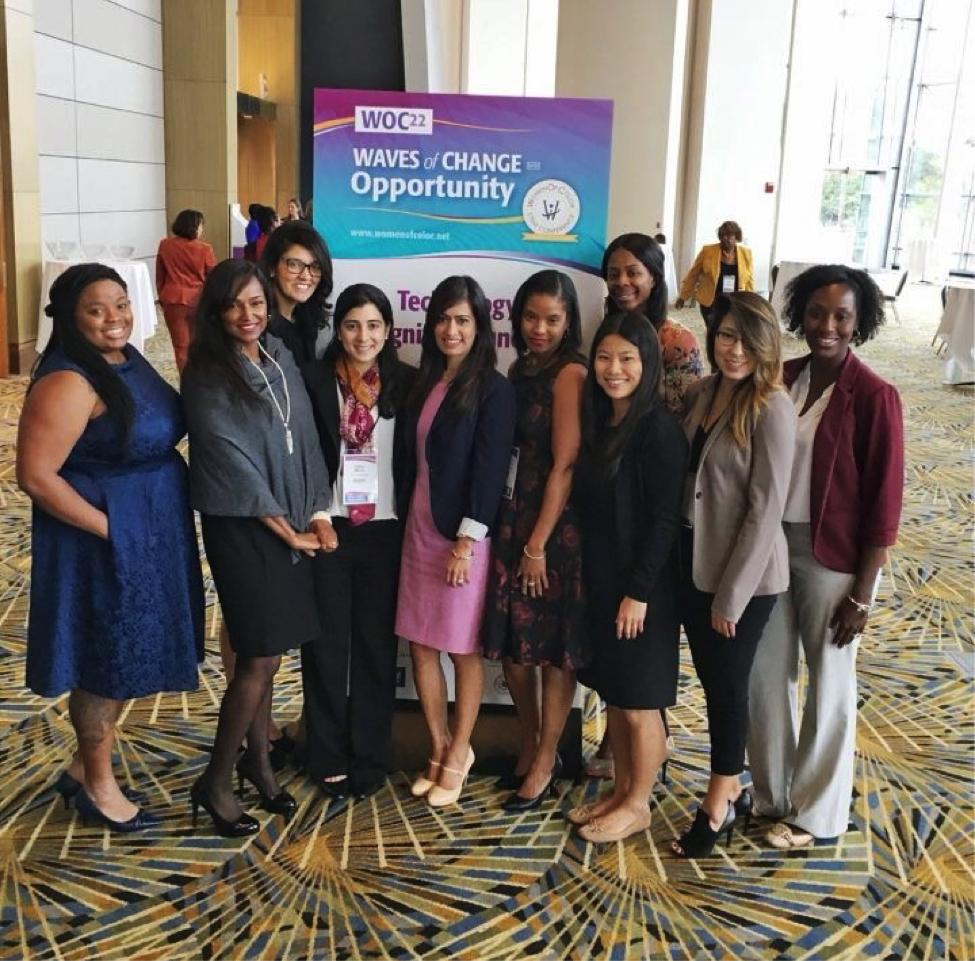 Fourteen Booz Allen Hamilton women were honored as Technology Rising Stars and All-Stars at the 2017 Women of Color in STEM Conference, held in October in Detroit, MI. These women join nearly 250 of their Booz Allen colleagues who have been recognized with Women of Color in STEM awards since 2004.
Imagining your own career in STEM? We asked a few of the Booz Allen leaders honored at this year's award ceremony to tell us a little bit about how they got where they are.
Q1: How did you get interested in STEM?
Lawanda Stitt, Senior Lead Technologist: My 7th grade math teacher, Mrs. Kent, sparked a love of math that I didn't even know I had. Before her class math was my least favorite subject. But my teacher's passion for making learning fun turned my disdain for math into passion for a subject that I loved and excelled at.  Mrs. Kent boosted my confidence and showed me that girls could be good in math, too. My interest in STEM really took off from there.
Catherine Ordun, Senior Lead Technologist:  My parents immigrated to the U.S in the 1970's from South Korea, with the goal of kick-starting a bright future. It was through science that my mom, a former ICU nurse, found that path to success. As a kid I visited her at the hospital and volunteered as an assistant. When I was older I'd join her for lunch in the cafeteria at Emory University where I attended grad school. Watching my mom use medicine to take care of infants, adults, and now the elderly as a geriatric nurse practitioner sparked—and has solidified—my love of the STEM fields.
Natalie Watkins, Senior Lead Engineer: For me, the love of IT started on the job. I had the opportunity to travel and work alongside a group of experienced engineers who became my mentors. As a team we worked together to upgrade the entire infrastructure (workstations, servers, cabling, switches, routers, applications, mobile devices, etc.) for a defense agency.  It was then I learned how essential all IT components and capabilities are to the customer mission and safety. Overseeing IT projects from start to finish is where my love for the STEM field really began. 
Q2. What's the best business advice you've ever received?
Lawanda Stitt: Don't be afraid to step outside of your comfort zone and try new things. You become strong in what you exercise. Stretching yourself and your skills is the key to growth and development, and provides the gateway to new opportunities. You are only truly limited by your own self-doubt.
Catherine Ordun: I once overheard a very smart data scientist say to his team, "Don't try to be too clever." What this means to me is to always remember how to communicate the value and utility of even the most sophisticated technologies and keep the idea simple, explainable, approachable, reproducible, and pragmatic.  I found in my work, that if a project becomes too complicated, then I need to stop because either I don't have the right information, or I'm misunderstanding the goal, or both. It provides me a good yardstick on when to pause.
Natalie Watkins: The best advice I've received—in work, and in life—is simple but powerful: Make your own path, work harder than anyone else around you. Hard work equals success and you get out what you put in.
Congratulations to all the Booz Allen women who were honored by SWE this year:
Teneika Askew, Senior Consultant
Lawanda Stitt, Senior Lead Technologist
Shakira Hicks, Associate
Doreen Wong, Senior Consultant
Yolanda Youngblood, Associate
Alisa Basila, Staff Engineer
Juanita Agard, Staff Technologist
Emily Guerrero, Senior Consultant
Rachel Chennault, Associate
Natalie Watkins, Senior Lead Engineer
Sabina Shrestha, Lead Associate
Catherine Ordun, Senior Lead Technologist
Fatima Wagdy, Staff Technologist
Andrea Blackwell, Senior Consultant
Want to learn more about Booz Allen's commitment to advancing women in STEM careers? Visit: https://www.boozallen.com/e/insight/thought-leadership/attracting-more-women-to-stem-careers.html