Four Questions With Sade Clacken Joseph: Using Film As a Change Agent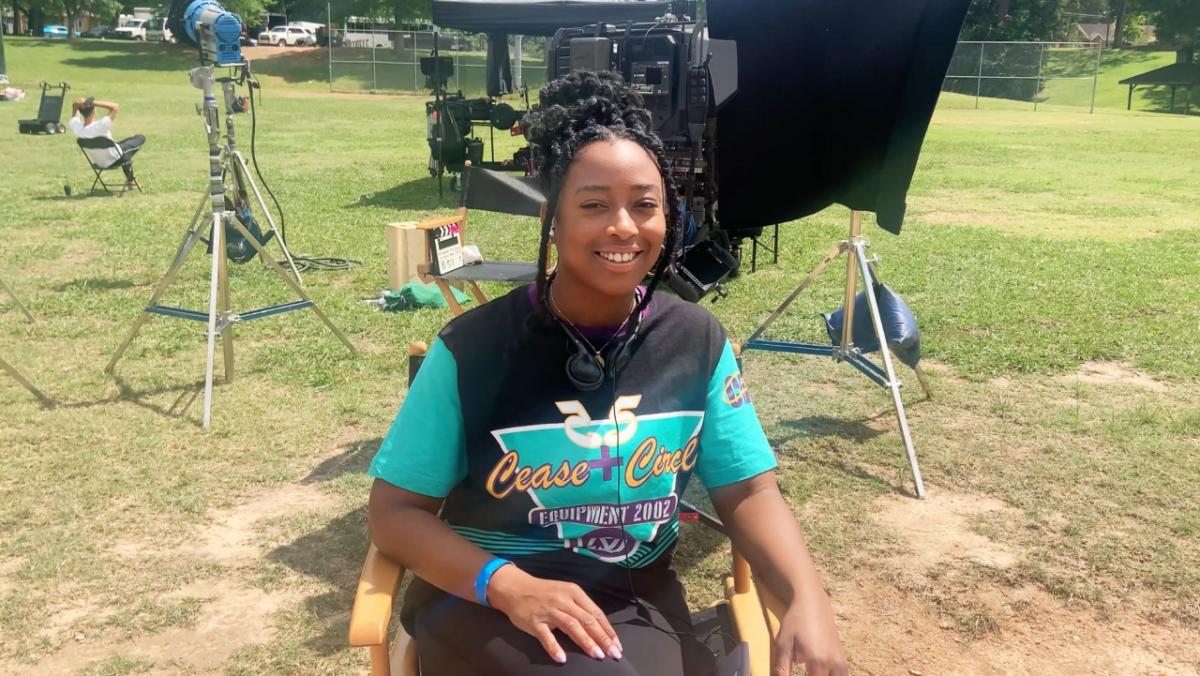 As a first-generation Caribbean American from the Bronx, filmmaker Sadé Clacken Joseph wants to reframe the conversation about underrepresented groups by sharing their often untold stories.
Shortly after receiving her Master of Fine Arts in Film Production from the University of Southern California's School of Cinematic Arts, Sadé was hand-selected by Spotify to produce her own short film, Knight, which explores topics of Black femininity and Black royalty. The following year, she co-directed the short film Ponyboi, which debuted at the Tribeca Film Festival. The award-winning piece broke barriers as the first narrative film centered around an intersex character.
Now president of her own production house, Sadé continues to break down barriers in unexpected places. In her latest work, a short film produced in collaboration with the Gilead COMPASS Initiative®, she explores how faith-based communities and their leaders can support those living with and impacted by HIV through radical love, acceptance and inclusion.
Sadé spoke with us about her art and what she hopes people will take from the film.
Q: You've spent your career creating socially conscious films. What inspires your art?
We live in a society driven by media. A lot of the way people get their information is through media, and a lot of the stigma that has been built around HIV has also been through media. We need to change that. That's why pieces like this COMPASS video are so important and why I do this work. Creating media that is socially conscious can help destigmatize so many things and help save lives. Lots of people can see and view and share, and that's how we create actual social change in our communities. I'm really happy to be a part of the movement.
Q: As an artist dedicated to creating socially conscious works, what was it about the Gilead COMPASS Initiative that made you want to take on the project?
When I learned about Gilead and the COMPASS Initiative, I was so impressed with the efforts to help end the HIV epidemic and with the commitment to bring in religious leaders to spread this message. I think it's very necessary, and I don't think it's ever been done before. I have a lot of friends and people in my community who have been affected by HIV, and this was an opportunity to collaborate on something so close to home for me.
Q: What role do you think religion and faith play in Black communities?
I believe there's no better way to make an impact on Black communities in the Southern United States than looking at churches and religious spaces. Church for a lot of Black communities is so much more than just church. It's a community center, it's a place to socialize, it's a place to connect and come together. It's literal therapy for so many Black people. It sets a home. People look toward faith leaders above all else for direction and guidance.
Q: How do you think the film will be received? What do you want people to walk away with?
I really hope this connects with all different types of people: your grandma, your auntie, your mom, your cousins. This film should feel like it has something for everybody. I hope people can really be in a place of listening and truly understanding this message, especially since it's coming from faith leaders. This project is so beautiful because I think it will speak to not only people of faith but to people who just care about humanity. I really believe in the power of bringing people together above all else, and I think this message can speak to a lot of different groups in the community.