A Former NFL Player Lives His Purpose on and off the Field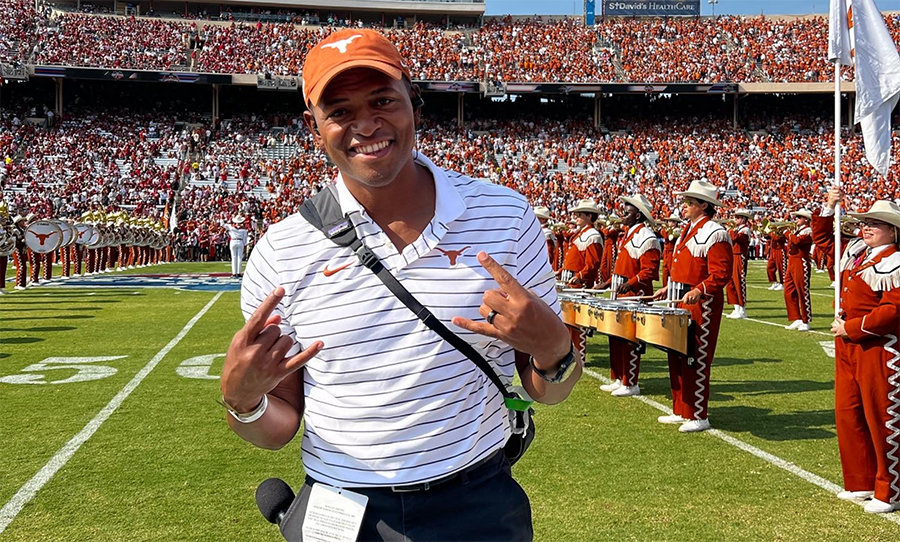 There was a time when Will Matthews didn't want to talk about football.
This was long after he first fell in love with the game—its physicality, the way it gave him an outlet for his emotions. It was after his years playing for the University of Texas Longhorns and helping them win the 2005 Rose Bowl. After three seasons in the NFL with the Detroit Lions.
One day he left practice and returned to an empty locker. The Lions had let him go.
"I really had to scramble, to be OK with not being a football player," he says. "I had to do some deep soul-searching. I didn't want anybody to know I played football, so that I wouldn't have to talk about it. I wouldn't watch the game."
For Matthews, the game was over. And he wasn't sure what came next.
He threw himself into work for a nonprofit helping people in impoverished communities around the world. He launched a career in commercial real estate finance and marketing. He traveled, meeting his wife in California. He wrote and performed music. He started a family, and, as a community leader back at home in Austin, Texas, guided philanthropic efforts and led important conversations on social issues.
Along the way, he found out just why he gets up in the morning: to live at what he calls the "cross-section of profit and purpose." This means pursuing a career that supports his passion for community service—profit fuels purpose, he says. "Does my day job allow me to stoke the fires of passion and do the things that I know my community needs?" he asks himself.
In 2021, that passion led him back to Darrell K Royal-Texas Memorial Stadium, this time as a sideline reporter for the Longhorns. You'll hear him reporting live from games on Saturdays and serving up analysis on the Longhorns' networks throughout the week.
When he joined Truist as a vice president of commercial banking early in 2022, the Official Bank Sponsor of Texas Athletics was happy to let him keep his sideline gig. Matthews appreciated that. More importantly, he saw that Truist's purpose of inspiring and building better lives and communities aligned with the purpose he found after his football career.
"I love Truist's connection to the community," he says. "That's what made me say yes. We start by giving."
A team player from the start
Matthews was one of the most unselfish players on the field. He played fullback, a position that has "selflessness" in the job description, right between "physical toughness" and "willingness to run through a wall."
He thrived at Texas, throwing blocks for Longhorns legends like Cedric Benson and Vince Young. Other guys got more personal glory. The wins (the teams he played on enjoyed a lot of wins) belonged to everyone.
"He's taken the work ethic, the integrity, and his selfless attitude—never giving up and never quitting—and turned it into a great business career," former Texas head football coach Mack Brown says of Matthews.
That selflessness dates to Matthews' childhood growing up in the Austin area. His parents were pastors. They raised dozens of foster kids who remain a part of his family to this day. Often, Matthews and his family would help people in underprivileged neighborhoods.
"You just fill a need, really," he says. "If the community doesn't have a playground, you get people together and have fun and create something. If people aren't eating the right food, or they don't have clothes, you bring that in. If people don't have education or need help finding jobs, we would provide that stuff."
After his football career ended, Matthews remembered the joy he'd experienced doing community outreach. He joined a nonprofit and traveled internationally to raise money for widows and orphans. Sometimes, the group bought livestock for residents of isolated rural areas.
Once, Matthews and some of the nonprofit's supporters went to eastern Europe to donate clothing and other goods. There they shared a meal with people living in extreme poverty. The volunteers and donors were as deeply affected by the experience as the people they were supporting.
"Money helps, but what really can change people is human connection," Matthews says. "When you see somebody with a smile on their face, you find that totally changes you."
Knowing the fabric of a community
Matthews brought his passion for service to his career in marketing and commercial real estate finance, where he advocated for projects that would build up communities. As a guitarist and singer-songwriter, he takes the same approach to music.
His wife, Rebecca, recalls how early in their relationship they visited Costa Rica to support children in need.
"Will took his guitar and just played music and sang for people," Rebecca says. "He just exudes so much joy in environments where he's getting to use his gifts to celebrate others."
At Truist, Matthews puts all his talents and experience to work, both as a commercial banker and through community outreach efforts.
Truist's partnership with Texas Athletics is in many ways a game changer, according to Austin Market President Steve Smith. It's an iconic brand with national recognition, but it's also an institution that is integral to life in Austin. Matthews is uniquely positioned to help strengthen the relationship between Truist and Texas—and between Truist and the Austin community.
"Will has connectivity to many aspects of the Austin community: nonprofit, real estate, traditional commercial industrial clients, tech companies," Smith says. "Will knows the fabric of Austin."
Using his voice
Along with his day jobs and his philanthropic work—he's a trustee for the Ascension Seton Foundation, a nonprofit that fundraises for an Austin-area hospital network—Matthews is also a powerful voice in support of mental health and racial equity.
He has partnered with the National Alliance on Mental Illness to bring conversations about mental health issues into the open and to reduce the stigma that may prevent some people—especially young athletes—from seeking help. In 2020, he organized events aimed at discussing racial equity in the workplace. When businesses lack diversity, "we all miss out," Matthews says.
Today, he is more than happy to talk about football. His two sons play. He loves the game, and it will always be a part of his life. But he also knows his purpose off the field.
Maybe he knew it all along.
"I've always had an innate sense that my life was supposed to help other people," he says. "Whether that's on the big stage in the NFL or through helping the individual next to me."