Foresters Financial and Whole Kids Foundation Team Up to Green Up Henderson-Area Elementary Schools
Partners provide $9,000 in garden grants and hands-on support to expand edible learning spaces at CT Sewell, Nate Mack, and Robert L. Taylor Elementary Schools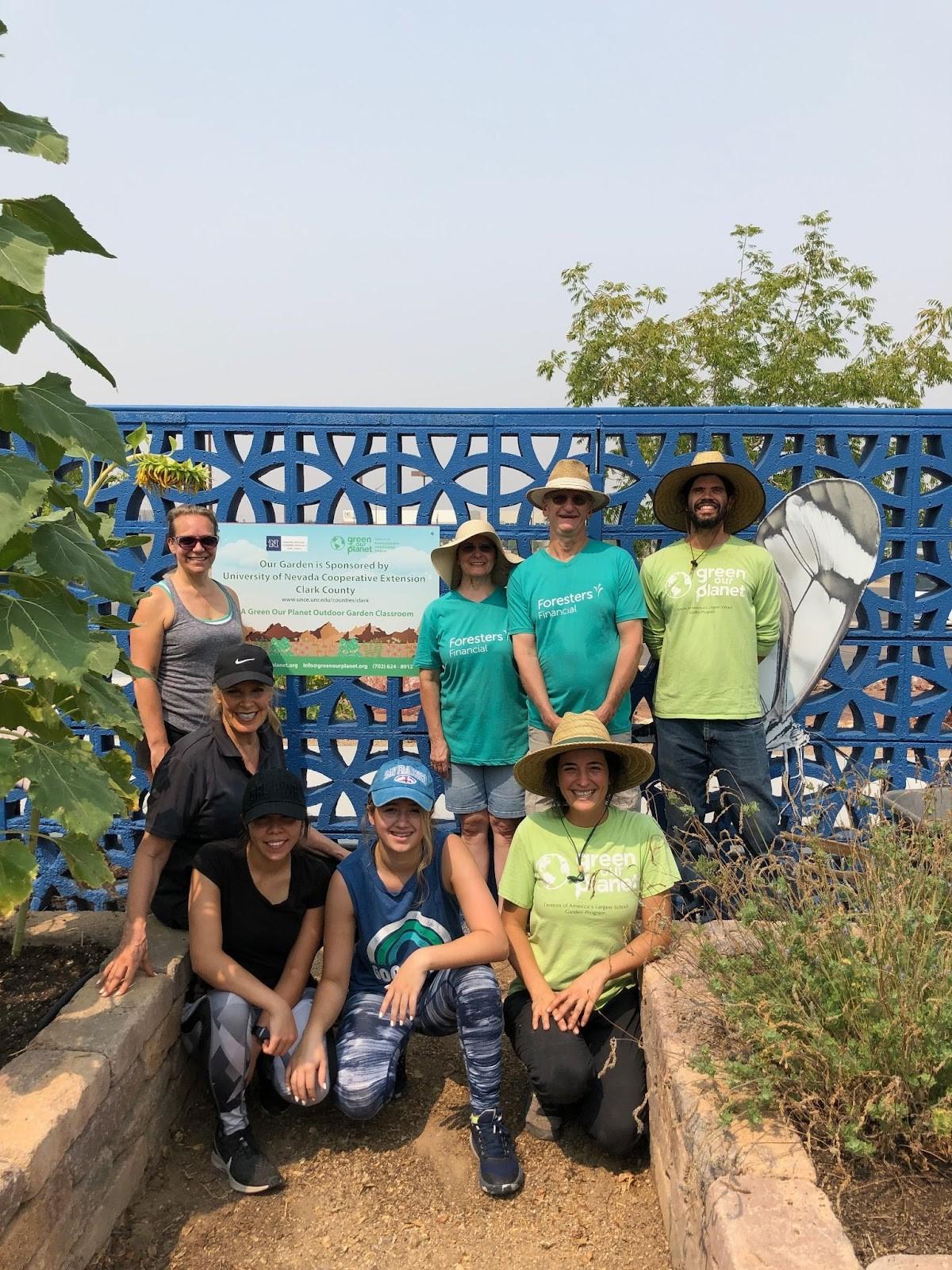 HENDERSON, Nevada, October 25, 2021 /3BL Media/ - Foresters Financial™ (Foresters), the fraternal life insurer that's boldly redefining the life insurance industry through innovation, purpose and wellness, and Whole Kids Foundation, a nonprofit established by Whole Foods Market and dedicated to helping to improve children's nutrition, are joining forces to help Henderson-area elementary schools expand their edible learning spaces through $9,000 in garden grants and hands-on support. 
Through the partnership, Robert L. Taylor Elementary School, Nate Mack Elementary School and CT Sewell Elementary School are each receiving a jointly funded $3,000 grant, along with volunteer support from local members of Foresters to help bring their proposed garden project to fruition. They reflect the unique needs and desires of each school and the students, teachers, and communities they serve. 
CT Sewell Elementary School – On Saturday, August 7, Foresters member volunteers joined teaching staff, students and parents to help repair fencing and an existing strawberry tower, and to construct raised planter boxes to make the outdoor garden more accessible to students. The school plans to provide garden lessons to its more than 700 students at least once per month, as well as tasting and cooking demonstrations at least twice per year. 

Nate Mack Elementary School – On Saturday, Sept. 25, member volunteers, teachers and students came together to add a "Niki Franklin Memorial Butterfly Garden" to the school's existing edible garden in honor of a beloved fourth-grade teacher who passed away in September of 2020. It was built next to the outdoor garden located at the entrance of the playground where families can gather daily. The butterfly garden includes native flowering plants, including milkweed plants so it can qualify as a certified "Monarch Way Station" – a stop on the typical flyway for Monarchs wintering in California. The garden also serves as a sanctuary and living classroom for students and teachers to enjoy year-round.  

Robert L. Taylor Elementary School – On Sunday, Oct. 24, member volunteers, staff, students and parents helped the school reach its goal of making its desert garden a usable field trip area for neighboring schools, as well as enhance its existing edible garden to grow more produce for students to enjoy. The school's garden serves as outdoor classrooms as well as eating area for students and staff to enjoy. The school also runs an after-school Garden Club, attends farmer's markets with students and features its garden during family nights and carnivals so the community has regular access to enjoy the space. 
"We love supporting edible school gardens because we know that the more connected kids feel to their food, the more curious they become about how things grow or taste, and the more willing they are to try new foods," said Chanta Williams, a senior program manager for Whole Kids Foundation. "We are so inspired by Foresters' commitment to sustainability. We truly value this budding partnership that allows us to achieve more together than any one organization could achieve on its own."
Grants were funded in part by the foundation and in part by Foresters, in a new partnership model. 
Janice Darby, a Member Coordinator at Foresters, said, "Providing opportunities to give back, including through community grants, is integral to Foresters purpose and we are pleased to partner with Whole Kids Foundation to help in Henderson."
All three schools are part of Green Our Planet's network of schools. Green Our Planet is a nonprofit that runs the largest and one of the most comprehensive STEM (science, technology, engineering and math) school garden and hydroponics programs in the United States. The nonprofit's Outdoor Garden STEM Program helps public and private schools build outdoor school gardens and implements comprehensive programming so that students can learn a variety of subjects including STEM, nutrition, and conservation.
Since its founding ten years ago, Whole Kids Foundation has served more than 10 million children by supporting more than 12,000 schools through more than $42 million in grants. In addition to Garden Grants, the Foundation funds salad bars in schools, Bee Grants to support educational beehives at schools, health and wellness education for teachers and school food service workers, and scratch cooking initiatives.
Life Insurance with a Larger Purpose
Foresters goal is to develop innovative member benefits, products, and service offerings that promote a lifetime of well-being, and align with Foresters fraternal purpose to enrich the lives of families and their communities. That's life insurance with a larger purpose. 
Bringing a better, new normal to everyday North American families, Foresters offers a suite of unique member benefits and is redefining the conventional life insurance model. Member benefits include opportunities for scholarships, orphan benefits, community volunteer grants, Wills and other legal documents, Lifelong Learning, MemberDeals, and more.
About Foresters Financial 
Foresters Financial is quietly redefining the life insurance and individual savings industry across the U.S., Canada and UK by enriching the lives, communities, and overall well-being of its members. Agents and members alike appreciate the turnkey-decisioned product offerings and end-to-end digitized processes that make it easy to get life insurance without traditional medical exams. State-of-the-art mobile tools help agents deliver tailored plans to prospective and current members. Dedicated to its members' well-being, Foresters offers a suite of member benefits and is redefining the conventional life insurance model, bringing improved financial security and overall wellness to everyday North American families. Foresters recently merged with Canada Protection Plan to become a leading life insurance distributor in Canada. Foresters Financial is the trade name for The Independent Order of Foresters, the oldest non-denominational fraternal benefit society. For 20 straight years, The Independent Order of Foresters has received an "A" (Excellent) rating from A.M. Best. 2
About Whole Kids Foundation
Whole Kids Foundation supports schools and inspires families to improve children's nutrition and wellness. Founded by Whole Foods Market in 2011, the independent, nonprofit organization is based in Austin, Texas, and serves schools and organizations in the U.S., Canada and the U.K. For more information on the Foundation's school programs including school gardens, salad bars, beehives, and nutrition education for teachers, visit wholekidsfoundation.org. For ongoing news and updates, follow Whole Kids Foundation on Facebook, Instagram or Twitter.
#####
1 Member benefits described assumes Foresters membership. Foresters Financial member benefits are non-contractual, subject to benefit specific eligibility requirements, definitions and limitations and may be changed or cancelled without notice or are no longer available.
For information purposes only.
™Foresters Financial, Foresters, Helping Is Who We Are, Foresters Care, Foresters Go and the Foresters Go logo are trade names and/or trademarks of The Independent Order of Foresters (a fraternal benefit society, 789 Don Mills Road, Toronto, ON, Canada M3C 1T9) and its subsidiaries.
Canada Protection Plan is a trademark of Canada Protection Plan Inc.
2 The A.M. Best ratings assigned on July 29, 2021 reflect overall strength and claims-paying ability of The Independent Order of Foresters (IOF). An "A" (Excellent) rating is assigned to companies that have a strong ability to meet their ongoing obligations to policyholders and have, on balance, excellent balance sheet strength, operating performance and business profile when compared to the standards established by A.M. Best Company. A.M. Best assigns ratings from A++ to F, A++ and A+ being superior ratings and A and A- being excellent ratings. In assigning the ratings for IOF, A.M. Best stated that the rating outlook is "stable", which means it is unlikely to change in the near future. See ambest.com for our latest ratings.