First Responder Virtual Reality Training: No Risk, All Reward
Pellston Public Schools offers law enforcement and emergency responder training in a virtual setting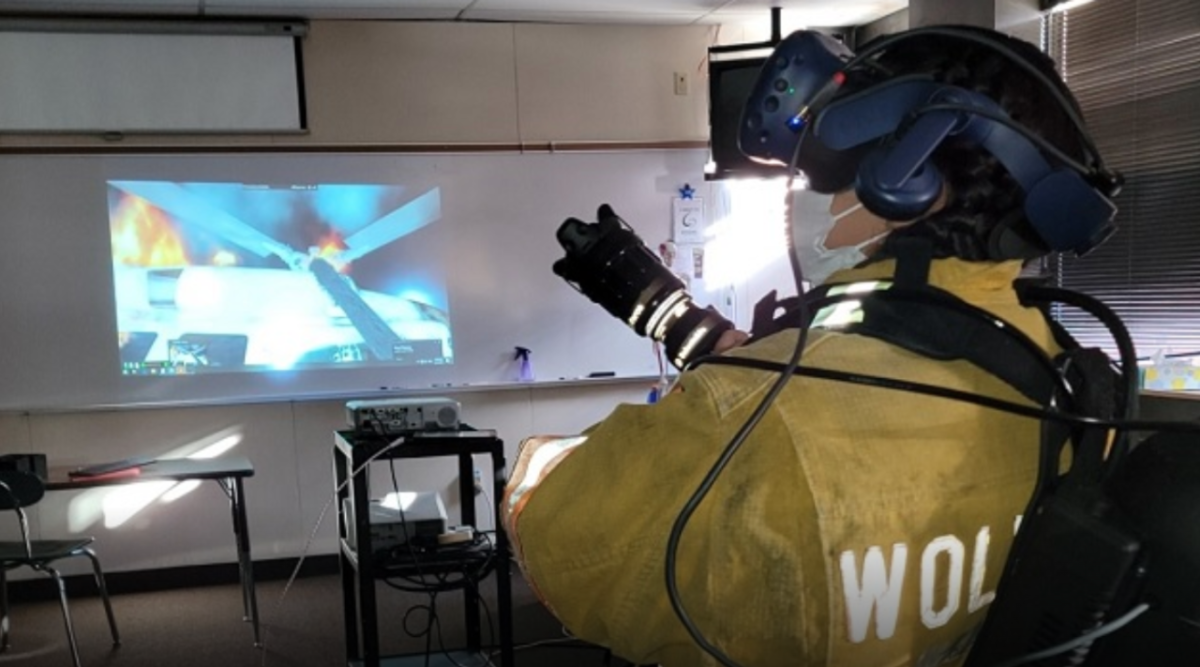 A firefighter douses a digital fire during a VR training session at Pellston Public Schools
Virtual reality isn't just for gaming, and the proof is in Pellston Public Schools.
The Michigan-based middle and high school recently purchased virtual reality (VR) fire and law enforcement training tools. The equipment brings some real-life experience to the classroom—without the real-life risk attached to it.
"The first responder VR training has been around for a while, but we've adapted it for the juniors and seniors that are in my class," says Duane St. Amour, a public safety instructor who's delivering the course at Pellston Public Schools.
St. Amour himself has been a volunteer firefighter since the late 1990s, and later on a medical first responder, making him perfect for the job to deliver courses related to first responder preparedness.
The course, aptly called "public safety class," launched last year at Pellston, so fall 2021 represents the first semester the students will have the VR equipment.
"The equipment poses different emergency scenarios for students to train with," says St. Amour. "For example, they might encounter a garage fire, where students would start outside of the building and determine viable entry points, ultimately making it inside the garage and putting the fire out."
The course isn't exclusive to Pellston students, either; any school in Charlevoix and Emmet Counties with high school students interested in the course can send them to take St. Amour's class.
Enbridge gave $50,000 to Pellston Public Schools this year to help purchase the VR equipment as part of our commitment to improve safety in communities near our operations. The grant helped to purchase not only the equipment and its delivery—all the way from Australia—but also the training involved with its setup.
St. Amour describes the transition he witnesses in students as highly rewarding, particularly when they move from thinking the course is "all fun and games" to taking it more seriously.
So seriously, in fact, that the course has acted as a recruitment tool for some. At least three "alumni" have pursued further emergency training following the public safety class, helping to fill the significant need for more first responders in the area.
"We are extremely understaffed right now, and most of our responders on call are volunteer, too," says St. Amour. "But more important than anything, I'm hoping the course passes on the important values that come with these important, public service roles."