First Look at the New Bloomberg HQ: Why Norman Foster's Design Is a Triumph
Norman Foster's new Bloomberg HQ is a triumph of green design and a lesson in good manners for future development in the Square Mile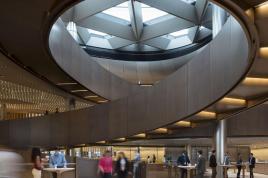 Bloomberg London Headquarters
Originally published by EveningStandard
By Robert Bevan
Not many will mourn the passing of Bucklersbury House and Temple Court. Designed in 1953 for a site next to the Mansion House and completed five years later, they set the architectural direction for the post-war City of London. At 14 and 15 storeys high, they were the first office buildings to break the 100ft height limit, entirely ignore the street pattern and prioritise parking at the expense of pedestrians. 
During construction the remains of the mysterious Roman temple of Mithras were discovered beneath the ground. One of London's most important ever archaeological discoveries, the temple made front pages and newsreels, was discussed in the Cabinet and there were half-mile queues to see it. This didn't stop the inconvenient Mithraeum being cackhandedly removed from its sacred site on the banks of the hidden river Walbrook and re-assembled on a site down the road. The stones were not numbered during the process and others were lost. 
To read the full story, click here.