First Annual Stephen R. Kellert Biophilic Design Award Goes to Khoo Teck Puat Hospital
First Annual Stephen R. Kellert Biophilic Design Award Goes to Khoo Teck Puat Hospital
Nature's healing power is in abundance in this Singapore hospital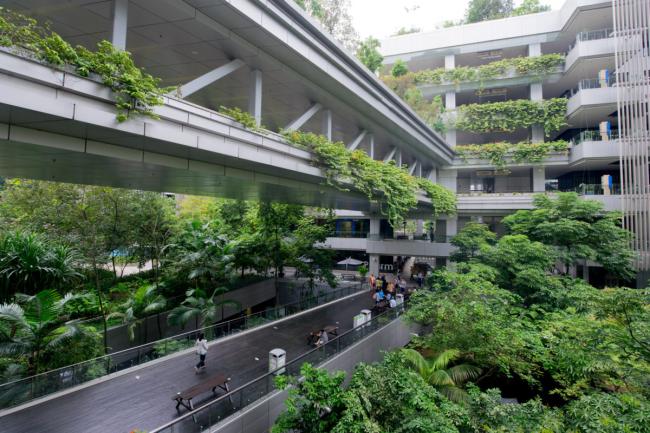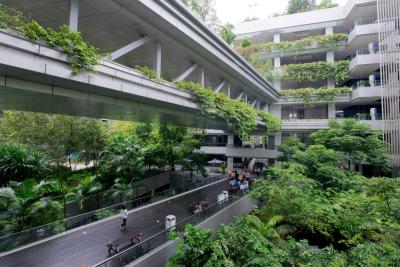 Monday, November 13, 2017 - 2:20pm
BOSTON, November 13, 2017: The International Living Future Institute (ILFI), in partnership with Interface, honored the late scholar and Yale University social ecologist Stephen R. Kellert's legacy with the first ever, Biophilic Design Award at the Greenbuild Expo in Boston. The award was presented to CPG Consultants Pte Ltd, Senior Vice President Ong Chin-Po, Jerry and Alexandra Health System, Director Donald Wai Wing Tai for Khoo Teck Puat Hospital in Singapore, in recognition of the innovative and extensive use of biophilic design to engage all of the senses to promote healing and wellbeing.
"Khoo Teck Puat surpasses traditional hospitals and opens the door towards a new kind of building type for the healthcare industry, which considers how the built and natural environment can become part of the healing process," said Amanda Sturgeon FAIA, CEO of ILFI. "Our hope is that by recognizing projects like this, Mr. Kellert's legacy lives on as we celebrate all of the ways we can reconnect people and nature through buildings."
Designers of the Khoo Teck Puat Hospital used nature as a healing process through paying close attention to all the senses. The rainforest-like landscaping that weaves in and out of the hospital infuses the atmosphere with natural sights, sounds and scents. It's also a natural habitat for butterflies, birds, dragonflies, and fish. The sky bridges provide prospect and refuge, and inside-outside spaces make waiting a more relaxing experience. Notable design architectural features include natural ventilation in patient rooms and collaboration with the city to transform a storm water pond to a lake feature.
"What is most impressive about this project is its post-occupancy evaluation which sampled a group of 200 users comprised of patients, staff, and visitors, of whom 80 percent responded yes to hospitals investing in implementing biophilic elements," said Stephen Kieran, AIA of Kieran Timberlake, a juror for the award. "Thinking of nature as part of the patient hospital experience, Khoo Teck Puat continually treats staff, patients, and visitors to direct access to nature at multiple angles."
Honorable mention for the Biophilic Design Award went to:
Center for Sustainable Landscapes, Pittsburgh, Pennsylvania, noted by the jury as "a successful example of how place-based relationships can be formed to create a structure that embraces the climate, is a habitat for biodiversity, and a nursery for the landscape."

Etsy Headquarters, New York, recognized for the inclusion of local makers products, creating a strong connection to the community, bringing nature inside and creating varied scale spaces that replicate nature's patterns.

COOKFOX Architects Studio, New York, where designers prioritized direct and visual connections to nature and natural cycles.

Yanmar Headquarters, Osaka, Japan, where a glass-enclosed beehive in the center of the building is an innovative focal point, a bold staircase is a biomimetic journey, and a water feature is a unique approach towards a meditative and restful space for staff and visitors alike.
About the Stephen Kellert Biophilic Design Award
The award is stewarded by the ILFI's Biophilic Design Initiative.  Projects were judged based on the following criteria:
INTEGRATION of Biophilic Design
EXPRESSION of Biophilic Design
EXPERIENCE of Biophilic Design
EVALUATION of Biophilic Design
The jury for the Kellert Biophilic Design Award included:
Priscilla Kellert, Jury Chair Program Director, Yale University Freshman Outdoor Orientation Trips (FOOT)  
Stephen Kieran, FAIA, LEED AP BD+C Founding Partner, KieranTimberlake
Bert Gregory, FAIA, LEED Fellow Design Partner, Mithun  
Peter Kahn, PhD Professor, University of Washington
Amanda Sturgeon, FAIA, LEED Fellow Chief Executive Office, International Living Future Institute
Interface, leader in sustainability and the world's largest manufacturer of modular carpet, sponsored the inaugural awards program. "Interface has long been a proponent of and recognized the importance of biophilic design, being one of the first in our industry to incorporate the concept into our work," said Anna Webb, VP of Marketing for the Americas. "We applaud the team behind Khoo Teck Puat Hospital and hope their work will inspire more designers to create positive, nature-inspired spaces."
About the International Living Future Institute
The International Living Future Institute is a hub for visionary programs. The Institute offers global strategies for lasting sustainability, partnering with local communities to create grounded and relevant solutions, including green building and infrastructure solutions on scales ranging from single room renovations to neighborhoods or whole cities.  The Institute administers the Living Building Challenge, the most rigorous and ambitious building performance standard. It is the parent organization for Cascadia Green Building Council. It is also home to Ecotone Publishing, a unique publishing house dedicated to telling the story of the green building movement's pioneering thinkers and practitioners.
About Interface
Interface, Inc. is the world's largest manufacturer of modular carpet, and has recently expanded into modular resilient flooring with a new luxury vinyl tile line. Our hard and soft tiles are designed to work together in an integrated flooring system. We are committed to sustainability and minimizing our impact on the environment while enhancing shareholder value. Our Climate Take Back™ mission focuses on driving positive impacts in the world to create a climate fit for life. Recently, Interface was named third on GlobeScan and SustainAbility's 20th Annual Sustainability Leaders Survey. Interface is the only company to earn a place on the list every year since its inception in 1997. For additional information: interface.com and blog.interface.com. Follow Interface on Twitter, YouTube, Facebook, Pinterest, LinkedIn, Instagram, and Vimeo.
Contact
International Living Future Institute