Finding a New Mission – In or Out of Uniform: Booz Allen Celebrates Military Appreciation Month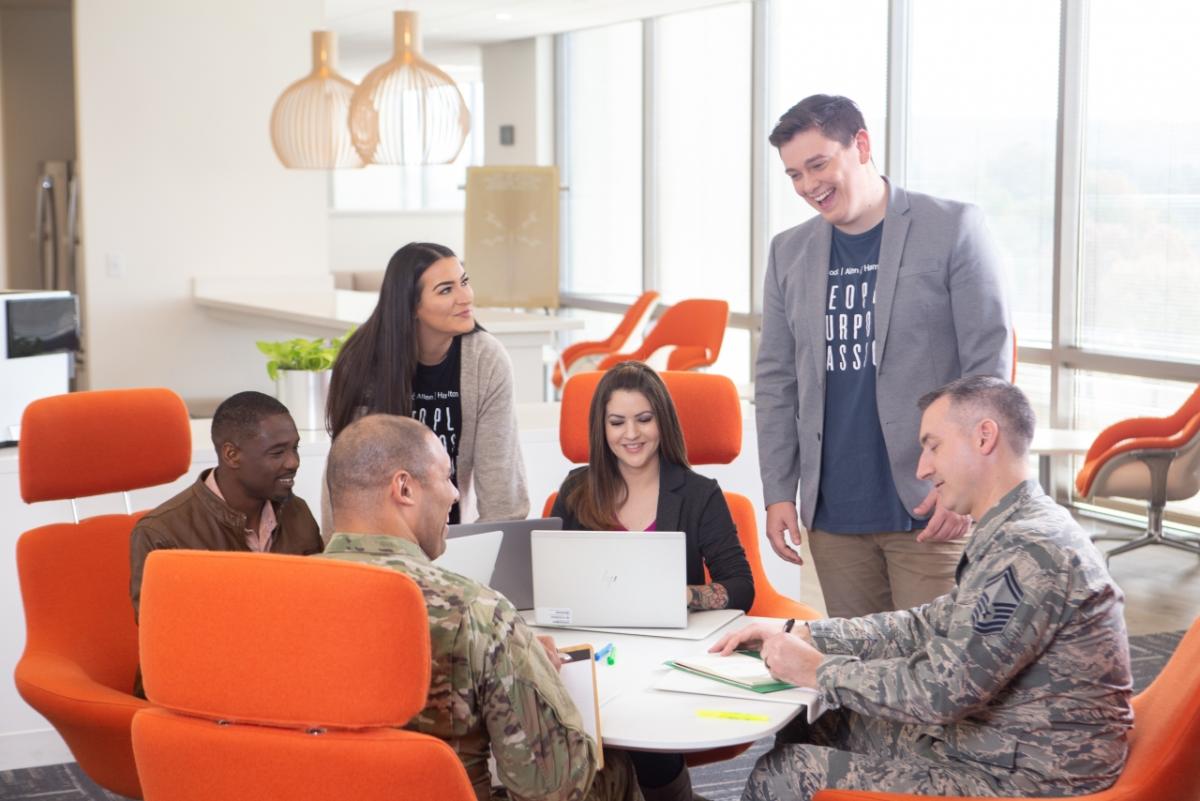 Each year, approximately 140,000 U.S. service members transition out of the military and wonder how to make the leap into civilian professional life. Their journey can include finding a company that shares their values and supports their career to acquiring skills to work in an emerging field like artificial intelligence (AI), cloud, or cyber.
Booz Allen understands veterans' questions and their journey—and the contributions they can make. One-third of the firm's employees are directly connected to the military—either as a veteran, military spouse, member of the National Guard or Reserve, or a combination of those distinctions—and 18% of C-suite leaders are veterans.
With programs like the Mil/Tech Workforce Initiative, Booz Allen is helping transitioning service members reskill, upskill, and connect with future-focused careers that offer job security and growth potential. In celebration of Military Appreciation Month, highlights from these initiatives, along with personal stories from employees who have transitioned into the civilian workforce, follow.
Leveraging diverse knowledge and experience to make a difference
Booz Allen's office in Fayetteville, North Carolina, supports critical work for the U.S. Army and other clients, and over half of the 400-plus employees here are military-connected. This, plus the office's proximity to Fort Bragg and Camp LeJeune, made it an ideal pilot location for the new Mil/Tech Fellowship.
"Fayetteville offers a tremendous pipeline of talent and provides an important access point for transitioning service members to make the leap into the civilian sector with in-demand, high-tech roles," said Booz Allen Vice President Jay Dodd.
The 12-week program provides service members with the hands-on tech training to support Booz Allen's work in Fayetteville. Since the pilot program's launch in spring 2021, over a dozen eligible candidates applied and two were selected as fellows.
The fellowship is a joint initiative by Booz Allen and the U.S. Chamber of Commerce Foundation's Hiring Our Heroes. The two partners have worked together since 2013 to develop programs that help transitioning service members and military spouses with professional training and hands-on experience in the civilian workforce.
"Transitioning service members have dedicated themselves to meeting critical missions throughout their military careers and often have more skills than they realize that can be transferred to civilian roles—helping, in this case, our clients meet their missions," said Booz Allen Principal Sharon Lewis, who is a leader at the Fayetteville office and in the firm's Joint Combatant Command business
"We really see this fellowship program as a way for transitioning servicemembers to feel empowered to move seamlessly into the civilian sector, which can be a challenging process, and to leverage their diverse experiences and deep knowledge to continue making a difference, in or out of uniform," she said.
Training that accelerates the transition: Booz Allen employees who've made the leap into the civilian sector
Staff Scientist Brandon Dingess' interest in data science began during his time as an Army intelligence officer when his work became increasingly technical and he noticed a language gap between analysts like himself and technologists. Yet when he sought jobs in data science, he was regularly turned away for not having the right certifications or degrees.
Through Booz Allen's Tech Excellence program, Dingess completed an intensive eight-week Intro to Data Science course that put him on the path to certifications and his first client contract. In May, Dingess joined his first client as a Mission Manager, and has begun to work with Data Analytics and automation to solve intelligence requirements.
Technologist Odell Hodges served in the Marine Corps as an embassy security guard in Nigeria, Iraq, and Slovakia, and then as a supply chain management specialist. In the latter role, he marveled at the complex systems used to manage equipment, suppliers, facilities, and logistics.
After his military contract came to an end, Hodges entered Microsoft's Software and Systems Academy in San Antonio to study cloud applications and development, joined Booz Allen, and took an intensive five-week Tech Excellence Modern Software Developer course. Now he's pursuing an AWS cloud certification and is ready for his first client contract.
A valuable array of technical skills and knowledge
"Honestly, before I joined the military, I knew absolutely nothing about computers other than the basics," said Naomi Mora. This situation swiftly changed. Mora learned how to administer and maintain a secure environment over hardware, Windows, Linux, routers, and switches, and earned numerous certifications—training that led to a role maintaining military intelligence systems.
Today, she's a field service engineer at Booz Allen. What's next? "I want to get as many certifications as I can, specifically in Linux, and become a senior Linux administrator."
As a data scientist with Booz Allen, Steve Herman has supported a variety of defense clients and the firm's pro bono Women in Data Science initiative. This path started with a bachelor's degree in mathematics and continued through his career as a lieutenant colonel in the Army.
"I have always been interested in mathematics, statistics, and coding," he said. "As the data science field emerged, I became very interested in the ability to use data to provide insight to solve problems."
He did not receive any formal technical training in the Army, so he learned from the noncommissioned officers and warrant officers he worked with. He also pursued his own studies: graduate-level coursework in operations research, a graduate certificate in data science, and an MBA, "which has been useful in how I approach problem solving."
His advice for other transitioning service members: "Seek opportunities within the military to move in your desired direction, and always look for ways to align your development goals with your organization. Be creative and create value. Continue to learn through formal education and professional development, and use your new knowledge to solve problems for your organization."
Read more about how Booz Allen supports the military community.