Fighting COVID-19 Is Just the Beginning
Quest Diagnostics Team Reflections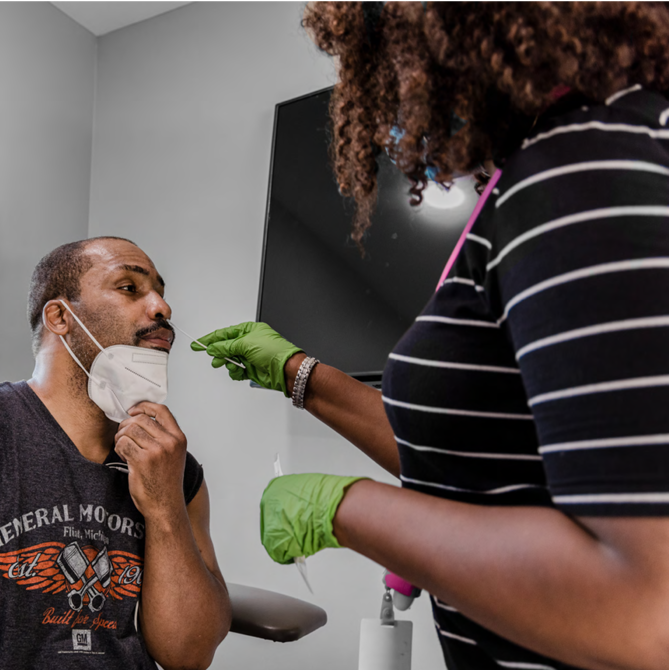 Originally published in Quest Diagnostics' Quest for Health Equity 2021 In Revi…
Mandell Jackson Vice President/General Manager, Quest for Health Equity
When we launched Quest for Health Equity (Q4HE), we focused first on addressing the devastating impacts of COVID-19 on our most vulnerable communities. We collaborated with others to move forward—and to move quickly —to provide testing and information. While fighting COVID-19 aligns perfectly with our larger goal to increase health equity, we also knew when we started Q4HE that our poorest communities faced the greatest risk from healthcare disparities. We have been—and continue to be—focused on that larger goal through initiatives that support underserved communities.
Quest stepped in to do this work because healthcare disparities, especially in Black and Hispanic communities, are a growing concern. In the time since we launched Q4HE, we've built partnerships with community-based organizations, national nonprofits, religious leaders, academic institutions, and healthcare leaders to address these disproportionate impacts and advance health equity for underserved populations. And we'll continue to build these partnerships—to fund the work of those providing direct services and make our own expertise and resources available—so we can close the gap in health disparities.
I'm excited to share what we've accomplished so far, and I'm also eager to move Q4HE forward. Together, we will leverage our insights, our knowledge, and our collective commitment to help ensure everyone—regardless of income, ethnicity, geography, or demographics—has the same opportunity for better health.
Bonnie Reyna, MPH, MsED Director, Advancing Equity in Communities
"Being part of this team and this organization is inspiring. It allows us to collectively and positively impact communities to examine social determinants of health and reduce health inequalities. I am most proud of being able to offer our partners opportunities to address critical health needs in ways that are community centered, respectful, culturally intelligent, and trustworthy."
Michael Floyd Sr. Director, Advancing Equity in Diagnostics
"What is beautifully unique about Quest for Health Equity is that we support authentic projects that truly impact lives in communities that, through no fault of their own, have been marginalized. From helping to launch a rural FQHC's school-based clinic (and funding its purchase of a van to deliver healthcare to patients without transportation) to addressing the ravages of diabetes in hardhit New Mexico communities, we continue to do amazing work. Going forward, we endeavor to go deeper into underserved and under-resourced communities. My excitement is high and my commitment is even stronger to continue supporting and offering value to those in need!"
Stacey Ingram Sr. Manager, Networked Initiatives
"Like many other companies in the aftermath of George Floyd's murder during a global pandemic, Quest decided to do something about health inequity. Unlike many of these other companies, we are still at it. More than a year later, Quest is still actively engaged in positively impacting disparities in healthcare, and Q4HE is building increasing momentum in this vein. This journey has the feel and excitement of a start-up, and my role in Quest for Health Equity has provided a great opportunity for me to learn and develop—both personally and professionally—as we build this start-up. That's why I feel so proud to be a part of this initiative to impact health equity."
Cynita Smith-Watson Sr. Manager, Community Partnerships
"I recently joined the Quest for Health Equity team, and it makes me feel honored to be doing good work for our communities on behalf of Quest Diagnostics. I take enormous pride in knowing that my company is a leader in addressing healthcare disparities and inequities. Moving forward, I see us expanding Q4HE to provide resources to those who need them the most."
Rafael Irizarry Director, Aged and Elder Initiatives
"Quest for Health Equity's vision and mission—to level the playing field for health disparities in underserved populations and/or marginalized populations and to enhance access to care—touched me very closely. I've been the leader for the long-term care segment, an area where I can see myself helping my family as I am helping others with no access to healthcare. It has been a privilege to work with this team as well as with an organization that truly cares about its patients. Why? Because every step of the way we treat them as we would our own loved ones."
Kimberley Tucker Sr. Manager, Operations
"I'm honored that I've had the opportunity to work with such a great team to make a difference in underserved communities. This team, together with our collaborators, is making great strides in reducing health disparities in our most vulnerable communities. This is just the beginning, as I foresee Quest for Health Equity continuing to build trust and improve critical health inequities in these communities."
Callie Poindexter Marketing and Place-Based Programs
"Working with a team of such passionate, caring, and motivated individuals on truly impactful initiatives has been an incredibly rewarding experience for me. I'm proud of the work we've done to expand access to critical testing and services in communities across the US and couldn't be more excited about initiatives we'll be launching in the coming months. Year one has been a building year—building processes, relationships, programs, and more— and I know the best is yet to come."