Fifth Third Employees Make a Difference in Fight Against Hunger in Eastern Michigan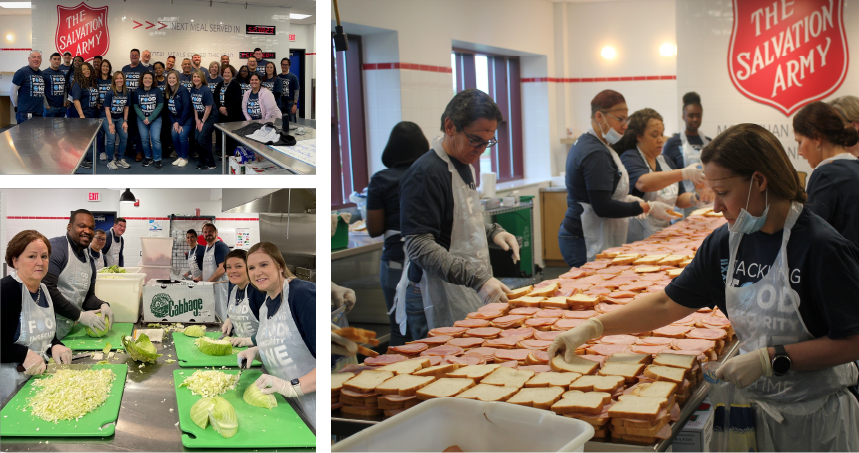 On Fifth Third Day, May 3 or 5/3 on the calendar, and throughout the month of May, Fifth Third Bank employees deploy into the communities they serve to provide 10 million meals across the Company's retail footprint. With a theme of tackling food insecurity one community at a time, employees in Eastern Michigan volunteered at the Salvation Army Detroit Harbor Light as well as supported the organization's Mobile Bread Trucks.
Pictured at top left are 26 Fifth Third employees volunteering at the Salvation Army Detroit Harbor Light on Fifth Third Day. The Harbor Light program provides detox, rehabilitation, food, shelter and support services for those suffering from substance abuse in the Detroit area. Fifth Third also presented a $20,000 donation to the Salvation Army in support of its important mission of feeding the hungry and providing many other critical services.
At bottom left, the Fifth Third team helped prepare food for the residents of Harbor Light. The center provides food and shelter to metro Detroiters every single day of the year—more than 72,000 nights of shelter and more than 1.3 million meals annually.
At right is proof that many hands make light work. The Eastern Michigan team made 2,000 sandwiches for the Salvation Army's three Mobile Bread Trucks. These trucks serve meals seven days a week, 365 days a year, bringing food to those most in need throughout metro Detroit.
The Bank has recognized 5/3 on the calendar as Fifth Third Day since 1991, and since 2012 the Bank and its employees have worked toward a common goal to fight hunger. Click here for more information about Fifth Third Bank's efforts to fight against hunger during the month of May.