Fifth Third Bank Makes BLINK Festival Carbon Neutral in Cincinnati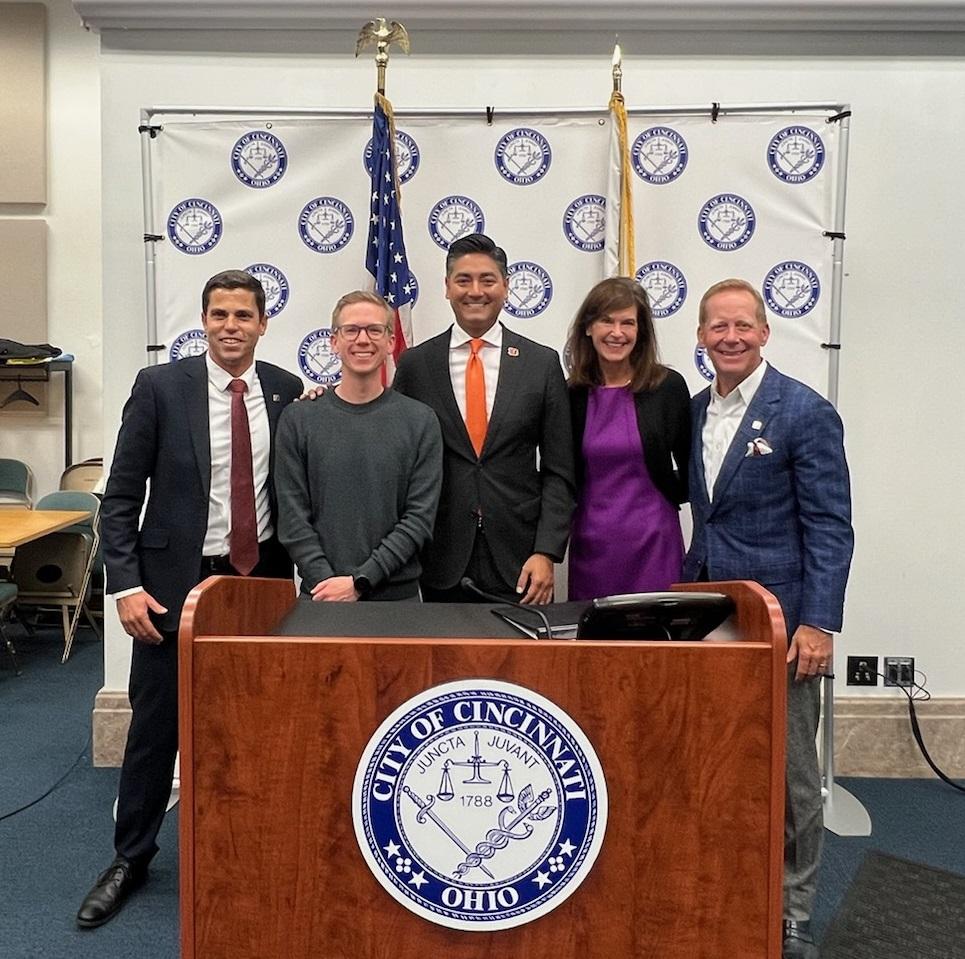 Joining with Cincinnati Mayor Aftab Pureval and representatives from Duke Energy, the Cincinnati USA Regional Chamber and BLINK, Fifth Third Bank announced on Sept. 29 that is measuring the carbon impact and providing verified carbon offsets for the lighting installations at BLINK, Illuminated by ArtsWave, in Cincinnati.
BLINK is one of the nation's largest outdoor light and art festivals and is known for its immersive exhibits and experiences. It will return to Cincinnati Oct. 13-16, 2022.
Pictured, from left to right, are Mike Faillo, Fifth Third's chief sustainability officer, Justin Brookhart, executive director of Blink, Aftab Pureval, mayor of Cincinnati, Amy Spiller, president of Duke Energy Ohio and Kentucky, and Tim Elsbrock, regional president of Fifth Third Bank in greater Cincinnati.
Cincinnati-based Fifth Third has been focused on reducing its environmental footprint for over a decade and became carbon neutral for its own operations in 2020. The Bank has been an active participant in BLINK since 2019. For its own BLINK installation, Fifth Third will retire renewable energy certificates (RECs) from the Bank's virtual power purchase agreement with an 80MW solar project, which came online in 2019. For other lighting installations, Fifth Third will provide verified carbon offsets through a registered emission removal project for an Ohio-based company, which has been verified by a third-party.
"Our purpose-driven culture and commitment to transition to a sustainable future is reflected in our involvement with BLINK," said Tim Spence, president and CEO Fifth Third Bank. "It is a privilege to be able to put our expertise and resources toward making BLINK carbon neutral and to transforming our front porch on Cincinnati's iconic Fountain Square into an immersive and interactive art display that demonstrates our commitment to sustainability and celebrates our headquarters city."
At BLINK, the Bank is using Fountain Square as its stage for an experience called ElectriFi. The main attraction is "The ARRAY," a massive installation offering an abstract, mixed media depiction of a solar powered ecosystem, which drew inspiration from Fifth Third's commitment to 100% renewable power and its bold operational sustainability goals to be achieved through 2030. All offsets related to BLINK are third-party validated and retired in accordance with industry best practices.
The Bank is working with Duke Energy to understand BLINK's 2019 energy footprint on which it will base its initial offsets. Duke Energy is also looking to measure the actual footprint in 2022 to allow Fifth Third to true-up the offsets post-event. Duke Energy is a recognized authority on energy and a trusted partner for the Bank in devising the approach to carbon neutrality for the BLINK installations.
"Duke Energy has been a long-standing supporter of BLINK, and we are pleased to be a part of this important effort to offset the carbon emissions from energy use during the festival. Our partnership with Fifth Third highlights the strides Cincinnati is making toward a sustainable future," said Amy Spiller, president, Duke Energy Ohio and Kentucky.
Justin Brookhart, executive director of BLINK, applauds this collaboration and push toward sustainability.
"BLINK and the Cincinnati USA Regional Chamber are proud to announce that the nation's biggest immersive art event is now a more sustainable event," Brookhart said. "BLINK is known for its incredible collaborations with artists and creatives from here in the Cincinnati region and all over the globe. This is a new type of collaboration for us, and we thank our friends at Fifth Third Bank and Duke Energy."