An Evolving U.S. Water Sector: A Push for Sustainability, Robust Technology Amid Challenges, Opportunities
Black & Veatch to share water industry expertise at WEFTEC, North America's largest water quality event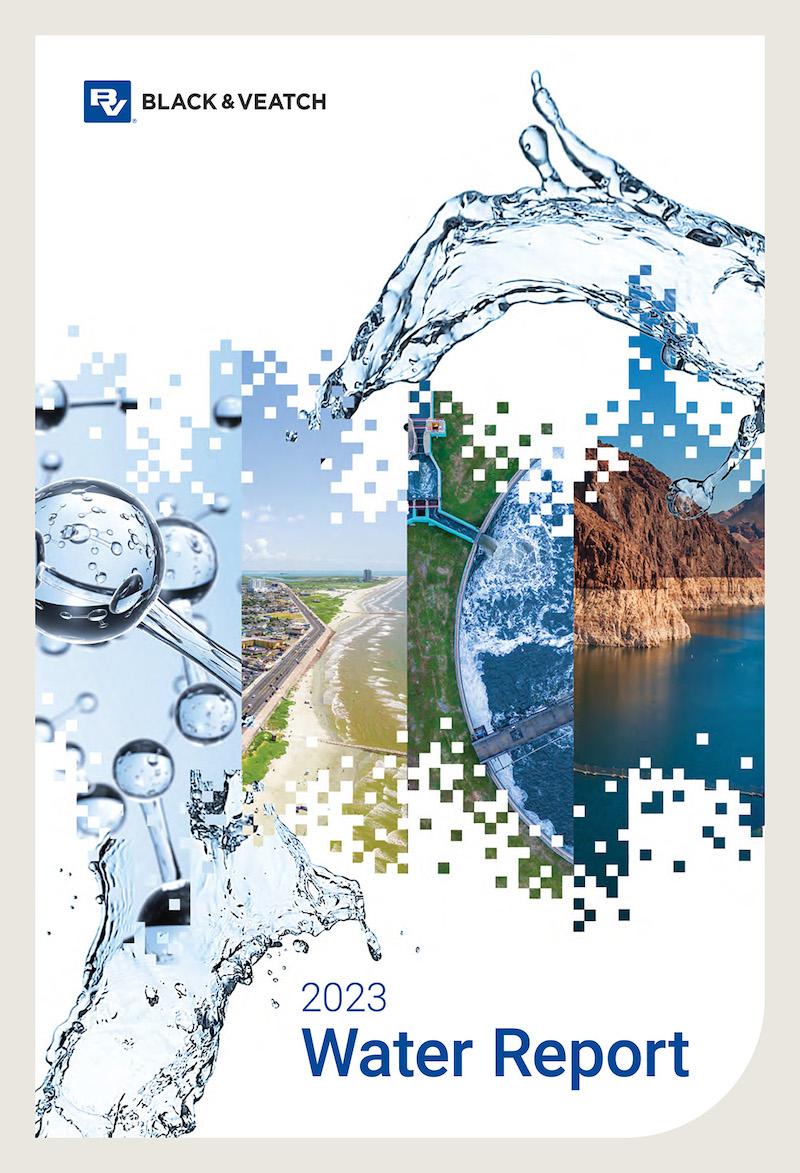 OVERLAND PARK, Kan., October 2, 2023 /3BL/ Chronically aging infrastructure. Lurking cybersecurity threats, budget tightropes and the quest for sustainability. Mounting external pressures for more resilience against the menace of climate change's fallout. An evolving, shifting regulatory landscape stoking uncertainty. Workforce staffing headaches and broad public misperceptions about rates and the value of water.
Never has the U.S. water, wastewater and stormwater sectors confronted so much. Yet Black & Veatch's 2023 Water Report also finds a wealth of opportunity, most clearly in digital technologies and innovations that help operators make better decisions and get the most of their assets.
Join Black & Veatch at the 96th annual Water Environment Federation's Technical Exhibition and Conference (WEFTEC), North America's largest water quality event, taking place October 1-4, 2023, in Chicago, Illinois. Black & Veatch thought leaders will be on site to discuss the latest trends and innovative technologies shaping the water industry today. Learn more about our activities at the conference here.
Integrated water solutions also provide a wealth of opportunities. With the providing of reliable, safe water at the core of every utility's mandate and mission, these dynamic times are helping reshape the water sector that is increasingly — and promisingly — adopting integrated solutions that achieve sustainable development and system resilience. Contributing to that is a widening embrace of a "One Water" approach based on accepting that all forms of water are a singular resource to be managed sustainably.
Based on expert analyses of a survey of roughly 450 U.S. water sector stakeholders, the 2023 Water Report takes the pulse of the industry on these topics and more, dissecting the pain points, trends and opportunities facing water utilities today.
To no surprise, it's a conversation that begins with the white elephant in the room: the critical infrastructure that gets older by the day — and the complexities involved in addressing aging infrastructure among many other competing interests.
Pipes and Peers: The Nagging Challenges of Age
Much as was the case a decade ago, respondents to Black & Veatch's latest survey ranked aging water and sewer infrastructure as the industry's foremost concern, with six in 10 putting the issue at the top of the list.
Not far behind — at 51 percent, again No. 2 for the second consecutive year — survey respondents cited the issue of aging workforce and the challenges of hiring qualified staff as the second most challenging issue. Although this response dropped 13 percent from 2022, this trend has led to the increasing adoption of automation and outsourcing to fill the gaps, given a shortage of qualified candidates who have more options and bargaining power in a competitive job market. Fewer people appear to be showing interest in water utility work, and recruitment has turned into a bidding war, putting a strain on utilities with limited financial resources, especially the smaller ones.
From there, the rankings of challenges underscore the competing priorities among water utilities, running the gamut of issues from availability of capital to regulation, managing capital costs, water conservation, decarbonization and integrated planning.
The Quest for Sustainability 
We define sustainability as the need to serve the current generation while safeguarding the needs of future generations. None of that is lost in this year's sampling of the water industry, where two-thirds of respondents — nearly mirroring last year's 65 percent — consider sustainability to be a critical strategic focus sector. Three-quarters of larger utilities — those serving a population of more than half a million — hold that view.
Drilling a bit deeper, roughly half of respondents report that their utility has sustainability goals and the means to measure them. These goals and metrics almost universally (91 percent) include energy efficiency efforts, followed by water reclamation (62 percent), water recycling (56 percent) and carbon mitigation (48 percent). Along the way, utilities asked to rank the climate mitigation or adaptation strategies they are pursuing or planning to pursue put water loss mitigation and water conservation — along with implementation of energy efficiencies — at the top of the list, followed by the biggest mover: conversion of their fleets to electric vehicles. Cited among 48 percent of respondents, that approach was up nearly 20 percent from 2022.
While most utilities and municipalities promisingly appear to have some sort of sustainability blueprint, the frequent lack of coordination between those two entities means cost-saving and process optimization opportunities are being missed.
Digital Water: Opportunity Knocks 
Leveraging the full potential of data — what we refer to as "digital water" — can be demonstrably powerful in an asset-intensive, rate-restricted industry that requires informed decision-making to effectively balance capital investment and rising operational expenses with resistance to rate increases. The payoff is getting the most out of aging assets through actionable, resilience-enhancing information that also can tip off operators to potentially looming failures, not to mention the upside of analytics in helping fill the void during staffing challenges.
Our survey shows promising evidence that the industry is continuing to undergo a digital transformation, with utilities having a digital water strategy in place and clear objectives defined. Two-thirds of respondents reported positive results when asked to what extent their company's data or digital solutions strategy is achieving objectives.
That said, there remains a lot of remaining opportunity, given that precisely harnessing data — and broader artificial intelligence technologies — can provide a holistic view of the water system, enhancing efforts to track consumption, drive efficiencies, save energy and prioritize investment dollars. More than half of respondents stated that while they are collecting data, they are not leveraging it effectively, a slight increase from 49 percent last year.
Uncle Sam and the Fight for Funding
With outdated infrastructure entrenched year after year as the biggest issue that keeps the industry up at night, trying to mitigate that challenge is a matter of money. Roughly half of survey respondents believe funding for capital infrastructure projects for their organization will be sufficient or merely meet the requirement. Thirty-seven percent say funding simply will not be enough.
The Infrastructure Investment and Jobs Act (IIJA) — or the Bipartisan Infrastructure Law (BIL) — was signed into law in late 2021 as the largest federal investment in water in U.S. history, committing tens of billions of dollars to the sector. The intended purposes are diverse, including funds for water infrastructure, resiliency, lead service line replacements and contaminant removal.
So, are U.S. water utilities seizing the moment? Perhaps not. Slightly more than one-quarter of respondents say their enterprise has applied for or will go after IIJA funding, while more than four in 10 haven't explored it nor have plans to pursue it.
Our latest survey is a short list of well-placed priorities. As the industry evolves — steadying and in many cases better positioning itself against headwinds showing no signs of easing — U.S. water utilities either independently or with expert outside consulting advice can find the footing needed to take positive steps that these times demand.
The full Black & Veatch 2023 Water Report can be downloaded here.
About Black & Veatch 
Black & Veatch is a 100-percent employee-owned global engineering, procurement, consulting and construction company with a more than 100-year track record of innovation in sustainable infrastructure. Since 1915, we have helped our clients improve the lives of people around the world by addressing the resilience and reliability of our most important infrastructure assets. Follow us on www.bv.com and on social media.
Media Contact: 
Susan Rivera | +1 781 565 5819 | RIVERAS1@BV.COM 
24-HOUR MEDIA EMAIL | media@bv.com